Why Won't Wimmin Fight for their Rights?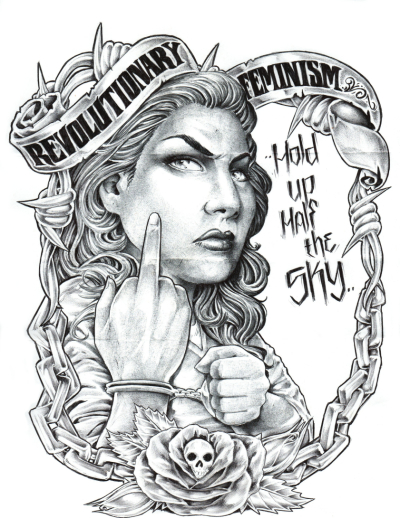 I see MIM is going to do a wimmin's issue. I really don't know what can get women interested and have some courage to do anything other than complain. Women seem to think if they smile, be happy, flip their hair and talk with a baby voice it will get them things. Even though we keep getting things taken from us, women will not speak up and stand up.
I read in Prison Action News (by ABC) about a work stoppage they are trying to encourage in September 2016. But all the responses I get from women is they will not participate, they are scared of being locked down, retaliation, blah, blah, blah.
Here is what I am currently going through with the grievance process concerning outdoor yard time: Lieutenant Gayle Ross posted a Posted Operational Rule (POR) changing small yard time. First of all, it was not signed until 1 June 2016, but supposedly went into effect a month before posting on 1 May 2016. PORs must give prisoners a two week notice before a change goes into effect.
Female prisoners are no longer allowed to go out to the small yard at the same time as dog program participants, with/without their dogs, for fear that we may get hurt. Even though dog program participants and their dogs are not separated in the units with non-dog program prisoners. Apparently it's only a safety/security issue for use of the small yard.
Next, Lt. Gayle Ross has spread her safety/security issue to other areas. Apparently wimmin prisoners are too fragile to go outside when it is wet out, puddles on the ground or snow on the ground. Supposedly we are childish and will jump in puddles, and too fragile so we might fall. This reasoning has allowed us to be denied small yard for entire seasons: fall heading into winter, winter, and most of spring, which by definition is rainy. Even though recreation can clear off puddles by sweeping off the water, the recreation staff lets the water sit until it dries naturally, of course closing the small yard for days. Apparently wimmin are dangerous enough to imprison but too fragile to go outside.
There are three steps to our grievance process. I have grieved all the way to a step three, therefore exhausting the grievance process. I am the only one grieving. Women complain, complain, complain but do nothing else. So I am preparing a 1983 [lawsuit].
I have used the grievance petition from MIM(Prisons). None of my three grievances were provided timely responses according to Colorado's AR 850-04 time limit for Step 1, 2 and 3 grievances. I sent this petition to Rick Raemisch, executive director of Colorado Department of Corrections, the United States Department of Justice and the Office of Inspector General. The United States Department of Justice basically said they only considered class action cases. Due to the letter to Rick Raemisch, Captain Bowers met with me and Lt. Gayle Ross about the issue. The situation has not changed for the better.
Now more gym time and small yard time has been taken away. If we don't attend a specific aerobic program called Insanity/cize (which is a videotape), we cannot use the rest of the gym or small yard. We cannot use the other exercise equipment or do our own workout program. We must only workout to the DVD (unless we are ADA). Women are complaining but they are doing nothing else.
I am still working on my case with the help of reading material like Battling the Administration by David Meister and Prisoners' Self-Help Litigation Manual by Daniel Manville, that I bought from Prison Legal News.
---
MIM(Prisons) responds: This comrade raises some important questions about how females are taught to act in order to get ahead in patriarchal society. The idea that flipping hair, smiling and talking with a baby voice will get stuff for wimmin has been reinforced with very real financial and social incentives based on looks and gendered behavior. While society teaches males that being aggressive and self-sufficient is sexy and also the right way to get ahead at work, that same system teaches females that aggressiveness is unattractive and it's best to be weak and dependent on a man.
We can even see this double standard in the way people talk about Hillary Clinton's Presidential candidacy. She's just another imperialist mouthpiece, but she has won the wrath of so many for things that are seen as normal or even praised in male candidates. When Clinton is loud she is called out for "shouting" or "shrieking", while male candidates are praised for their strength for a similar style. Critics are calling Clinton a bitch and a lesbian. When she shows emotion she is too feminine and when she doesn't show emotion she is too masculine. There are endless examples of this sort of attention paid to Clinton's gender rather than her qualifications.
There are many strong wimmin standing up for their rights and the rights of others, like this comrade. And we need to train other wimmin that being strong and self-sufficient is the only way to really get ahead and really win battles. Many men in prison also sit around complaining without doing anything, but it is leaders like this writer who, over time, can develop other activists by setting an example of strength and resolve in practice, combined with a correct political line.