Woke Prison Officials See Racism Everywhere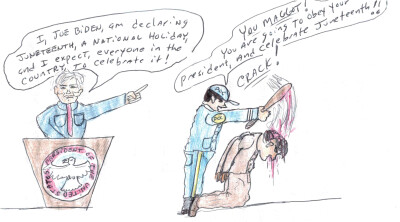 Lately there has been a rash of woke mail room staff and prison officials who seem to be able to find "racism" everywhere they look. Under Lock & Key has been censored by a number of these activist employees of the state in Arizona, Indiana and Florida. This is very odd, as most of our readers know we rarely even mention the concept of race as we maintain that it is not a biologically valid concept, so clearly we do not believe or promote ideas of racism or racial superiority. But these snowflakes are just looking for reasons to be offended and use the state to crush free speech and association of the oppressed.
The Arizona Department of Corrections, Rehabilitation & Reentry - Office of Publication Review gave as one of their reasons for censoring Under Lock & Key 78 as:
"7.2.8 Content that is oriented toward and/or promotes racism and/or religious oppression and the superiority of one race/religion/political group over another, and/or the degradation of one race/religion/political group by another."
"…The pages identified containing such content are throughout, including, but not limited to, pages 1, 2, 4, 9, 16."
Page 2 is the same in every issue of Under Lock & Key and is an explanation of what MIM(Prisons) is and how our programs work. We do not promote racism or even discuss race on that page. Page 1, 4 and 9 contain reports on the struggle of Texas prisoners against oppression, and page 16 lists ongoing campaigns, including the one in Texas. It is confusing why Arizona is so worried about this campaign in Texas, and why they would call it "racist." However, it did advocate boycotting the Juneteenth holiday, which triggered prison staff in Texas to get very repressive.
On 21 November 2022, staff member Chambers of the Indiana Department of Corrections censored Under Lock & Key 79 at Pendleton Correctional Facility. Pendleton has been censoring all mail from MIM Distributors for the last year for spurious reasons. Snowflake Chambers was offended by the spelling of Amerikkka with 3 K's and decided to label it Security Threat Group material.
Security Threat Group (STG) can be used to prevent materials from entering the prison that facilitate illegal activities by a criminal group (STG). STG cannot be used as an excuse to censor people for their political beliefs. It is our belief that Amerikkka is a white supremacist nation and therefore we spell it with 3 K's to criticize it as such. This is political speech, and it is legal in the U.S.A.
Florida State Prison (FSP) also deemed Under Lock & Key 79 to be "racist" among other things, on 2 December 2022. We really must go through their reasoning point-by-point for censoring this newspaper as it is quite revealing.
They objected to "Obtaining Copy of Lawsuit on TX Mail Policy BP-03.91" because "our inmates might try this"! The article is literally just telling people where to write and how much to pay to get a copy of a pending lawsuit around Texas mail policies. At this point it seems they're just rubbing it in our faces to use the most illegal reasons they can to censor us.
FSP employee J.M. Clillen (sp?) goes on to cite "Alabama Prisoners Demand Freedom" because "talking about living conditions". So that's illegal now? If we talk about conditions in prisons all of a sudden we're "racists"?
The one article Clillen cites that does not have a reason with it is "Free Palestine - Join the BDS Movement." This couldn't possibly be a threat to security at FSP, and is clearly just demonstrating their support for the Zionist (racist?) state of I$rael.
Finally we get to the "racist" claim, which was made against the article "Conquering My Demons" on page 13. This article is a self-criticism by a USW comrade regarding eir past substance use and misogyny, and a call for all of us to become new, better people. It discusses the resistance of oppressed nations against the imperialists – which is our best guess as to why they labelled it "racist." Oh, and it also spells Amerikkka with 3 K's. That's not racism idiot, that's a critique of racism.
There are no rights, only power struggles. And it is the oppressed and powerless who are denied rights by the powerful in this racist woke imperialist country.