Aztlán Stands with Palestinian People
The October 7th attack that was launched by Palestine in the war for national liberation is but a response to their colonization from the hands of the settler colonialist Israel. For decades the Palestinians have maintained a consistent push for freedom to live without the threat of genocide at their doorstep. The Chicano nation overstands the need to struggle under the brute heel of colonization, our occupied territories – like the Palestinians – will not be free until the oppressor nation is overthrown point blank period! For this reason Aztlán stands with the Palestinian people in their freedom struggle.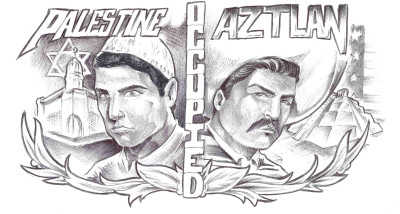 According to the Gaza Health Ministry since 7 October 2023, 2,670 Palestinians have been killed [as we go to press that number has doubled] and Israel has continued to spread its disinformation in regards to the cause of the savagery unleashed by Israel. The truth is the Israeli war on Palestine has the full backing by Chief Colonizer in the World – the United Snakes. The U.$. completely ignores the decades of war crimes Israel has unleashed on Palestine, from white phosphorous cluster bombs to terrorizing generations of Palestinians with death and psychological warfare.
Today the U.$. propaganda "news outlets" snivel about 20 alleged U.$. citizens being supposedly held in Gaza. [By the time this article went live, Hamas had released two elderly prisoners who reported being handled "gently" and seemingly treated better than many prisoners who read Under Lock & Key in the United $tates.] Once again the people here in these occupied territories are being fed snake oil in preparation for U.$. Special Ops to enter Gaza and provide full technical and logistical support for its settler brethren. For this reason we hear a lot about allegations of violence from groups within Palestine. But how about the Reuters journalist Issam Abdallah who was murdered on Friday the 13th of October 2023 after Israel unleashed a brutal shelling on Palestine?
The Chicano nation stands with Palestine and welcomes the wrath of resistance that oppression harvests.
Viva Palestine! Viva Aztlán! Free Palestine! Free Aztlán!