Anti-Imperialist Solidarity Statement from Xinachtli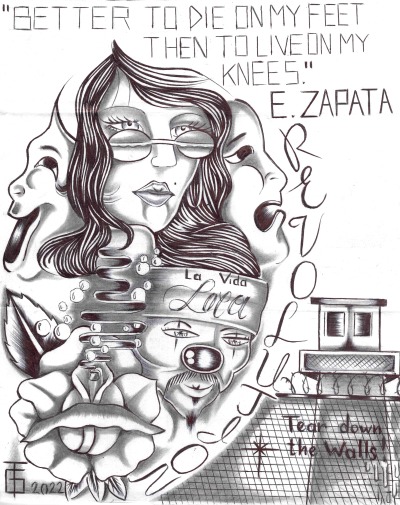 Dear MIM comrades and the world:
I am the same "Xinachtli" mentioned by my beloved comrade Triumphant of Texas T.E.A.M. O.N.E. at page 8 of your MIM newsletter, Under Lock & Key No. 76, Winter 2022.
The prison assigns me to psychiatric-ward-like cellblocks, filled with prisoners under 'psychotropic medications' so removed from these realities that one cannot engage them in a rational conversation much less get them involved in the Texas Prisoners' Human Rights Movement. Other times, they place me in the middle of viper nests of racist, white supremacist inmates. In any event, I continue the struggle as a "one man army" continuing to expose the realities of these racist, horrendous conditions that violate all norms of human decency and civilized society. This prison is a genocidal one, not only sitting on stolen land, but the majority of its cages are occupied by Black, Chicano, and Native American tribes, the mass incarceration that makes up the entire U.S. prison industrial complex.
We, the 'prisoner class', have won many legal victories in our struggle, such as in the Ruiz v. Estelle Litigation, 503 F.Supp. 1265, but conditions continue to be the same in violation of civil and human rights standards and laws. Recently, a Scottish Court in the extradition case of Daniel Magee, refused the government's petition to extradite Magee to Texas for criminal prosecution for allegedly shooting a security guard in Austin, TX, giving as reasons for its decision to continue the ongoing inhumane conditions existing in Texas prisons that violate international human rights laws and standards. (see article by Keri Blackinger, 17 March 2022, The Marshall Project)
Like Russian imperialist President Putin, the same blood drips from the genocidal claws of U.S. imperialism, in the hidden genocidal, extermination of the Mexicano, Chicano, indigenous tribes during their repeated colonial settler wars of annexation and plunder in the war crimes, crimes against humanity, committed by U.S. colonial, imperialists in 1830 through 1848 and ongoing today along the illegal U.S./Mexico military border. The Ukraine and Chicano masses are victims of a same, genocidal, war criminal governments that seek global domination of the world. We, the oppressed, must turn such imperialist wars into wars against world imperialism, and free all oppressed nations and peoples, to make their own destiny.
Please extend my revolutionary greetings to others in TEAM ONE, especially Comrade Triumphant.
Build the National Prisoners' United Front!
All Power to the Oppressed!
Free the Occupied Territories of U.S. Southwest Aztlan!
Convert the Ongoing Russian/U.S. Imperialist War in Ukraine Into a War Against Imperialism!
Xinachtli
Chicano Political Prisoner
Fuerzas Armadas de Liberacion Aztlan(FMLA)