Actions Mark Day 40 of Strike for Freedom and Dignity - Victory!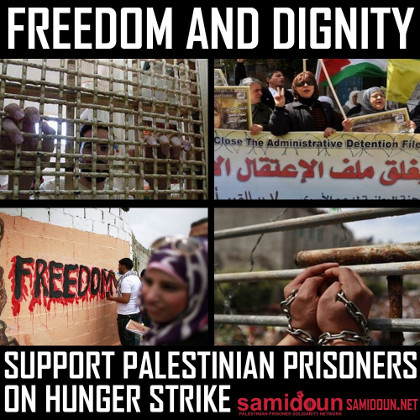 25 May 2017 - Actions in cities around the world were taken today to mark 40 days since 1500 Palestinian political prisoners have been living on salt and water alone to protest the conditions of their confinement. The message at these rallies made clear connections between the struggle against long-term solitary confinement, detention without trial, lack of health care and restrictions on contact with families and the broader anti-colonial struggle. At a local demonstration, this connection was also made to struggles here on occupied Turtle Island.
Signs reading "Palestine Will Be Free" and "Withhold Aid to Israel" lined the sidewalk in front of the Israeli consulate as Aarab Barghouti, the son of political prisoner Marwan Barghouti, spoke to the crowd in San Francisco. Aarab spoke of not being able to enter Jerusalem, the city where ey was born. Aarab told of eir sister visiting their father to plead that ey not risk eir health in a hunger strike. But Marwan Barghouti responded that, "I'm doing this because I haven't been able to touch any of you for 15 years. I'm doing this because we have more than 5000 Palestinian prisoners who haven't been charged or had their day in court."
The participants this correspondent spoke with were all quick to speak of colonialism and the seizure of land when asked why so many Palestinians languished in Israeli jails. They spoke of the one-sided violence and the resistance that Palestinians made to it that led to their imprisonment. Everyone knew that the United $tates is the biggest prison state in the world today. But when asked why, only half (of a small sample size) made the same connections to land grab and national oppression in this country. Others spoke of the "Prison Industrial Complex", free labor, profits, outdated laws and a system that works against the poor. This correspondent pointed out that MIM(Prisons) has research on their website debunking some of the common ideas held about the "PIC," and for-profit prisons in the United $tates.
The relative silence around the colonial question here on occupied Turtle Island is somewhat understandable. We do not have an apartheid state like Israel has in the occupied territories of Palestine. The internal semi-colonies here have democratic rights for the most part, and integration has progressed in many ways. Meanwhile, the struggle for land is only popular among indigenous people on the reservations that are isolated enclaves on this vast land.
Nonetheless, MIM(Prisons) was not the only group trying to make the connection. One speaker opened with, "Here on Ohlone Nation, we stand on stolen land and we stand in solidarity with another indigenous nation." The representative of the Arab Resource and Organizing Center mentioned ICE detainees currently on hunger strike and prisoners in California who recently went on hunger strike for similar conditions. A speaker from the International Jewish Anti-Zionist Network (IJAN) talked about the leading example the Palestinian prisoners were making in solidarity with all those fighting colonialism. Ey went on to say, "We hope the movement on this territory can take direction and inspiration from those imprisoned here for political and social crimes."
One protestor told this correspondent that they'd been fighting in solidarity with the liberation of Palestinians since 1967. This persyn was one who saw prisons in the United $tates being used for the same purposes as they are used in I$rael. Ey told a story of meeting some young Israelis:
"I was in Brazil four years ago, on a bus, and there was a group of young Israelis who recently completed their military service. I had on this bracelet, which says 'Free Gaza.' So we started talking, and they were freaked out, meeting a U.S. citizen [saying these things]. They were arguing, well, we didn't do anything to the Palestinians that the Amerikans didn't do to Native Americans and Blacks. As if that was a justification."
Young Israelis see the connection and so should we. Another persyn we spoke to pointed out how Israelis train the NYPD. So it goes both ways. But the United $tates is the imperialist power and I$rael would not exist without its decades of patronage. The liberation of Palestine remains at the forefront of the struggle for national liberation of all oppressed nations today because of the blatant lack of democratic rights and self-determination. Just as the recent hunger strike finds its strength and base in a strong national liberation movement, the prison movement in the United $tates last peaked when Black, Chican@, Puerto Rican and Indigenous liberation movements reached a peak some 50 years ago. Without making these connections again, today's growing prison movement will fizzle out in reformism and false promises.
Many attending the protest were interested to check out Under Lock & Key, and were inspired to hear about the USW petition campaign to oppose the Israeli bombing campaign in August 2014. In turn, our movement should find inspiration in the heroic strike going on in Israeli prisons today, and the continued struggle of the Palestinian people for freedom from settler occupation.
---
UPDATE: As this article was being reviewed by our editor news broke that the strike had ended and a settlement reached after more than 800 prisoners didn't eat for 40 days. The terms of the agreement with the Israeli state are many, and full details have not been released. They include many improvements to family contact and visitations, access to educational materials, medical conditions for the sick, access to better foods and cooking, better sports equipment and addressing high temperatures and overcrowding. In addition, a prisoners' committee has been established, providing a mechanism for addressing future issues. Samidoun Palestinian Prisoner Solidarity Network released the following statement:
"On this occasion of the prisoners' victory, we know that there is a long struggle to come, for liberation for the prisoners and liberation for Palestine. We urge all of the Palestinian communities, supporters of Palestine and social justice organizers who took to the streets, drank salt water, engaged in hunger strikes, expressed their solidarity and organized across borders and walls to celebrate the victory of the prisoners with events and actions on 4-6 June, in Celebrations of Dignity and Victory.

"In these celebrations, we will recognize the power of the Palestinian people to defeat the occupier and the colonizer, honor the prisoners and their steadfastness, and emphasize the ongoing struggle. These celebrations are an occasion to escalate our demands for Palestinian freedom – for the liberation of Palestinian prisoners, the Palestinian people, and the entire land of Palestine."(1)

Related Articles: