Amerikans Richer Than Ever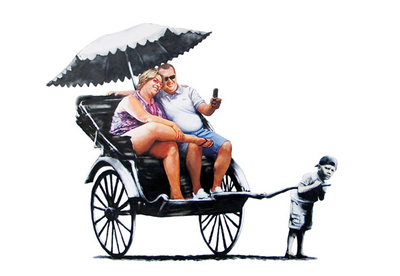 Over four years ago I wrote an article looking at the sudden decline in the U.$. housing market.(1) Many Amerikan nationalists were looking at the household wealth numbers at that time and lamenting the steep drop off from 2008 to 2010. I pointed out that 2007 was an all-time high for wealth owned by Amerikan households, and compared their vast wealth to the poverty of the majority of the world's people from various angles. Well, in late 2014 a new report on global wealth was released by Credit Suisse, and guess what? Overall household wealth in the United $tates is back to an all-time high. In fact, it hit an all-time high in 2012 and has continued to increase. Turns out the financial crisis wasn't a crisis for Amerikans after all.
Despite the rhetoric of the social fascists, conditions in the United $tates have remained quite luxurious following the 2008 economic crisis. How is this possible? For one there is a nice cushion of wealth to fall back on in hard times. According to the report by Credit Suisse, about a third of the world's household wealth belongs to Amerikans.(2) So if everyone's wealth was reduced proportionately during crisis, Amerikans would fair better than almost everyone else in the world. But that's only scratching the surface, as it turns out wealth did not go down proportionately.
In a comparison of wealth growth by regions since 2000, Credit Suisse show the data with current as well as constant exchange rates. This demonstrates the impact that exchange rates have on wealth by region. Exchange rates are connected to mechanisms of unequal exchange, where value is transferred in a hidden way in the process of international trade. Exchange rates are also manipulated intentionally by the finance capitalists and their institutions (such as the IMF). In both cases, this can result in great transfers of wealth to the countries that control the markets, which is most often led by the United $tates. What the two data show is that the depreciation of currency in the Third World against the U.$. dollar accounted for much of the decrease in wealth during 2008. In other words, currency exchange rates provided a cushion to the economic crisis centered in the United $tates by pushing much of that crisis to the Third World. Africa is the only region to have not recovered to its pre-2008 wealth levels, but it would have done so if not for currency depreciation. In other words, as bubbles popped in the U.$. financial markets, wealth was being slowly pumped back in from the Third World via changes in currency exchange rates and unequal exchange of goods.
This is why we call for international exchange rates based on a fixed basket of goods, to put an end to this form of wealth transfer under imperialism. This is also why the U.$. imperialists were worried about Saddam Hussein ceasing to use the U.$. dollar as the standard currency for oil sales in Iraq.
While a much smaller factor in all this, it is also worth noting that the internal semi-colonies took on more of the wealth loss (proportionally) than the white nation in the United $tates. From 2007 to 2013, the median New Afrikan and Raza household wealth both decreased by 42%, compared to white household wealth which was only down 26% over that period.(4)
How did we bounce back?
The Credit Suisse report notes that the strong growth in household wealth in the United $tates following the decline in 2008 did not accompany a similar increase in income rates. If Amerikan household wealth bounced back on its own then we'd expect to see people making more income from their increased work and productivity. But this was not the case. So did this wealth just fall from the sky? No, it turns out this Amerikan prosperity comes from the invisible transfer of wealth from the Third World to the First World that MIM's critics have been denying the existence of for decades.
Before the wealth-transfer-deniers stop reading in disgust, let me acknowledge a couple things. The increase in household wealth from 2013 to 2014 was mostly due to "market capitalization" as opposed to housing prices and exchange rates (three important factors affecting short-term shifts in wealth according to Credit Suisse). While a larger number of the U.$. population is active shareholders than most countries, this would still indicate that the increase largely favored the wealthier within the rich countries. Exchange rates affect everyone in a country, and rising housing prices help the home owners (over 64% of people in the United $tates) accumulate wealth without having to work. (Homeownership has dropped significantly since 2005 when it was almost 70%, disproportionately affecting oppressed nations who on average have much less wealth than white Amerikans.(5)) "Market capitalization" benefits those in finance capital (including most retirement investments that are quite common in the United $tates), and would lead us to infer that while wealth in the United $tates has exceeded pre-2008 levels, it is less equally distributed than it was then.
Another indication of this skew in wealth distribution is that the high ratio of wealth to income in the United $tates in recent years is approaching the level of the Great Depression. This, of course, is one of the inherent contradictions of capitalism that Marx described in great detail: wealth tends to accumulate in the hands of the few, but this creates problems for circulation of capital, which the whole system is dependent on. So Amerikans are not in the clear; rather we would expect actual serious economic hardship in the near future.
Looking internationally, Credit Suisse shows median household wealth to be about the same in 2014 as it was in 2008, with peaks in 2007 and 2010. Meanwhile the top 10% has increased its wealth since 2008 and the top 1% even moreso. So the distribution of wealth is getting more uneven. The only problem for the argument of our Amerikan nationalists is that the majority of Amerikans are in that top 10%.
Amerikans Are Rich
One of the basic rules of captitalism, taught to us by Karl Marx, is that capital tends to accumulate. As I discussed in "Building United Front, Surrounded by Enemies", others have also shown how wealth in general tends to accumulate even for wage earners. In other words, the richer you are the faster your wealth grows. So yes, the 1% in the United $tates is getting richer faster than the other 99%. But those 99% of Amerikans (on average) are still getting richer as the majority of the world does not. The current balance of wealth shows that the difference between nations is more meaningful than the difference within nations.
Let us indulge in some more numbers given to us from the Credit Suisse report, which looks at household wealth across the whole world. The net worth per adult has reached a new high of an average of 56,000 U.$. dollars (USD) worldwide. The median wealth per adult in the United $tates and Germany are just below this level at US 54,000 and USD 53,000. The median is, of course, a much better indicator of the typical than the average (which was USD 348,000 in the United $tates). While your typical Amerikan or German has the amount of wealth one would expect if distribution were equal globally, your typical African or South Asian has wealth that is around 2% of that. (USD 679 in Africa, and USD 1,006 in India)
The number of people in this lower group is highlighted by the estimate that having USD 3,650 of wealth puts one in the top 50% of wealth holders worldwide. Again, if we distributed the wealth equally today, that point would be USD 56,000. But there are so many people with wealth below USD 3,650 that that is the level for the typical persyn (or median) in the entire world.
For Europe and North America combined, the best estimate given for the imperialist countries, 64% of adults are in the top 10% by wealth. It should be noted that the richest 10% of adults own 87% of global wealth. In contrast, 70% of the world's people own less than 3% of the world's wealth, averaging less than USD 10,000 per adult.
In the past we've cited numbers based on income that give similar results, and actually put all employed Amerikans in the top 13% richest by income, with the vast majority being in the top 10%. Wealth will always be more concentrated than income, because people can have incomes without ever accumulating wealth. Incomes are generally necessary in capitalist society, while wealth is not. In contrast to people who have nothing to lose but their chains (because they own no wealth), the majority of white Amerikans have wealth that is much greater than their annual income, which is quite high to begin with.
U.$. Internal Semi-Colonies
Of course, there are a number of nations within the United $tates, and New Afrikan and Raza median wealth is far below their median income, which is already less than white Amerikans. Recent numbers from Pew Research Center give median household wealth of white Amerikans at $141,900 in 2013. New Afrikan households, meanwhile, come in at $11,000, with the gap between Raza househoulds has been more consistent, as Raza median household wealth was $13,700 for 2013. One factor for the widening gaps is that white households are much more likely to own stocks (and remember that market capitalization was high from 2013 to 2014). Another factor is that oppressed nation home ownership decreased 6.5%, compared to white ownership, which only fell 2% between 2010 and 2013.(4) Wealth per adult for New Afrikans and Raza in the United $tates was not readily available for a direct comparison to the international figures in the Credit Suisse report. But it is clear that the median wealth per adult would be well above the global median of USD 3,650. In other words, the typical New Afrikan or Raza in the United $tates has more wealth than over 50% of the world's population. And if you look at income, they're doing even better.
Imperialists Power and Wealth
China's increase in millionaires, massive growth in middle income populations, and resilience against currency depreciation depicted by Credit Suisse all point to its emergence as a center of finance capital. Yet, over 90% of the millionaires in the world today are in the traditional imperialist countries, with the United $tates leading the way with 41%. While Japan used to compete in this category, in 2014 the U$A stands far above the rest with more than 4 times the number of millionaires in Japan. Of those with wealth greater than USD 50 million, 49% are U.$. citizens, with China as the very distant second in this category. Later this report predicts China will overtake Japan as second wealthiest economy by 2019.
On balance, global wealth increases. Wealth is a product of labor, and so as more people are born and work, and a certain portion of the value they create is accumulated (as machines, buildings, infrastructure, etc) rather than consumed (as food, clothes, electronics, etc) the total wealth of the world grows. War and other disasters can destroy accumulated wealth. The Credit Suisse report goes back to 2000, and shows total wealth more than doubling since then. An increasing rate of wealth accumulation would be expected as the forces of production advance with a growing population. Potentially more people working and doing so more efficiently would create greater wealth. However, our analysis predicts that the expansion of production under capitalism has already peaked some time ago. Credit Suisse subtracts out the effect of population growth and still comes up with a 77% increase in wealth over that period. Why so much?
Marx described different economic systems as being defined by a contradiction between the forces of production and the relations of production. When a new organization of labor is first introduced it would increase the forces of production (it brings new ways of doing things so that more work can be done with the same number of resources as before). Eventually, under any class system, the relations of production begin to drag down this progress. As class contradictions increase, so does the contradiction between relations of production and forces of production. So, while capitalism brought a great boom in production a hundred years ago, the limits of expansion are being met and contradictions, such as the ones that triggered the crisis of 2008, are limiting its progressive elements. What all the discussion around 2008 brought to light was the elaborate schemes that had evolved within finance capital markets in recent decades to create and circulate wealth. When they "create" wealth it is usually by expanding credit. So this is not real wealth creation, as when people transform their labor into wealth by constructing a building. As wealth in the form of credit expands faster than wealth in the form of real goods, you get problems where the credit can't be paid off. The "bubbles" that are blamed for such crisis are also behind the steep increase in overall wealth since 2000 shown in this report.
In summary, global wealth dropped a lot in 2007 and has bounced back bigger than ever a few years later. Marx predicted higher highs and lower lows in the economy as contradictions heightened. Therefore we expect volatility to increase as finance capital dominates the economy more and more, and for there to be bigger drops in wealth that impact the imperialist countries more because there is not enough cushion next time.
Amerikans get more stuff
In my previous article on U.$. wealth I made sure to discuss the consumption rates of Amerikans as well, to show that this isn't just academic number crunching and to combat those who argue that it's just a higher cost of living here that explains our higher incomes. Actually Amerikans get to consume a lot more stuff than other people, to the detriment of the health of our planet. One more recent example of this was the response to lower gasoline prices for Amerikans thanks to a market working in their favor. In November 2014, four out of the top five selling vehicles were gas guzzling trucks or SUVs. Demand for two of these gas guzzlers was up 9.6% in November, compared to an overall increase of 1.3% in car sales.(6) As the capitalists produce the most inefficient vehicles they can get away with to keep consumption rates up, Amerikans jump right on board as soon as they get a little relief at the gas pump. Who cares about global warming when you can afford to blast your air conditioner all day long anyway? While Amerikans enjoy lifestyles far beyond what most people can dream of, their bourgeois individualism reaks havoc on the balance of ecological systems that all life depends on. This is another major contradiction threatening the stability of the current socio-economic system.
The economic system is tied to social factors like war and the impacts of ecological destruction. All of these factors interact with each other, putting imperialism in an ever more precarious situation. It is the task of the proletariat and their allies to understand these dynamics and harness the social forces at play to address these contradictions by putting an end to the chaotic system of imperialism and building a new socialist world system in the interests of all.