Are Ideas in a Book Materialist?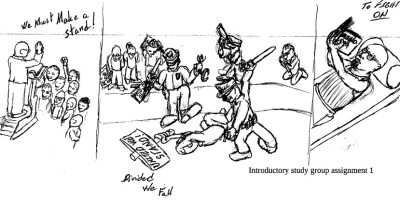 [Responding to "What did you disagree with?" when studying "Where Do Correct Ideas Come From?"]
I disagreed with the basis of idealism not being action. To think is action. Thought can be provoked by stimuli collected by the body's sensors, which is more reactionary. Or you can create a thought or an idea, but this is action. Mental action nonetheless but action all-in-all. And it must be understood physical action comes from mental action. As I write this I understand the materialist method is physical action. Well I guess I don't have a disagreement but rather a question, is ideas placed on paper in book format considered materialism?
---
Wiawimawo of MIM(Prisons) responds: As comrade Melo X explains, we can have thoughts that are reactions to physical stimuli, or we can create thoughts. But this "creation" of thoughts is also a response to the physical world. What we might call reason, abstracts concepts based on our experience with real phenomena, or physical things we can interact with.
"the faculty of understanding is not a 'thing in and of itself,' because it becomes real only in contact with some object."(1)
Dietzgen explained how the idealists see the mind as separate from the sense perceptions of the material world. So Melo X is correct to see the unity between them. The comrade also distinguishes creating thoughts from more passive perception. This realization demonstrates the role of reason in developing scientific understanding from our perception of the physical world around us.
We also agree that our thoughts impact our actions. Hence we stress class consciousness as an educational process that is a product of our interactions with the class system.
So, are ideas in a book part of the materialist method? Well, it depends on what ideas. A book can promote contemplative reasoning. Bourgeois books will promote bourgeois thinking that harbors much idealistic reasoning in order to deny the contradictions inherent to the capitalist system. All that said, 99% of our materialist understanding of the world is based in history, and therefore must come from books (or other historical record). If we discarded books in our scientific pursuits we could not continue to build on the knowledge of the past, but would be stuck relearning the same things with each generation.
It is a crass form of materialism that says everything must come from persynal experience and direct interaction with the physical world. Rather we must learn from the actions of the people who came before us, and as we develop new theories they must be tested by us in practice through action and not just tested in our contemplative, subjective minds. Another way to look at this is that books are recorded practice and direct experiences of other people. Frederick Douglas' writings are from eir practice with chattel slavery, and Lenin's writings are from eir practice with the first proletarian revolution. When we say that all knowledge is 99% history, we're not saying we should spend all our time learning using books but to see it as a starting point so we can make new practice in the future.
Notes:
1. Joseph Dietzgen, The Nature of Human Brain Work: An Introduction to Dialectics, PM Press, 2010, p.58.