Blurred Lines Become Clear After Jan. 6 Investigation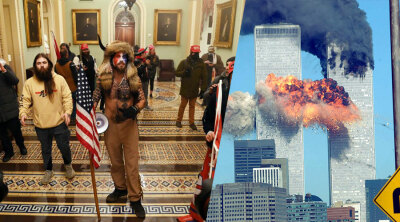 Previously I argued that taxpayers are not responsible for government capital policy because they are ignorant. My error was pointed out to me and now I see the truth – the January 6th rioters showed me that they are willing to fight for my oppression therefore their ignorance is irrelevant – they are indeed more responsible than I assumed, therefore I must ignore my compassion for their humanity as unnatural as that is for me. The object is more important than the subject.
When evaluating responsibility, it is tempting to be blinded by the subject. For instance, government officials are directly responsible for enforcing capital policy. However, collaborators often look like our neighbors, friends or even family. These collaborators will support & encourage oppression & tyranny out of ignorance or out of a callous heart. Ignorance cannot be excused if freedom is ever going to be won. When the object of freedom becomes important enough all barriers must fall, even if that means forcing ourselves to do what is not natural.
Rights are never granted, rights are won. Unfortunately, this includes basic human rights such as freedom. To win freedom from the tyranny & oppression that comes with a capitalist economy, the opposition must fall. This necessity does not come naturally, that is because the values instilled in our youth are instilled by capital policy (submission), these values are what allows capitalists to steal your freedom. We must relearn a greater value.
There exist those that will take more than one has to give, that is what capital is (inequality). There is only so much resource & for one to have more than one needs he/she has to deprive another of what they need. For one to be rich, one must be poor.
As I watch the January 6th investigation, one thing is clear. That is the effort was weak. I think that is because the rioters knew in their hearts that they were fighting for the exploitation of an oppressed class. Ironic that they choose to capture the Capitol Building in order to keep their capital wealth at the expense of the oppressed class.
For those of us that are fighting for freedom, We will not make a half-hearted effort because it is our very survival that we are fighting for. We are not fighting for material wealth because we have none. Because our oppression is total & complete then so is our fight for freedom.
We will not fight for one building, not even for one city, or one country. We are fighting for equality. We will not stop until all opposition is fallen. Our fight comes from the heart & that is why it is stronger than the January 6th fight for material wealth.
The difference is that I am sick & tired of being oppressed so that another can live lavishly. The difference is that unlike the January 6th rioters I am not here to have a big party with a bunch of friends at the Capitol Building – I am here to win my freedom and to fight for the freedom of all oppressed people and I will not stop and lay down, I will never stop!!
That is what Marx means by permanent revolution, we must never stop fighting because the very moment we relax is the moment the exploiters continue to exploit as they have always done. Sun Tzu said we can "never leave an enemy on the battlefield." If we do they will come back again.
As communists we must know our enemy is the object and not the subject. Compassion can blur our vision of the object and it is in these moments I must remember that the capitalists never had any compassion for the oppressed.
---
MIM(Prisons) adds: This point is relevant as Amerikans remember the 20th anniversary of the 9/11 attacks on the World Trade Center and the Pentagon, and Afghans sigh in relief as the invader of their country pulls out. Professor Ward Churchill took a lot of heat for quoting Malcolm X on chickens coming home to roost after 9/11 and referring to Amerikans as "little Eichmanns."(1) Adolf Eichmann was a Nazi in Germany who ran logistics for the system of concentration camps there. He was captured years after the war and in his trial claimed he was just following orders, just a cog in the machine, and should not be blamed for the deaths caused by that machine.
Since the end of the second imperialist war, the Amerikans have run the largest system of concentration camps in the world. While they lack the mass murder of the Nazi system, they are genocidal nonetheless against the oppressed nations that make up the majority of the prisoners. The day will come when Amerikans will be charged for their decades of crimes against humynity. Our success at building anti-imperialism and accountability in the United $tates today will ease the transition to a more just future on these lands.