Book Review: Captive Genders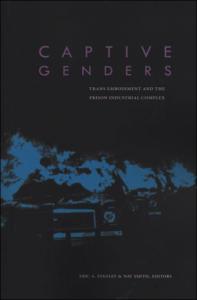 Captive Genders
Trans Embodiment and the Prison Industrial Complex
Eric A. Stanley & Nat Smith, Editors
2011, AK Press
Available for $21.95 from AK Press: 674-A 23rd St, Oakland, CA 94612
This book is a compilation of essays from various transgender individuals, activists, prisoners and researchers. The unifying theme is progressive in that the book is not only devoted to exposing gender oppression faced by transgender people, specifically the criminalization of gender variance in the United $tates, but also to the abolishment of the current United $tates prison system itself. It tackles the often incorrect focus of queer activists who call for expanded laws and punishment, correctly exposing this strategy as reactionary and counterproductive. Unfortunately, although this is a pretty long book, it includes only vague anarchist solutions to the problem, with no coherent strategy to abolish the criminal injustice system.
Before going into detail I will briefly mention that MIM(Prisons) disagrees with the use of the term "prison industrial complex" (PIC) which is found throughout this book. This phrase implies that prisons in the United $tates (and other First World countries when applied there) are part of a money-making industry. In reality prisons are a money-losing enterprise, built and sustained by the state as a means of social control. Anyone making money off of prison contracts are just participating in the shuffling of imperialist wealth stolen from the Third World, not making profits off of prisoner labor. The use of this term in this book is perhaps not a surprise as a failure to grasp the underlying purpose of a system is going to lead to mistaken analysis of how we can fight that system.
We Can't Work Within the Criminal Injustice System
In the introduction, the editors wrote: "Mainstream LGBT organizations, in collaboration with the state, have been working hard to make us believe that hate crimes enhancements are a necessary and useful way to make trans and queer people safer. Hate crimes enhancements are used to add time to a person's sentence if the offense is deemed to target a group of people. However, hate crimes enhancements ignore the roots of harm, do not act as deterrents, and reproduce the farce of the PIC, which produces more, not less harm."(p3) This is an important point for activists of all stripes who fight for expanded laws to protect whichever oppressed group they are working to defend. We cannot look to the state to defend us against the state. And the prison system in particular is a repressive arm of the state; anything we do to expand that arm is inherently reactionary.
In "Transforming Carceral Logics: 101 Reasons to Dismantle the Prison Industrial Complex Through Queer/Trans Analysis and Action," S. Lamble writes:
"Although some people believe that we can train transphobia out of law enforcement agents or eliminate homophobic discrimination by hiring more LGBT prison guards, police, and immigration officials, such perspectives wrongly assume that discrimination is a 'flaw' in the system, rather than intrinsic to the system itself. Efforts to make prison and the police institutions more 'gay-friendly' perpetuate the myth that such systems are in place to protect us."(p. 239)
This author goes on to write: "The pervasiveness of state violence against queer and transgender people is reason enough to fight the prison industrial complex. But it is important to include anti-prison work as part of antiviolence struggles more broadly. Too often mainstream antiviolence work around hate crimes, sexual violence, child, and partner abuse excludes or remains disconnected from struggles against state violence."(p245) We agree with the connections made by Lamble here. It is important that people recognize that state-perpetrated violence is far broader and more deadly than any individual violence. It is laughable that some turn to our violent state to protect them. The state will only protect those whose interest it serves. In the case of the Amerikan government, that includes the vast majority of the white oppressor nation, but often excludes oppressed groups of like trans people.
Lamble concludes:
"Unfortunately, many LGBT organizations in Canada, Britain, and the United States — particularly white-dominated and class-privileged ones — are increasingly complicit in the forces of prison expansion: calling for increased penalties under hate crimes laws; participating in police, military, and prison officer recruitment campaigns....LGBT groups nonetheless helped to legitimize imprisonment and channel further resources into locking people up — despite a lack of evidence that such measures reduce hate-motivated violence."(p. 249-250)
In "Identities Under Siege: Violence Against Transpersons of Color[", Lori A. Saffin bolsters this point: "Arguing for the inclusion of sexual orientation and gender identity in state hate crimes laws will ultimately end in limited social reform because 'equality' within the existing social system only accounts for and remedies the most blatant forms of injustice."(p155) And she concludes:
"By not taking into consideration the ways in which the criminal justice system regulates, pursues, controls, and punishes the poor and communities of color, LGBT hate crimes initiatives reproduce harm and do not end it. Calling for an increased role of the criminal justice system in enforcing hate crimes legislation is insular in that it assumes a white, gay, wealthy subject while also soliciting victims of hate-motivated violence to report into a penal system without regard for the fact that people of color and the poor are disproportionately punished. By ignoring racism and economic inequality in their arguments for hate crimes statutes, national gay rights organizations assume an assimilationist stance that reinforces the status quo at the expense of communities of color and the poor."(p156)
Queer and Trans People in the Criminal Injustice System
Captive Genders has some good data on the incarceration of queer and trans people in Amerika who are disproportionately targeted by the criminal injustice system and face additional dangers and abuse within prison. In "Rounding Up the Homosexuals: The Impact of Juvenile Court on Queer and Trans/Gender-Non-Conforming Youth" Wesley Ware writes:
"Further, the data tell us that queer and trans youth in detention are equally distributed across race and ethnicity, and comprise 15 percent of youth in detention centers.... Since queer and trans youth are overrepresented in nearly all popular feeders into the juvenile justice system — homelessness, difficulty in school, substance abuse, and difficulty with mental health — the same societal ills, which disproportionately affect youth of color — it should not be surprising that they may be overrepresented in youth prisons and jails as well."
In "Maroon Abolitionists: Black Gender-Oppressed Activists in the Anti-Prison Movement in the US and Canada," Julia Sudbury writes about the gender binary in the prison system and the risks for transsexual prisoners who have not had gender reassignment surgery. They are assigned to a prison based on one part of their body, denied medical care, and put in extreme physical danger.
Many trans wimmin are forced to take a prison "husband" by the guards who think this will diffuse tension and make the prisons calmer. In "No One Enters Like Them: Health, Gender Variance, and the PIC," blake nemec interviews Kim Love about her experience in the men's prisons in California. Kim describes entering the prison, when the Correctional Officer (CO) assigned her to a cell and she objected to the placement, and "They told me that's gonna be your husband, and that's where you're going to be and you're going to love him."(p. 222) She goes on to explain why no one tries to take the COs to court: "We've had so many transgenders that have been raped in CDC [California Department of Corrections] and had proof. One of them even had the towel the CO wiped his semen on. Today I haven't heard of one case that a transgender won against a law officer, against CDC."(p. 222)
In "Out of Compliance: Masculine-Identified People in Women's Prisons" Lori Girshick writes about women "aggressives" in prison. These people, most of whom identify as lesbians or trans men, are often treated more harshly than feminine prisoners because they are breaking the social and cultural norms the prisons seek to enforce. "Legislation is being considered in California to segregate lesbian, gay, bisexual, transgender (LGBT) prisoners who self-identify at receiving."(p. 203) The author explains that this gives staff even greater access to harass and abuse them.
How to Organize for Change
In the essay "Building an Abolitionist Trans and Queer Movement with Everything We've Got", the authors, Morgan Bassichis, Alexander Lee and Dean Spade, tackle the critical question of how to organize. But they completely miss several important points. First, they consider the Amerikan workers to be on the side of the oppressed: "The US government and its ally nations and institutions in the Global North helped pass laws and policies that made it harder for workers to organize into unions..."(p20)
Second, they push reformist organizing without a clear goal of eliminating imperialism, as if we could abolish the criminal injustice system within imperialism. They do however, correctly identify that violence and discrimination aren't just individual bad behaviors:

"Discrimination laws and hate crimes laws encourage us to understand oppression as something that happens when individuals use bias to deny someone a job because of race or sex or some other characteristic, or beat up or kill someone because of such a characteristic. This way of thinking, sometimes called the 'perpetrator perspective,' makes people thing about racism, sexism, homophobia, transphobia, and ableism in terms of individual behaviors and bad intentions rather than wide-scale structural oppression that often operates without some obvious individual actor aimed at denying an individual person an opportunity. The violence of imprisoning millions of poor people and people of color, for example, can't be adequately explained by finding one nasty racist individual, but instead requires looking at a whole web of institutions, policies, and practices that make it 'normal' and 'necessary' to warehouse, displace, discard, and annihilate poor people and people of color. Thinking about violence and oppression as the work of 'a few bad apples' undermines our ability to analyze our conditions systematically and intergenerationally, and to therefore organize for systemic change."(p. 23)
We have a correct analysis here of the need for systemic change. But their ultimate goal is summed up:
"Abolition is not just about closing the doors to violent institutions, but also about building up and recovering institutions and practices and relationships that nurture wholeness, self-determination, and transformation. Abolition is not some distant future but something we create in every moment when we say no to the traps of empire and yes to the nourishing possibilities dreamed of and practiced by our ancestors and friends."(p. 36)
This is an unfortunate dive into individualism and the persynal-is-political anarchist practice. We cannot create a culture that enables better relationships between people and allows the oppressed to have their own institutions until we eliminate the system of imperialism that necessitates the exact opposite. Pretending that our individual practice can get us there is the same mistake these and other authors in Captive Genders correctly criticize when they talk about the fact that one racist individual isn't the problem but rather it's the whole system. We must dismantle that system first, then we can build a just and equal society.

The essay "Maroon Abolitionists: Black Gender-Oppressed Activists in the Anti-Prison Movement in the US and Canada" also gets the solution wrong:
"Movement-building that creates innovative models of justice that do not pimp prisoners for the success of capitalism are possible. It is time to view the current US economic hardships as an exit opportunity away from dependency on conservative foundations and government funding vehicles that bar groups from work that threatens pharmaceutical industries or gender/sexuality norms. Transformative justice models that empower lovers, friends, and groups of people to be accountable to one another rather than rely on unjust and unsustainable US systems, can work to abolish the prison industrial complex. We can, and are, creating these in forms that facilitate a domino effect of cultural and economic churnings."(p. 230)
Again here we have this idea of "transformative justice" that is anarchist individualism with people just holding each other accountable outside of the United $tates's criminal injustive system. Yet no matter how hard we try, we do not have the liberty to exist outside of the imperialist system. Take a look at the revolutionaries in the Philippines or India who liberated base areas and set up their own independent institutions only to have them attacked by the brutal military (funded and armed by the United $tates). Or look at an example closer to home: the MOVE organization, which attempted to set up its own peaceful self-policing community only to be violently destroyed by the Amerikan injustice system. There is a reason why the Black Panther Party trained its members in self-defense. We are misleading people by pretending that this transformation of the criminal injustice system is possible by just creating some independent structures. The Amerikan government will not just fade away without a fight.