Book Review: Marcus Garvey Falls Short of Revolutionary Nationalism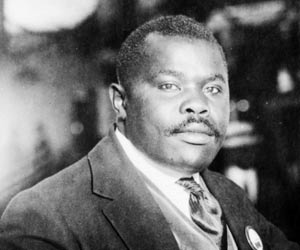 Marcus Garvey: Black Nationalist Leader
by Mary Lawler
Holloway House Books 1990
I had the chance to borrow this book from a New Afrikan prisoner in order to check out this cat who many believe to have been a main influence to the Black liberation struggle of the 20th century. One thing that stood out is almost every other page had a photograph, including everything from Jamaican slaves, "race riots," the klan and Malcolm X.
This book traces the life of Marcus Garvey from his birth on August 17, 1887 in Saint Ann's Bay, Jamaica. Out of 11 brothers and sisters, only he and a sister lived past childhood. His stonemason father was known to be a voracious reader and well respected in the village; his mother was a farmer who sold what she grew along with baked goods to contribute to the family. Early on the family owned several properties, but after legal disputes the family was left with the single property they lived in.
Garvey's father was what Lawler described as "A descendant of the maroons, escaped Jamaican slaves who banded together during the 17th and 18th centuries to fight the island's British colonial rulers."(p. 23)
Garvey descended from a line of anti-colonial struggle. The British slaves killed off all the indigenous Arawak natives and then kidnapped Africans and used them as slave labor in their plantations all over Jamaica. Garvey's relatives were among those who resisted the oppressor.
Because of his father's profession and his family being landowners, Garvey was educated in public school as well as by tutors, and took advantage of his father's private library which was well stocked with books, newspapers, and magazines. This was at a time when most Black people in Jamaica received little to no education. At the age of 15 Garvey went on to work as a printer's apprentice, and by age 20 he was a master printer, a skill which he would put to use later in his propaganda efforts.
Garvey became politicized after moving to Kingston and seeing the inequality and oppression of Blacks. It was in Kingston where he joined his first workers' strike at the print shop where he worked to protest low wages. At age 22 Garvey joined a group called the "National Club" that strove for better treatment of Blacks and agitated against British colonialism. He immediately began working on the national club's organ Our Own, which led him to launch his own publication called Garvey's Watchman. Garvey's Watchman didn't last very long, but made clear his real purpose and increased his interest in political organizing.
With big plans and little money Garvey became a migrant worker and set off for Costa Rica in 1910. Garvey's thoughts were on Blacks in Jamaica, but in Costa Rica he saw horrible treatment of Black workers in his first job for United Fruit. United Fruit is a U.$.-controlled company that has long wreaked havoc on Latin America. It has left a bloody trail in its support of brutal dictators while ensuring workers' rights are silenced with often deadly results.
The book explains how Garvey's first job at a banana plantation quickly led him to fight for workers, even launching a newspaper called La Nacionale (The National) that expressed workers' rights. It wasn't too effective as most of the workers were illiterate, so these efforts did not get very far.
After traveling to several Latin American nations and returning to Jamaica, at age 23, Garvey set sail to England. In England, he again faced poor work conditions and discrimination. Garvey finally realized that everywhere he went, regardless of the country, Blacks experienced oppression. In England he attended college where he met other Blacks who promoted Pan-Africanism. The Pan-African Movement was created in the 1800s. This was a time when British colonialism held many Black nations as colonies and the Pan-African movement sought to create Black nations that were governed by Blacks. The idea was to take Africa back for Africans.
In 1913 Garvey began work for Duse Mohammed Ali, publisher of African Times which promoted the rights of Black people. This, Lawler explains, allowed Garvey to mingle with the movers and shakers of the Pan-African movement, as most of them wrote for African Times.
The author writes that after reading Booker T. Washington's book Up From Slavery Garvey "found his purpose." Washington was a known integrationist who believed Black people should not protest racism, and instead that eventually the white nation would accept Black people. Many of the more progressive Black leaders of this period denounced Booker T. as an Uncle Tom.
In this book we read about Garvey creating the Universal Negro Improvement Association (UNIA) in 1914. UNIA was to work to unite and improve Jamaican Black people's socio-economic conditions while promoting the anti-colonial struggles of Africa.
The author states about Garvey, "Like Booker T. Washington, he believed that until the Black workers became committed to self improvement, they would be looked down upon by whites."(p. 57)
The author implies that Black people can work within the oppressor nation's systems, and claims this will resolve racism from the oppressor. This system of thinking misses identifying the root of one's oppression. To blame the oppressed is to be an apologist for the oppressor nation and this thinking will never lead to the liberation that Garvey was lookiing for.
I also found it surprising that Garvey seemed to rely on religion as a savior. For instance, the author quotes Garvey as speaking on what helped to better himself, "Nobody helped me toward that objective except my own mind and God's good will."(p. 59) Garvey was also known to organize religious meetings as the author reminds us. The book suffers in that the author offers many quotes from Garvey and others but gives no footnotes as to where these quotes are coming from; this makes many of the quotes seem suspect.
In 1916 Garvey arrived in Amerika and found in Harlem a more receptive audience to UNIA than in Jamaica where UNIA only gained under 100 members and financially was unable to launch any independent institutions.
Garvey soon helped form a New York chapter of UNIA along with a newspaper Negro World, which served as UNIA's platform. The UNIA's motto was "One God, One Aim, One Destiny," thus it was steeped in a metaphysical approach about what would free Black people.
In 1919 Garvey founded a shipping company called "Black Star Line." This was created with the intent to obtain Black "economic independence." Garvey said, with regard to the Black Star line, "Our economic condition seems, to a great extent, to affect our general status... be not deceived wealth is strength, wealth is power, wealth is justice, is liberty, is real human rights."(p. 112) Spoken like a true capitalist.
It becomes apparent in this book that Garvey believed Black capitalism would liberate Black people from the hardships he had witnessed worldwide. He believed creating and then monopolizing on "Black industries," UNIA could supply Black people with furniture and other goods in South and Central America, as well as the West Indies and beyond. Garvey encouraged all Black people to invest in UNIA as a step toward liberating themselves from racism.
In 1922 Garvey was arrested for mail fraud in soliciting investors for the Black Star Line which had begun to lose business as ships were lost and investors became suspicious. Garvey was convicted and sent to prison for a couple of years. Upon release he was deported back to Jamaica where he attempted to rebuild UNIA. After poor results he moved back to England to start up a UNIA chapter and it was during this time that a rift was created between the New York chapter and Garvey himself, which helped to tarnish UNIA more. Garvey died in England on June 10, 1940 at age 53. Although he died in poverty his death would bring him a renewed notoriety in Jamaica and worldwide.
Throughout the book neither socialism nor communism was mentioned once! I found this odd as this was a time when Russia had just been liberated under Lenin's leadership, but then Garvey was not a socialist. Without socialism a people will continue to be oppressed even if governed by one's own people. The masses of people will simply be people oppressed by their own bourgeoisie. This is bourgeois nationalism, or as Huey Newton coined it, pork chop nationalism. Revolutionary nationalism which install socialism once a nation is liberated, thus ensuring the bourgeois and other capitalist roaders do not get the chance to derail the revolution.
Garvey did leave a lasting impression on the Black nation in Amerika. Malcolm X's father was a Garveyite so Malcolm obviously grew up in Garvey thought. On the end it can be said Garvey helped to develop more progressive thought than his own. This book is worth reading as a basic intro to Marcus Garvey's political work, but it is important to note it does not include Garvey's own writings. Those researching the historical development of New Afrikans will find some value in this book.
This article referenced in: