Two Sides of Garvey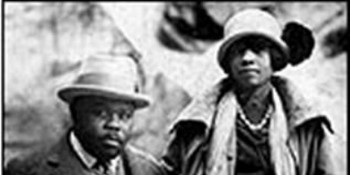 In response to the call to honor freedom fighters, it is an honor and pleasure to journal the commemoration of New Afrikan freedom fighter Amy Jacques Garvey.
So many today dismiss the Pan-Afrikan movement and its various bodies, both within and outside of U.$. prisons, as that of an unnecessary call and reference to an outdated idea. In the context of the proletarian political causes, it is often the ultra-leftist who has taken up this position.
However, in our attempts to fast forward the most correct methods of resolving contradictions, we acknowledge that they come in the form of class consciousness among nationalist leaders driven by internationalist struggles led by the proletariat. The Pan-Afrikan movement is one likely place where we find these elements.
Many prisoners are aware of the name Marcus Mosiah Garvey, but very few are familiar with Amy Jacques Garvey, the wife of Marcus Garvey and the bone and marrow of the Universal Negro Improvement Association (UNIA). Amy Garvey was a special person in the history of liberation struggles. Born 31 December 1895 in Kingston, Jamaica to a middle-upper class family, Amy Garvey was ahead of her time. Though "all identity is individual, there is no individual identity that is not historical or, in other words, constructed within a field of social values, norms of behavior and collective symbols."(1)
The mother of what author Ula Yvette Taylor coined "community feminism," Amy Garvey pressed the issue of lower class wimmin not only in serving their male counterparts, but also educating themselves to become political leaders in the nation. Today, lumpen wimmin of the internal semi-colonies still find themselves criticized for either being home-oriented or for sex. UNIA enjoyed support across gender and promoted equality of the sexes. Yet, in practice, this "community feminist" approach was a means of dealing with the expectations put on wimmin to be supporters of men while still being political leaders. While wimmin like Amy Garvey had to take on an unequal burden compared to their male counterparts, their actions served to break down the expectations of gendered roles, paving the way for others.
Amy Garvey empowered wimmin to confront racism, colonialism and imperialism, while contesting masculine dominance as well.(2) As she wrote, wimmin should use their "intelligence in a righteous cause" as they are needed to "fill the breach, and fight as never before, for the masses need intelligent dedicated leadership."(3)
Since the 1920s, Amy Jacques Garvey's organizing activities had sought to further the decolonization of West Afrikan nations as people of African descent endeavored to restructure their societies. The antecedents of these largely nationalist movements were well-established in Pan-Afrikan struggle that came into its own during the early 1940s, including the fifth Pan-Afrikan Congress. Meanwhile, other power shifts were occurring such as: the rise of the Soviet Union, liberation struggles in southeast Asia, the independence of China and the Asian-African Bandung Conference.(4) Indeed, within this political milieu, "West Afrikan nationalism and various brands of Pan-Africanism, could mix with everything from Fabian socialism to Marxism-Leninism."(5)
While engaging in the international arena, Amy Garvey also struggled against fellow comrades of the UNIA. She was well known for her refusal to hold her tongue on the contradictions that arose within, even at times writing critical positions of Marcus Garvey himself. It resembles so many of those within the belly of the beast babylon who struggle to liberate themselves in order to offer liberation to their people, only to be hushed by LO leadership.
Amy Garvey was from Jamaica and considered herself an Afrikan. She drove home the point that people of Afrikan descent in the United $tates (New Afrikans) and elsewhere were living as second-class citizens, largely as a result of economic oppression. Today we see the second-class citizenship that New Afrikans and Chican@s face as the biggest targets of social isolation by the U.$. prison system. The second class that the oppressed nations are being bred into today is what we call the First World lumpen class. In the imperialist countries, that is the class that has nothing to lose from a revolution except the very chains that bind them to a bourgeois system that doesn't serve them. "As the lumpen experience oppression first hand here in Amerika, we are in a position to spearhead the revolutionary vehicle within the U.$. borders."(6)
The 2015 release of Chican@ Power and the Struggle for Aztlán by a MIM(Prisons) study group introduces prisoners to the reality of their class identity with the lumpen of oppressed internal semi-colonies in North America.
"Kwame Nkrumah in his analysis of neo-colonialism in Africa defined it as: 'The essence of neo-colonialism is that the state which is subject to it is, in theory, independent and has all the outward trappings of international sovereignty. In reality its economic system and thus its political policy is directed from outside.' Nkrumah stressed the importance of dividing the oppressed into smaller groups as part of this process of preventing effective resistance to imperialism as had already occurred in China, Vietnam, Korea, Cuba and elsewhere."(7)
Amy Garvey too considered the likes of Kwame Nkrumah as her comrade, alongside of Nnamdi Azikiwe, W.E.B. DuBois and George Padmore, just to name a few. She was a disciplined, arduous scholar whose objective was to fold Garveyism into existing progressive organizations, thus uniting a divergent Pan-Afrikan world.
Many of the ideas that are circulated amongst the lumpen organizations within the belly of the beast babylon are grafted from the ideas of the peoples parties like the UNIA, whether they admit it or not. The proof is in the pudding. Amy Garvey showed that one could stand on two legs and not buckle under the pressure of integrationist culture.
Amy Garvey held Marcus Garvey up while he served his prison bid in Atlanta, and took the driver's seat of one of the world's most influential Negro organizations in its time when wimmin weren't expected to be political. It is so similar to the anti-imperialist prisoner movement; prisoners aren't expected to be political souljahs.
Death to babylon-imperialism!
---
MIM(Prisons) adds: MIM said that Pan-Afrikanism should be a strategic question, and is not worth splitting over.(8) They also said that Pan-Afrikanism has historically been the most progressive of the "pan" ideologies. Clearly that the Pan-Afrikan mission has yet to succeed in the dire need for effective revolutionary leadership is evident in the recent revelations that
"In 2014, the U.S. carried out 674 military activities across Africa, nearly two missions per day, an almost 300% jump in the number of annual operations, exercises, and military-to-military training activities since U.S. Africa Command (AFRICOM) was established in 2008."(9)
The imperialists continue to foment the tribal divisions across the African continent to wage proxy wars that amount to inter-proletarian killing on the ground. The overwhelming proletarian character of the populations in Africa gives Pan-Afrikanism its strong progressive character.