Book Review: Marx & Engels on Colonies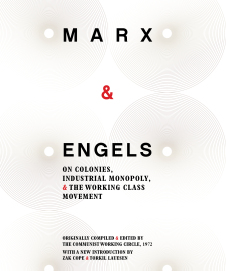 Marx & Engels On Colonies, Industrial Monopoly, & The Working Class Movement
originally compiled by the Communist Working Circle, 1972
with a new introduction by Zak Cope & Torkil Lauesen
Kersplebedeb, 2016

Available for $10 + shipping/handling from:
kersplebedeb
CP 63560, CCCP Van Horne
Montreal, Quebec
Canada
H3W 3H8

This book is a reprint of a 1972 study pack by the Communist Working Circle, which contains quotes from Karl Marx and Frederick Engels on the question of the split between workers in the imperialist countries and the colonized nations. The book opens with a foreword by the Revolutionary Anti-Imperialist Movement and an extensive introduction by Zak Cope & Torkil Lauesen explaining transfer of wealth from colonies to Britain.
The introduction is really the heart of the small book. It takes the outline laid out by the Marx and Engels quotes and fills it out with a detailed historical treatment of the subject. The authors focus on the periods contemporary to and discussed by Marx and Engels. And they make some important conclusions, including that England was dominated by the labor aristocracy by the 1850s. This is a key point, when all too often the question of the labor aristocracy is treated as an open debate over 150 years later.
One topic that Marx and Engels touch on in many of the selections is England's relationship to Ireland. This was a factor for Marx in eir understanding of the English workers growing allegiance to capitalism. While we often treat settler nations like Amerika and Australia as distinct phenomenon, what we gather from Marx and Engels's descriptions is that the attitudes of the English were/are not very different. The English built a very similar consciousness in relation to Ireland, India and countless other colonized peoples.
MIM(Prisons) recommends this book as part of the still-growing cannon on this important topic. While we consider Zak Cope's Divided World, Divided Class a must-read, this may be a more digestible piece to start with for those shy about thick economic texts. This book is available to prisoners for $6 or work trade from MIM Distributors, and we plan to conduct a study group on it in the near future.

Related Articles: