Downloadable Grievance Petition - Federal Appeal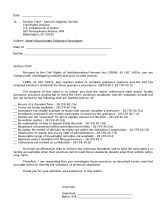 When state-level petitions fail, we now have this petition to appeal to the Department of Justice. This federal level appeal may help put pressure on the state corrections departments ignore our appeals
Mail the petition to your loved ones and comrades inside who are experiencing issues with the grievance procedure. Send them extra copies to share! For more info on this campaign, click here.
Prisoners should send a copy of the signed petition to each of the addresses below. Supporters should send letters on behalf of prisoners.
Section Chief – Special Litigation Section, Civil Rights Division, U.S. Department of Justice, 950 Pennsylvania Avenue, NW, Washington, DC 20530

ACLU National Prison Project, 915 15th St NW, 7th floor, Washington DC, 20005-2112 (for those ready to bring class action lawsuits)

Office of the U.S. Attorney General, 1425 New York Ave. NW, Washington DC 20530-0001

Director/Commissioner/Secretary of Corrections (for your state)

Agency or Facility Grievance System Director or Coordinator (for your state)


And send MIM(Prisons) copies of any responses you receive!
MIM(Prisons), USW
PO Box 40799
San Francisco, CA 94140