Feds Lockdown Prisoners in Response to Uprisings in the Streets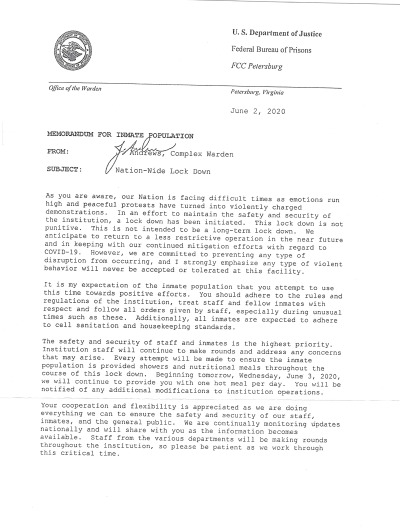 I am enclosing a memo distributed to the captive population in response to the uprisings by the Americans' oppressed New Afrikan population. It is claimed that their actions are not punitive, but of course that is clearly not the case. There is evident fear of the latent power of their oppressed nationalities confined within their prisons, as can be noted at the end of the first paragraph.
"As you are aware our Nation is facing difficult times as emotions run high and peaceful protests have turned into violently charged demonstrations. In an effort to maintain the safety and security of the institution, a lock down has been initiated. This lock down is not punitive. … However, we are committed to preventing any type of disruption from occurring, and I strongly emphasize any type of violent behavior will never be accepted or tolerated at this facility."
---
MIM(Prisons) adds: This action by the federal government reveals the level of fear that they have right now of the oppressed nations and the youth in general in this country. Prison officials display the same hypocrisy as the police on the streets who have responded to peaceful demonstrations again and again with violence against people for exhibiting their First Amendment rights. Young people are coming home from protests permanently disabled. While thousands are being locked up.
As statistics on police murders and violence are gaining interest, we must ask what about the "peace officers" behind bars? How many have they killed? How many Black men are dying at the hands of the state where cell phone cameras are illegal? Where peaceful protests always face repression and there's no videos to post online?