RICO Act Tool of Political Warfare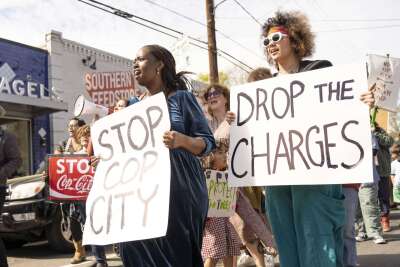 In the last month we have seen the state of Georgia bring RICO Act charges against Rudy Giuliani and others who worked with Donald Trump to steal the 2020 U.$. presidential election, as well as activists who were doing things as simple as handing out fliers opposing the construction of Cop City in Atlanta.
The Federal Racketeering and Corrupt Organizations Act (RICO) was enacted in 1970 as a tool to charge people with crimes when they were having other people do their dirty work for them. Each crime charged under RICO can add years to ones prison sentence. The Georgia RICO Act of 1980 covers more crimes than the federal version. The Georgia Act makes Racketeering a felony in the state.(1) Historically, we have had multiple readers who were victims of RICO Act charges brought during the Giuliani years in New York City, and more recently in the Atlanta area, for their leadership roles in lumpen organizations, the more typical target of RICO.
Rudy Giuliani earned fame as a federal prosecutor for getting Mafia bosses in New York City convicted on RICO Act charges. He then used his reputation to become a "tough-on-crime" mayor of New York City known for "cleaning up" the city. It was during Giuliani's time as Mayor of NYC that the infamous case was brought against King Blood (aka Luis Felipe) under the RICO Act. King Blood was charged for murders committed while ey was already in prison and received the inhumane and unprecedented sentence of life in solitary confinement. All of King Blood's First Amendment rights to communication were denied, allowing only communication with eir lawyer and immediate family. This was not typically something a judge could sentence, but was justified via the racketeering statute, 18 U.S.C. § 3582(d).(2) Decades later, King Blood still sits in a torture cage in ADX Florence, isolated from the world. While the RICO charges against Giuliani may provide some cathartic humor, the 79-year-old will not be facing anything like King Blood is doing.
Weeks following the Georgia RICO Act charges against Trump, Giuliani, et al., another set of RICO Act charges (and domestic terrorism charges) were made against 61 activists involved in opposing the construction of Cop City in Atlanta. This is a continuation of the state's warfare against Stop Cop City, including the ludicrous money laundering charges brought against bail support fundraisers we reported on in the last issue of ULK.(3) In the recent RICO indictment, the date of the murder of George Floyd (25 May 2020) is cited as the beginning of the investigations around the so-called "racketeering." In other words, the state was trumping up these charges against activists before there was a Stop Cop City movement. This is not about stopping any criminal conspiracy, it is about repressing any opposition to the use of lethal police force against New Afrika and oppressed people in general. It is a defense of the state's right to wage violent war against New Afrika.
In a recent article, a comrade laid out the political nature of the law, debunking the myth that laws were developed as a way to impose morality or address inherent problems in society.(4) Rather law stemmed from the need to manage the division of humyns into classes. With Trump/Giuliani, we see the RICO Act law being used by the bourgeoisie to discipline other bourgeoisie who are threatening the image of bourgeois democracy. And in the case of the 61 activists they are using the same law to discipline youth and oppressed nations who are opposing more violent forms of state discipline.
When we go up against the courts, the police, or even the politicians, we must be prepared for war. The cops murdering us in cold blood is war. The courts and prisons putting us in torture cells for years is war. City governments in Atlanta and San Pablo, California funding cop cities where pigs can play war games is war. These more obvious forms of war, are part of political struggle. There are no rights, only power struggles. To engage in power struggles, requires giving the war two sides.
^*Notes:
1. https://en.wikipedia.org/wiki/Georgia_RICO_(Racketeer_Influenced_and_Corrupt_Organizations)_Act
2. Prison Legal News, 15 March 1999, Judicial Sentence of Life in Solitary Upheld.
3. A comrade, July 2023, "Law and the Courts of Late", Under Lock & Key No. 82.
4. A comrade of Anti-Imperialist Prisoner Support, July 2023 "Atlanta Criminalizes Protest Against Cop City", Under Lock & Key No. 82.*^