Final Issue of ULK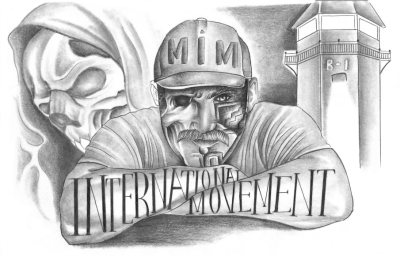 Under Lock & Key has been the voice of the anti-imperialist movement within U.$. prisons for 11.5 years. This issue is going out one month later than our usual schedule, because it is the last issue of ULK in its current form. ULK has been an exemplary independent institution of the oppressed in preparation to take state power. It's within these pages that United Struggle from Within — the anti-imperialist mass organization of current and former prisoners — developed and organized dozens of campaigns. Through ULK the United Front for Peace in Prisons was developed to stop violence in prisons that was not only keeping us divided, but also being used as an excuse for lockdowns and other repression. These are all examples of independent institutions of the oppressed, and it's fitting that this, ULK's final issue, is dedicated to this important topic.
An important lesson that comes from Lenin's book What is to be Done? is the importance of a movement's newspaper, to spread ideas and organize with others. Have no fear! Even though ULK is changing form, we're in no way stopping producing a newspaper. U.$. prisoners need a voice, and there's no one else making a newspaper like this, from a proletarian perspective. That will not be lost in this transition.
As we explained in ULK 64 we have a goal of producing a monthly newspaper. In our work towards that goal we are making some big changes to ULK.
We are extremely excited to be joining forces with the Revolutionary Anti-Imperialist Movement (RAIM) in a consolidation of the Maoist Internationalist Movement (MIM) into a single newspaper (name TBD). RAIM's portion of the newspaper will cover much more international news and analysis than is typically in the pages of ULK, which our readers have been asking for for years. We'll be decreasing our costs, and greatly increasing our distribution on the streets. This is all in preparation to produce the newsletter on a monthly schedule!
Our movement organ (newspaper) will continue to be fully independent. Meaning it is fully funded by the MIM cells, and costs are partially offset by donations we get from subscribers and people on the streets. There is no grant money or government support for this revolutionary work. We need our readers' continued support to make this possible — every donation you send helps us send more letters, educational material, and resources to our subscribers behind bars. And ultimately we will need your financial support to fund a monthly newsletter.
The beauty in being financially independent is that it gives us the freedom to be ideologically independent. We can say whatever it is that needs to be said. We can speak from a proletarian perspective, even if the vast majority of people in the First World find it upsetting. No one can pull the rug out from under us if we say something they don't like.
In this independence, we (the movement) have full responsibility for our successes and failures. If we can't recruit enough distributors — that's on us. If we can't get enough financial support — that's on us. If people don't want to contribute to the newspaper — again, on us. While taking on this responsibility might seem like a big burden to some, because they think they can sit back and let others make revolution for them, it's actually quite liberating. If we want it, we can make it. It's hard work, and it's possible. Nothing can hold us back. No strings attached.
"We" isn't just MIM(Prisons) and RAIM members; it's all of us in the anti-imperialist movement in the United $tates. This newspaper has been and will continue to be a voice for all our contributors. The artwork, poems, reports, and analysis that come from our subscribers behind bars are what make ULK actually "from under lock & key," and we will continue to rely on these invaluable contributions.
Making the newspaper is one thing, and making it an organ to advance our struggle against oppression is another. We request that each persyn reading this article send (at least) one letter to someone on the outside asking them to donate and/or commit to distributing the new newspaper. Our subscribers know the value of this newspaper even better than MIM(Prisons) does. You writing directly to your contacts will be more effective than anything we could say to ask them to get involved.
Your contacts' participation is a matter of you engaging them in the value of this newspaper and this work. ULK is more than just words on paper; it's more than just an outlet to vent. It's an independent institution for creating a world without oppression, which has a real impact on the lives of its subscribers and readers, and the world. Share with them what you have gotten out of reading ULK and participating in projects with MIM(Prisons) and United Struggle from Within. Share how the United Front for Peace in Prisons has affected your day-to-day life, and how the articles in ULK have helped you in your time behind bars. Be direct and unwavering in your request for their participation. Worst case scenario is they say "no."
For donations, your contacts can send cash, stamps or blank money orders to the address on page 1, and every amount really does make a big difference! Being a distributor doesn't have to be any huge additional commitment, either. If your outside contact(s) can identify one place where they can put the new newspaper, we'll send them a stack to stick there each time a new issue comes out. Many places have free newspaper areas — coffee shops, libraries, laundromats, etc. Ask them to find one and commit. Then either send us their address so we can follow up, or ask them to write to us directly. The ripple effect of your one letter can have a huge impact on the anti-capitalist, anti-imperialist struggle toward communism.
The rest of these pages of ULK talk about other independent institutions of the oppressed, within the MIM and without, current and past. We'll apply lessons we've learned from history to our analysis of these institutions. We are proud that ULK and all our contributors have spent the last 11.5 years being among them. And we are looking forward to expanding in the new newsletter in 2020.

Related Articles: