Make ULK a Monthly Newspaper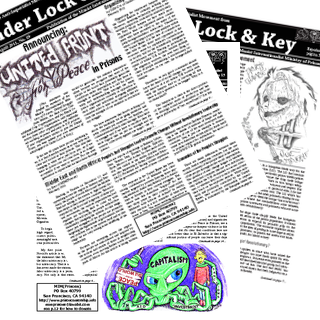 MIM(Prisons) has set the ambitious goal of making Under Lock & Key a monthly publication by 2022. ULK fills a need in prison, providing revolutionary anti-imperialist reporting on and about the lumpen behind bars. This is a relatively small revolutionary project focused on the criminal injustice system. But prisons are just one part of the larger imperialist machine. And it will take a revolutionary movement much broader than just prisons to bring down capitalism. We are a part of that movement, and it is our job to do what we can to push forward its development.
At this stage in the struggle there are revolutionary cells organizing in various segments within the belly of the beast. We're building a United Front for Peace in Prisons to bring together the movement behind bars. And beyond that we want a united front against imperialism that includes both prison and non-prison organizations. This broader movement needs a unifying publication, a newspaper that can be used to both disseminate information and organize people.
Lenin wrote What is to be Done? about the importance of a regular newspaper publication for organizing the revolution in Russia. And in the early stages of organizing, before the movement gained popularity and broader membership, the Bolshevik leader argued that revolutionaries needed to dream of wide distribution of a regular publication. He wrote that, with enough local groups and study circles taking up active work:
"[W]e could, in the not distant future, establish a weekly newspaper for regular distribution in tens of thousands of copies throughout Russia. This newspaper would become part of an enormous pair of smith's bellows that would fan every spark of the class struggle and of popular indignation into a general conflagration. Around what is in itself still a very innocuous and very small, but regular and common, effort, in the full sense of the word, a regular army of tried fighters would systematically gather and receive their training. On the ladders and scaffolding of this general organisational structure [...] [revolutionaries would] rouse the whole people to settle accounts with the shame and the curse of Russia. That is what we should dream of!"

Why print a newspaper when we have the Internet?
Lenin was writing at a time where there was no other way to communicate between localities. We now have the Internet, and some will argue that online agitation is all we need. We can communicate with people around the globe in a few seconds on the Internet. And this is indeed a powerful organizing tool. So why put out a newspaper beyond prisons, one of the few places in First World countries without access to the Internet? The answer to this question is access and organizing.
Most people don't accidentally come across Maoist websites while browsing online, and with the imminent end of net neutrality this will likely become even more true. We're not going to get publicity in mainstream media. And we don't want to encourage bad security by asking people to post on facebook or twitter and expose themselves to the cops. Newspapers can be left for pickup in coffee shops, libraries, book stores, homeless shelters, community centers, laundromats and other places where folks can happen across a perspective they won't see elsewhere. This expands access to revolutionary news and education.
We can use the Internet to quickly share information about campaigns, and rally people from many locations for quick actions. And we can publish the content of a newspaper online, greatly expanding its reach beyond print media. But while the Internet is a powerful tool, it doesn't get us out on the streets organizing people, talking to them, and building study groups and organizing committees.
With a print publication, organizers can walk up and engage people in a way we can not do online. Newspapers give organizers a tool to use in face-to-face organizing. Talking to people about their conditions, and making the connections to the imperialist system. Asking someone to read an article and talk to them about it. Responding to a speech at a rally with a newspaper article on that topic as a starting point for conversation with folks already sympathetic to the cause.
Political goals of the expanded newspaper
Get organizing updates to comrades in prison with greater frequency
Build unity among the Maoist movement within U.$. borders
Broader distribution of anti-imperialist information
Closer coordination of work between various organizations within the united front against imperialism
Organizing tool for folks on the streets and behind bars
What is needed to expand ULK
Distributors: We can only achieve our goal if we can quickly expand our network of distributors. This is where you, our readers and supporters come in. We will send you a small stack of ULKs every issue for a year for $50. For our Re-Lease on Life Program comrades we will send them for free until you can afford to pay. Selling them for $1 a piece is one way to get the funds to pay for your subscription. Or if you have the money you can take the easier route of dropping off a few copies at local shops and public spaces that have a spot for people to pick up free publications. For our imprisoned readers, reach out to any individuals or institutions on the outside that you think might be able to take on a regular shipment of ULKs.
Money: It will cost more money to print more newspapers, and also more postage to send it out to distributors. We're asking our distributors to cover the mailing costs of what we send them. We also need people to step up and help fund the printing and the costs of mailing in to prisoners.
Content: Our immediate goal is to increase the frequency of ULK, so that comrades inside are getting more regular organizing updates. As this will also expand the content, we hope to increase the breadth of topics that ULK currently tackles, exposing different sectors of the movement to each others' work. We are working on partnerships with fraternal organizations to help create content for this newsletter. We also call on individuals to increase their efforts to produce quality content that addresses the needs of the oppressed from a proletarian perspective.
Who should be part of this expansion?
Revolutionary anti-imperialist organizations that see Maoism as the furthest advance towards communism to date. This is an explicitly revolutionary project. We will not be toning down the Maoism that is our guiding political line. But we will continue to publish articles from individuals who share our anti-imperialist agenda though perhaps are not Maoists.
We need to expand our outside distributors beyond former prisoners. Expanding the content in our newspaper will help attract more supporters. But we also need more supporters to expand. So our number one challenge to comrades on the streets right now is to step up and become a regular distributor of ULK. Without a broader distribution network, we will not reach our goal of doubling the frequency.
Task list to prepare for January 2022
Start by distributing ULK locally. Sign up with us today by sending $50 to our PO Box with an address to send ULKs to, and begin exploring ways to distribute the publication regularly. (No checks made out to MIM(Prisons), let us know if you want to send a check)
Commit to a financial contribution for this expansion. Ideally a monthly amount we can count on. You can start donating now to help us build up the cash needed for this project.
Volunteer to start writing articles. Ask for a copy of our recently updated writing guide.
Revolutionary organizations interested in getting involved in this project, get in touch to start talking about how we can work together.