France Targets National Minorities on the Streets and in Prisons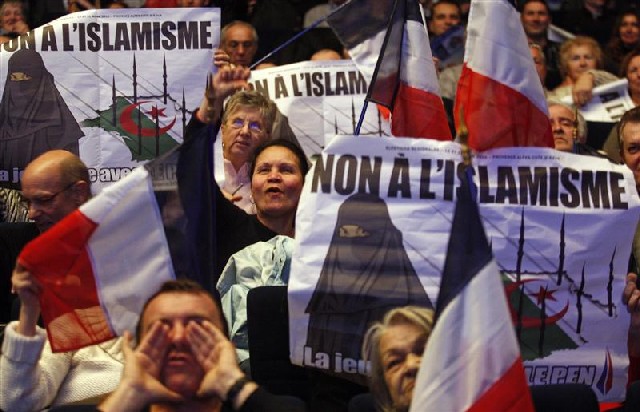 After the recent attack on Charlie Hebdo, the French satiric weekly magazine, there has been a lot of focus on the Muslim population in France. Islam is a religion and not a nationality, but because Muslims in France come predominantly from North Africa and the Middle East, anti-Muslim sentiments feed into xenophobia and attacks on national minorities. There are a lot of parallels between the situation for Muslims in France and the oppressed nations (such as New Afrikan, Chican@ and First Nations) within U.$. borders. And recently these contradictions have been exposed in French prisons as well.
French law prohibits asking people their religion and so no official statistics are collected on the size of the Muslim population. Based on a variety of studies it is estimated that about 10% (5 million) of the the people living in France are Muslim. The 3 million foreign-born Muslims in France mostly come from the former North African French colonies of Algeria, Morocco and Tunisia.(1) Muslims in France face significant economic hardship and generally do not enjoy the spoils of imperialist plunder and exploitation shared with French citizens. Unemployment among youth (15-29 years old) in France in 2002 was at 15% for French citizens and 46% for migrants from North Africa, sub-Saharan Africa and Turkey. Even for immigrants with a college degree the rate of unemployment was twice that of natives with a college degree.(2) Similar disparities are seen in educational achievement by Muslims compared with non-Muslims. And a large portion of the recent immigrant population and their descendants are found in housing projects concentrated in and around France's large cities.
As we find in Amerikan prisons, the French imprisoned population is disproportionately from the oppressed nations. Although Muslims make up less than 10% of France's population, they constitute about half of France's 68,000 prisoners. (Overall France has a much smaller prison population than in the United States, with less than 1 per 1,000 residents locked up compared with the Amerikan imprisonment rate of 7 per 1,000.)
One of the Kouachi brothers involved in the Charlie Hebdo attack previously spent 20 months in prison just outside of Paris. Media reports are claiming that he was locked up for petty crimes and turned to radical Islam based on his education and exposure behind bars, and that it was there he met another Muslim convert in prison who helped with the Paris attacks. Detailed background on this man suggests he became involved with Islamic leaders on the streets, but did radicalize in prison. It's hard to say how much of this prison radicalization story is a ruse to justify targeting Muslim leaders behind bars.(3)
The Kouachi brothers, French citizens of Algerian parents, grew up in housing projects in Paris. They were poor and surrounded by others like themselves: national minorities in a country that is moving increasingly towards xenophobia. These national minorities find themselves isolated and disproportionately represented in the First World lumpen class.
A survey conducted in 2014 in France found that 66% of the French believe there are too many foreigners in France. 75% of the factory workers, who are part of that labor aristocracy which enjoys elevated non-exploitation wages and benefits, oppose France embracing globalization. The mass base for fascism is the labor aristocracy in imperialist countries,(4) and these same people are the base for the growth in support for the far-right National Front party which 34% of French people polled see as a credible political alternative.(5)
Kouachi's history in prison is being used to underscore France's concern about the radicalization of prisoners. Prisoners enter the system and learn about Islam from fellow captives. To address this "problem" French authorities are now experimenting with segregating those considered "Muslim radicals" from general population. This sounds a lot like long-term isolation or control units which are used in Amerikan prisons, torturing politically active prisoners. While details are sparse about the experimental units, prisoners subjected to these conditions are protesting the treatment. We can expect that this isolation will be used to target anyone who speaks out against the French government or other imperialist powers.
At the same time France does not appear to be slowing down the imprisonment of Muslims. For instance, in mid-January a 31-year-old Tunisian man was sentenced to 10 months behind bars after a verbal conflict with police in which he said that an officer shot in the recent attacks "deserved it."(6)
The French government is facing the contradictions of a criminal injustice system that we see in all imperialist countries. Using prisons for social control means locking up oppressed groups, those who are most likely to disagree with and disrupt the capitalist system. But targeting oppressed groups for imprisonment creates an opportunity for prisoners to quickly become educated and radicalized against the system that put them behind bars. This is the system itself creating the conditions of its own demise.
While prisoners alone will not bring down imperialism, the lumpen in First World countries are potential allies of the international proletariat. And national polarization and xenophobia will feed the development and political consciousness of this lumpen class.

This article referenced in: