Health Care for Muslims Under U.$. Occupation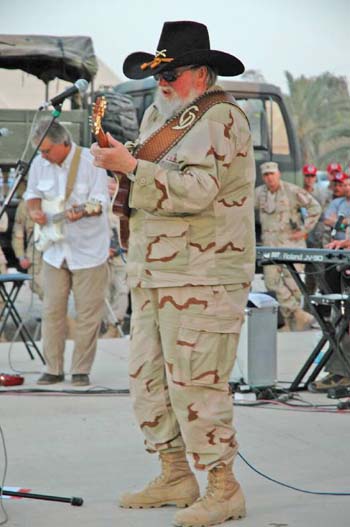 I started reading [The Straight Scoop from Charlie Daniels (see excerpt below)] with the thought, "Oh, he has some good music" and ended up with the, "never again will I listen to country music." All country music is patriotic, racist pig rhetoric. Take old Toby Keith's bullshit soldier songs.
Motherfucker, Charlie Daniels, those Taliban have been victims, their land was invaded, their wives and children murdered… Let's see your pussy ass go through that and not have a heart attack!!!
It's his conviction that he's so right that's frightening. And he is amerika. The epitomy of the average amerikan right there. Ignorant, proud, uppity, evil, wrong!
The Straight Scoop from Charlie Daniels... I've just returned from Guantanamo Bay, Cuba Naval Air Station base where we did three shows for the troops and toured several locations around the post visiting with some of the finest military personnel on planet earth. The kids seemed to really enjoy the shows and especially liked "This Ain't No Rag, It's A Flag" and "In America." … The truth is that these scum bags [Taliban detainees] are not only being treated humanely, but they are probably better off health wise and medically than they've ever been in their lives.
MIM(Prisons) responds: Charlie Daniels is taking up the Michael Moore (maker of the film Sicko) amerikan populist line on health care. MIM(Prisons) calls for the u.$. to provide universal health care to all people in countries under u.$. occupation, while white nationalists get indignant because a thousand prisoners of war get medical attention while they are tortured in long-term isolation. Daniels thinks long-term isolation is humane, and is pissed off that they are getting such good health care. This is amerikan chauvinism at its finest as our comrade points out.
Any humynist would be pissed off that the only way Third World people have been able to get decent health care under imperialism is by being captured and tortured by the imperialists. At home, with their family, such care is not available. Racists like Daniels and Moore think Afghans and other Third World people get what they deserve, while amerikans need more when they have access to Viagra, boob jobs and an endless list of medical technology that is purely recreational and not related to survival.