Fighting Apathy Among the Lumpen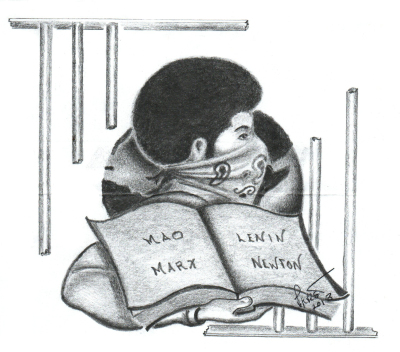 [In 2012 a comrade summed up an ongoing discussion about organizing the lumpen class, which is below. The summary gets at how we should approach organizing the lumpen. This is a critical question if we are to apply our theoretical understanding of this class to the anti-imperialist movement in a practical way. We aren't looking to just write essays to expand our brains; we focus on political theory in order to inform revolutionary practice. - ULK Editor]
USW comrades have been discussing money and material trappings as being synonymous with respect and dignity in lumpen organization youth. The struggle for money, like the dope game, for example, can be less a status seeking activity, and more of the people just exercising their survival rights. Comrades made sure to differentiate between money/survival and material trapping (i.e. gold chains, cars, rims, etc.). Amerikkkanism and consumerism promote hardcore parasitism in lumpen youth, causing extreme alienation and fetishization of money.
Today's youth show the same apathy, indifference and nihilism as the youth of 1955. It was the civil rights movement that awoke the youth of that era. Comrades struggled over what today can take the place of the civil rights movement. War, environment and imperialist expansion were three good starting points to organize around. We lumpen youth have more stake in the future environment and it is us who fight the wars. It helps to understand that those starving to death and suffering/dying from preventable diseases are our people. We must fulfill our destiny or betray it. All this nitpicking and betrayal between sets/sides contributes to humankind suffering. We must overcome this flaw.
The principal enemy we must defeat is the glamorization of gangsterism. A revolutionary or a gangster? What are we? Can the two coexist in a persyn and still be progressive? Gangsterism plants fear by oppression, and revolutionaries are in struggle against oppression. This internecine violence we perpetrate between sets is what the pigs want us to do. They sold us this shit in Scarface and we've built on to it and made it our own. Overcoming the glamorization of gangsterism will take proletarian morality, conscious rap, exposing the downsides and ills of gangsterism, the glamorization of revolution, revolutionary culture, and possibly to redefine the word gangsta. Gangsters are parasites and revolutionaries are humankind's hope. It's as simple as that. We need to leave the lumpen mentality for a proletarian one. Many true revolutionaries were once gangsters. Gangsterism is a stage, basically.
Self-respect, self-defense and self-determination define transitional qualities of a revolutionary. Bunchy Carter, Mutulu Shakur and Tupac all transcended the hood and grew into progressives. What we are seeking as USW is opening up the spaces for gangsters of all walks of life to enter the realm of anti-imperialism and begin a transformation of mind, actions and habits to develop into the model of a revolutionary gangsta with the capability of forwarding the cause of the people. We must understand our potential. It is us, we reading these ULKs, that hold imperialism in our fists. A real gangsta is one who has gone revolutionary and has kicked off all the strings of social control - mental illness, drugs, fantasy, despair, escapism, etc.
Mainstream gangsta rap is the enemy of our people and the struggle. We have to create more revolutionary music, art and literature. Fergie, Fifty, Eminem, Kanye, all push watered down, flimsy lyrics. Mainstream rap is psychological warfare and just as harmful as crack or heroin. Imperialism allows the urban drug trade just like it allows Eminem. It keeps us down. It is a form of genocide and wholly harmful to the revolutionary struggle. The only positive we even entertained in the discussion is that drugs and pop culture rap are a form of rebellion that begins a revolutionary on the path of revolution. The benefits to imperialism outweigh the negatives and the opposite is true for the lumpen. Drugs have us punked, dig?
Raw fear and discouragement are the pistols on the hips of the oppressor. To be demonized as a terrorist, have mail messed with, loss of good time, pig abuses, all contribute to lumpen becoming despondent and not standing up for their rights. People have a responsibility to act and fight for the type of society that they want to live in, or they really have no right to complain about oppression. We face pepper spray, tazers, isolation and a bullet in the back face down. The Nazis used the infamous concentration camps to instill fear. And the united snakes has the largest prison system in the world for the very same reason: social control and intimidation. Meth, cocaine and psychotropics act as targets for the raw fear pistol. Increasing it. Making it more deadly. To be uneducated or out of shape physically assures a mortal wound when the bullets fly. We must outsmart and out stick and move. Knowing 1500 children starve to death per hour, and the fact that 3.5 billion people survive on less than $2 per day, you suit yourself in bullet proof kevlar. What's a lost letter and a few extra years in prison without good time compared to that?
Nothing comes to a sleeper but a dream. Only through aggressive challenge and exposure of the life-threatening contradictions of upholding the present status quo will we awaken and overcome. Passivity cowers before the eyes of the slave master. We must educate the people into the understanding that raw fear will remain so long as the imperialist system is in existence. It is us, comrades, built exclusively for its utter destruction. This is a call from USW to unite and rise up, in struggle.

Related Articles: