How To Verify Communications from MIM(Prisons) or USW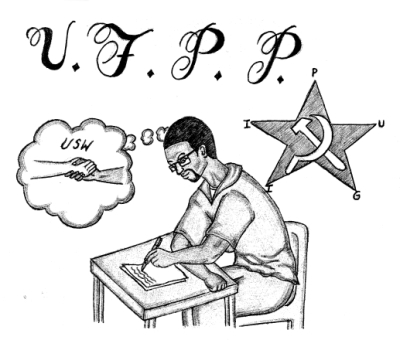 Last year statements appeared in another newsletter from a USW leader who spoke in the voice of a subcommittee of the United Struggle from Within Countrywide Council (USW CC). These statements were not first run by, nor approved by the Countrywide Council.
The previous year, the USW CC, established policies for official correspondence with other organizations. We published an article in ULK 58 describing these efforts and giving guidance to all USW members. USW is a mass organization, meaning that people with differing beliefs can be members and might write or state things as USW members that contradict. In the cited article we instructed USW members to pass on communications with other organizations to the USW CC once you are unable to handle the discussion on your own. Meanwhile the USW CC established official policy that any statements from the CC would come through official MIM(Prisons) communication channels:

our P.O. Box in San Francisco

our website www.prisoncensorship.info

our official email with GPG signature ([email protected])
The statements in question, printed in Turning the Tide, did not go through this process. We cannot expect other publications to know and enforce this. Rather it is the USW leader who broke protocol, and wrote a self-criticism to that effect. But this does go to show that comrades should not take as gospel anything in print that claims to be from USW or even the USW CC. If it appears in Under Lock & Key, then you can be assured that it went through the proper channels of approval.
This incident triggered us to address the question of how to verify communications from MIM(Prisons) and the USW CC in general. Unfortunately the only sure fire way to verify an isolated communication is cryptographically. This makes it hard to verify things in print, coming through the mail, etc.
Every regular reader of our website who has a computer should copy and save our public gpg key from our contact page. Even if you don't know what to do with this key, you could figure it out in the future when needed. The sooner you save the key, perhaps the more sure you can be that the key is legitimately from the original MIM(Prisons). If someone seized control of our website, and slowly started changing the political line on that site, and you waited to copy the key then it might have already have been changed.
While GPG is our primary public way of verifying statements, another tool our comrades have been promoting is a chat tool called Tox, which is available for all common operating systems, including smart phones like android. If you are someone who works with us already and have a device that you can install Tox on, we can exchange Tox IDs to establish encrypted and verifiable communications moving forward. Tox is a chat tool (like texting), and can be easier to set up than email with GPG.
Email without GPG signing, or letters through the mail are easy to fake as one-off communications. So repeated communications back-and-forth should be used to confirm any questionable messages. Our website and Under Lock & Key should be considered more reliable, and harder to fake by our enemies.
Most of our communications with most of our readers are at the level of line and strategy. Therefore, our allies and supporters can and must use a political lens to verify communications. You should study our work and our line so that you can tell when something unusual pops up. And then you should communicate with us about it in the most verifiable and secure line of communication that you have at your disposal. Overall, as a movement, politics in command is the best way for us to defend against falsified, or unofficial communications leading us astray.