Improving USW to Accommodate Emerging Prison Movement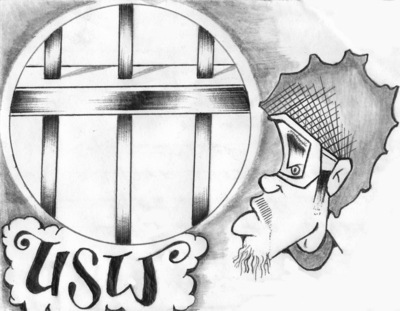 As we convene our third congress, we approach our five year anniversary as an organization. While members of MIM(Prisons) — and even more so USW — have been in the prison movement for longer, we find this an opportune milestone to reflect back on where the prison movement is at and how it has developed.
In 2011 a series of hunger strikes in California made a great impact countrywide. Many activists, from crypto-trots to anarchists to reformists, rallied around this movement and continue to focus on prison work as a result. While our predecessors in MIM saw the importance of the prison movement decades ago, their foresight is proving more true today as we begin to reach a critical mass of activity. It is now a hot issue within the left wing of white nationalism, which is significant because whites are not affected by the system extensively enough to call it a true material interest.
This gradual development has been the result of two things: agitation around the facts of the U.$. injustice system on the outside, and prisoner organizing on the inside, both of which MIM and USW have been diligently working on for decades. In the last year and a half, prisoner organizing came to a head with the Georgia strike and the California hunger strikes, which were both coordinated on a statewide level. While getting some mainstream and international attention, these events rang particularly loud among the imprisoned, with a series of similar actions still developing across the country (recently in Virginia, Ohio, Texas, Illinois, the federal supermax ADX, Limon in Colorado and a follow-up hunger strike in Georgia).
Meanwhile, the agitational side of things came to a bit of a head with the release of the book The New Jim Crow last year. This book has continued to get lots of play from many different sectors of the political spectrum. And while in most cases those promoting the book are amenable to the lackluster conclusions, the organization of these facts into a book stand for themselves. It requires a very biased viewpoint to read this book and then turn around and deny the national oppression faced by the internal semi-colonies through the U.$. injustice system. Therefore we think the overall effect of this book will be both progressive and significant, despite its limitations.
It is for these reasons that we see this as a moment to seize. When we started five years ago we had the great fortune of building on the legacy and existing prisoner support programs of MIM. The ideological foundation that MIM gave us allowed us to focus our energies on more practical questions of launching a new prison publication, building support programs for comrades that are released, developing correspondence political study programs, and launching a new website that features the most comprehensive information on censorship, mail rules, and abuses in prisons across this country.
With our infrastructure built and steadily running, we need to look at ways to take advantage of the relative consciousness of prisoners right now and the relative attention the U.$. population has on the prison system. We have always said that without prisoners organized there is no prison movement, so we see that as the principal prong of attack. Thus, we are taking steps to improve the structure of United Struggle from Within (USW), the mass organization for prisoners that was founded by MIM and is now led by MIM(Prisons). Building on suggestions from some leaders in USW, we have enacted a plan to form councils in states where there are multiple active USW cells. Below we further explain an organizational structure for our movement, so comrades know where they fit in and how they should be relating to others.
As we saw during the California strikes, censorship increases, as do other repressive measures, when organization expands. So as we step up our efforts, we can expect the state to step up theirs. We will need more support than ever from volunteers on the outside to do legal and agitational work to keep the state faithful to their own laws and regulations.
As big as those challenges are, the internal challenges will be even greater hurdles for us to jump in the coming years. The recent large mobilizations have begun to reveal what these challenges will be. And there is much work to be done to identify, analyze and work to resolve the contradictions within the prisoner population that allows for the current conditions where the state dictates how these vast populations of oppressed people interact with each other and live out their lives.
The prison movement that arose before the great prison boom that began in the 1980s was a product of the national liberation struggles occurring at the time. Today, the prison population is ten times as big, while the political leadership on the outside is scarce. The prison masses must guard against the great number of misleaders out there opportunistically grabbing on to the issue of the day to promote political goals that do not serve the oppressed people of the world. Prisoners may need to step up to play the leading role this time around, which will require looking inward. We must not only learn from the past, but also build independent education programs to develop the skills of comrades today to conduct their own analysis of the conditions that they face. On top of that we must promote and develop an internationalist worldview, to find answers and alliances in the oppressed nations around the world, and remove the blinders that keep us only focused on Amerika. There is no liberation to be found in Amerikanism. That Amerikans have created a prison system that dwarfs all others in humyn history is just one example of why.
So it is with cautious optimism that we approved the resolution below at our recent congress. We think this plan addresses proposals submitted by some USW leaders, and hope you all will work with us to make this an effective structure.
Congress Resolution on USW Structure
MIM(Prisons) is initiating the creation of statewide councils within United Struggle from Within (USW), the anti-imperialist mass organization for prisoners. A council will be sanctioned when two or more cells exist within a state that are recognized as active and abiding by the standards of USW. MIM(Prisons) will facilitate these councils, where the focus is on practical organizing around the needs of the imprisoned lumpen in that state. As the U.$. prison system is primarily organized by state, the councils will serve to develop and address the specific needs and conditions within each state.
In the case where cells have identities other than "USW" we do not require them to use that name. For example, the Black Order Revolutionary Organization, which self-identifies as a "New Afrikan revolutionary movement," may be invited to participate in a USW statewide council. While USW itself does not favor the struggles of any oppressed nation over another, as a movement we recognize the usefulness and importance of nation-specific organizing. In the prison environment there may be lines that cannot be crossed in current conditions which limit the membership of a group. As long as these cells exhibit true internationalism and anti-imperialism they may possess dual membership in USW by joining a statewide council.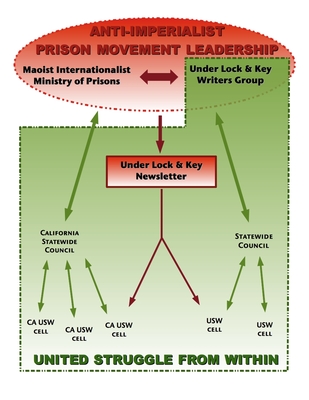 With this proposal we are expanding the structure of our movement. We recognize two main pillars to the ideological leadership of our movement at this time. One being the MIM(Prisons) cell, and the other being the Under Lock & Key writers group, which is made up of USW members and led by and facilitated by MIM(Prisons). The statewide councils should look to these two groups for ideological guidance in their organizing work, mainly through the pages of Under Lock & Key. In contrast, the councils' main function will be in practical work directly serving the interests of the imprisoned lumpen. They will serve to coordinate the organizing work of scattered USW cells in a more unified way across the state.
MIM(Prisons) will be initiating the California Council immediately, with others to follow as conditions allow.