JPay Emails Re: Conditions or Legal Issues Censored by NYSDOCS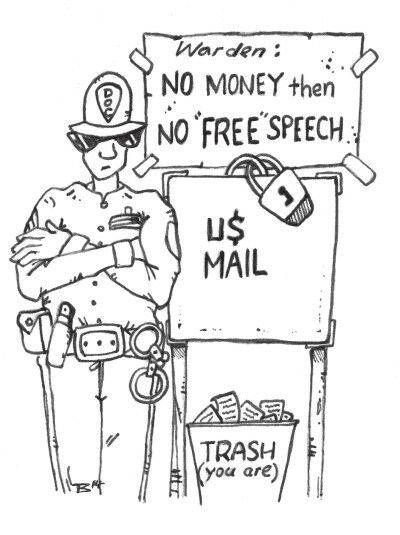 I just wanted to let you know some more of the tricks the system is implementing against me via the J-Pay E-Mail/kiosk system they have set up.
It seems that anytime I send an e-mail to my loved ones asking them to contact a Court and/or government official these e-mails show up blank, yet J-Pay says these messages are being held and/or censored by the prison for reasons of "third party contact" (SMH). Imagine that, I can't even send an e-mail to my Power of Attorney to contact the courts on my behalf as my LEGAL REPRESENTATIVE!
What would they be trying to "censor" from reaching the courts? (rhetorical question).
In other (related?) news they are also using some device to "un-download" movies I purchase from this same system shortly after I lock back into my cell. This is causing me to lose the movie sometimes due to time restrictions on them, which is a form of consumer fraud.
Note that only here on my company in Auburn Correctional Facility, have the oppressors instituted kiosk privileges 1 day per week, when Directive #4425 clearly states 15 minutes daily. Also, due to Covid restrictions we don't have visitation privileges, so these once a week e-mails are cruel & unusual due to the already strained circumstances.
I have been debilitatingly sick here twice already taking all precautions against such especially at the times I got sick. I didn't leave my cell outside of showers, packages & visits for approximately 6 months.
By intentionally taking away in-cell entertainment you force one outside where the chances are higher of me getting sick. Because of prior retaliation akin to this, this seems the most plausible ploy. Let me know what you think.
In Struggle.
---
MIM(Prisons) responds: We agree with our comrade in Virginia that there is a strategic effort to profiteer off prisoners and their families while increasing surveillance and censorship of prisoners' communications with the outside world. The fact that you are losing movies you paid for, or others are being charged by the minute to read a book is just JPay profiteering off of control of data. It's the same in the outside world where companies like Apple and Google lock you into a system where they can keep tempting you to spend more money and they decide what media you consume. Only in prison you have less choice.
Many prisoners write us asking to communicate on platforms like JPay, which we cannot do. These platforms increase censorship, surveillance and state control over what you can read or listen to. If we do not fight this, other states will join North Carolina in banning U.S. postal mail and materials like MIM(Prisons) study packs and resource guides.