LETTERS: Profits, Taxes, Investing, Fundraising and Weed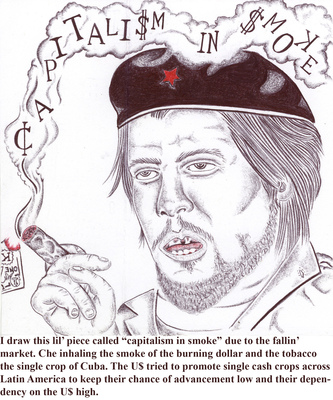 A Kansas Prisoner: I would like to comment on an article by Wiawimawo (August 2019) concerning Tulsi Gabbard, prison labor, and drug decriminalization.
There is zero question that Kansas is using prisoners for cheap labor and profiting tremendously from multi-year sentencing of first-time drug offenders like myself.
I "earn" sixty cents per day to perform a skilled labor sewing position full time. If I refuse to work I will receive a disciplinary work report resulting in my custody security level to rise.
There is a 30-person crew that works at the Kansas State Fairgrounds year round. These prisoners also receive 60 cents per day. The fairground complex could not operate without prison labor.
These jobs are not maintaining KDOC prisons. They are part of the state prison economy, for the profit of the state.
Also, this prison takes 50% of the earnings of all private industry job income prisoners earn. At the private industry jobs, prisoners make minimum wage ($7.25/hour). Incarcerating probation-eligible offenders to minimum-custody facilities to work is proof that in Kansas, exploiting prison labor is a motivating force for mass incarceration.
In almost every other state I would not have been sentenced to prison for possession of medical cannabis.
I understand the point of the article was to look at medium and long-term goals. As a non-violent, non-victim, first time drug offender I believe cannabis decriminalization is a goal worth pursuing. Thousands of people in Kansas have been incarcerated by a corrupt, prison labor motivated criminal justice system.
Is the author agreeing that non-violent, non-victim, first-time cannabis offenders should be working for 60 cents a day to assist the state economy and provide cheap labor for giant factory farms in Kansas? When I see corrupt judges play in to this state economy, there are no myths in my first-hand facts. If I am misinterpreting Wiawimawo's writing, please clarify what the author intended.
Wiawimawo of MIM(Prisons) responds: First, thanks for the details on how prison labor works where you are in Kansas. We regularly publish such reports on our website and use them to keep tabs on the realities of prison labor over time. You are our on the ground reporters for everything going on in U.$. koncentration kamps.
One thing you don't specify is who you are making clothing for at your job. That is an important factor. Usually people are working on clothing and sheets and now face masks for other prisoners to use. That would be work for the prison system, not for profit. Similarly, running the fairgrounds is for the state. These are parallel to the examples of fire fighters given in my original article.
None of these jobs are making profits for anyone, which you seem to have confused. Multiple times you refer to Kansas as profiting from prisoners. States do not make profits. They have revenue and expenses, and they can run over budget if they want with expenses being greater than revenue by issuing bonds. Now the bourgeois definition of profit is netting more money coming in then you put out in expenditures. But even bourgeois economists do not use this terminology in regards to states. As Marxists, we define exploitation as paying workers less than the value that they produce and then selling the product (or service) to realize the full value. This is the source of wealth accumulation in capitalism.
Now to the prisoner sewing clothes for 60 cents a day, it matters little whether those clothes are to be used for state-issued use or sold in a store. So i can understand where you're coming from. But if we want to explain how the prison system works in this country this becomes an important distinction. It is not profits for big businesses to accumulate capital that drives the system. It is a combination of financial self-interest of the people who work in these institutions, people who some would have us see as the oppressed proletariat themselves, and the broader interests of the oppressor nation to control the oppressed nations in this country. Through this control of the oppressed nations by Amerikans through criminalization and imprisonment, they can further gentrify the places oppressed nations reside and create further economic control for themselves. This is the heart of our analysis. And it is why we have a very different orientation than the petty bourgeoisie who is opposed to private prisons for profit and favor drug decriminalization as discussed in my original article.
"Is the author agreeing that non-violent, non-victim, first-time cannabis offenders should be working for 60 cents a day to assist the state economy and provide cheap labor for giant factory farms in Kansas?"
No, i do not argue that. We argue for more change, not less. We are not reformists, and we don't think drug decriminalization in the United $tates will eliminate national oppression nor drug addiction. If done well, it could reduce these problems, and the specific expression of drug problems such as marijuana consumption. Therefore the reform is progressive, but it does not solve the problem of national oppression and the criminal drug economy. We have much better solutions for national oppression and drug addiction, and they certainly don't include imprisoning people for victimless behavior. They do include eliminating profit motives in all aspects of our lives. In the meantime, we support an international minimum wage that would apply to prisoners.
---
A California Prisoner: The Covid and imperialism article in ULK 72 sparked my interest because I am already vaccinated and I had to ask myself why I, a prisoner, was vaccinated before tax payers? The answer was pretty simple logic. Prison is huge profit for California and the cash cow has been closed for Covid crisis, the sooner California can reopen the prisons, they can continue to rake in the profits they make from our suffering.
Wiawimawo responds: There was a significant effort in California by lawyers and activists to get prisoners to the top of the vaccination list. And this is at least part of the explanation as to why you got vaccinated early. It made sense from a public health standpoint, but this did not happen across the country because many Amerikans don't care about prisoners' lives.
It is not clear why you argue that profits dried up in prisons during the shelter-in-place, so i would need more information on that to respond. But as i explain above, states don't profit from prisons. Prisons are a huge financial expense and do not create any economic value. Prison labor is one way to slightly reduce some of the expenses in running these prisons.(1)
All that said, i want to address this comrade's talk about the "tax payers." The vaccination campaign across the United $tates is being paid by the Federal government. The government has now passed a series of bills in the trillions of dollars to address the fallout from the pandemic. This is not "tax payer money." They are just printing money, or creating money out of thin air to fund these programs. Since the dollar is the global currency, they can do this with some confidence that other countries and investors will buy up the bonds to cover the expense. It's all funny money that we benefit from here in the United $tates, even those in prison benefit at times, thanks to our position as the premier imperialist power.
This is in stark contrast to countries like India and Brazil that are now being hit hard by the pandemic and the people are being offered little relief. One reason is that these countries can't just print $1 trillion worth of their currency without causing massive inflation and damaging the conditions of the people more.
To the extent that it is "tax payers" who are helping to balance the budget deficit in the United $tates, we must also be clear where that money is coming from – the Third World proletariat. The above is just one demonstration of how value can flow from the periphery to the imperialist countries. This is reflected in the incomes of all U.$. citizens, who must give some of those super-profits to the state to keep the imperialist system running.
So let us not shed a tear for the poor "tax payer" in this country because California actually made some efforts to vaccinate people in a way that made sense in terms of promoting public health. There is no shortage of vaccines in the United $tates. In fact, we have far more than we need, while other countries have not even begun vaccinating their populations yet. If we were really working in the interests of public health, we would have a more equitable distribution of vaccines across the globe. We'd be prioritizing hotspots, which the United $tates is. And we'd be sharing the technology needed to make vaccines freely, releasing the intellectual property that is holding back progress in the fight against COVID-19. Failure to do so means that the virus will continue to evolve and likely continue to be a problem.
---
A New York prisoner: In response to ULK 72 (2021) article "Help Fund MIM(Prisons), Donate Now!", I would like to offer a suggestion outside of charity from donations which seems to be a necessary form of income for the production, maintenance & shipment of ULK's. What if MIM took some of its donations and invested them in the stock market? I know that seems pro-capitalist, but as the old adage goes you gotta fight "fire with fire." Making a few short-term trades could possibly boost revenue for expenses (solely), and make donations a welcomed part of production but not so necessary. This would keep MIM's line of no foreseeable future in capitalism by not becoming long-term investors in the stock market, but instead looking for quick returns in order to fund revolutionary work (i.e. short selling, which is basically betting against the U.S. market, which is still in some ways inherently communist behavior). I am enclosing an articled dated 11 January 2021, "Jay-Z Fund to Help Minority-owned Cannabis Businesses." What do you think about this venture? I don't really believe lumpen have the luxury of investing in non-essential production/consumption as cannabis right now, when they don't even have land to cultivate on. But financial freedom is nonetheless a form of independence… so keep on keeping on Jay-Z!
Wiawimawo responds: First, we agree with using the oppressors' tools against them, and have no moral qualms about the stock market. Proletarian morality means we do what will most benefit the liberation of the exploited and oppressed. Whether it is a wise investment is another question. Conventional wisdom is that it is a good long-term bet, but unpredictable in the short-term. As for shorting, well hedge fund Melvin Capital Management lost 53% in January in its infamous shorting of Gamestop.(2) They lost about $6 billion on that bet. That's what the stock market is, gambling.
Now cannabis businesses, that might be a more sound investment. As the article points out, and as i discussed in my article on Tulsi Gabbard mentioned above, the legalization of weed has been a bonanza for white petty bourgeois interests trying to get small businesses up and running before the large corporations dominate the market. New Afrikans are under-represented in business ownership overall at just 10%, but in the states listed that number was 3-6% for cannabis businesses.(3) Jay-Z, and New York State are correctly recognizing this gap and trying to do something to not let it happen in New York.
What do we think about this? More equal opportunity for the petty bourgeoisie just reinforces imperialism. When it was illegal, oppressed people selling weed were targeted by the state and potential allies to the anti-imperialist movement. People running successful weed businesses aren't likely to be our allies, regardless of their skin color.
The weed game is in a major transition. It is still in a semi-legal state, where the Feds could crack down on you (and they have). Getting access to loans and bank accounts can be difficult as a result. One group that is proving successful as early pioneers in the trade are former law enforcement. They are less likely to be targeted by the state than a former felon, and they have clout to deal with the pressures from extortion rackets and the lumpen organizations they are competing with. Therefore as revolutionaries, the weed business might be risky.
You suggest that we need to invest in stocks to free us from our reliance on donations. On the contrary, we are trying to become more reliant on donations so that our cadre don't have to worry so much about funding everything ourselves, which we do by working or investing or whatever. Maybe some of us are investing in the stock market to fund this work, but that is not a reliable source of income. We want to be going strong when the market collapses again. And that is why we want to be reliant on the financial support of the masses. Only by relying on the people is our future secure.
As i said above, legalization of weed will not eliminate national oppression in the forms of cop killings and disproportionate imprisonment rates. It will make pacifying substances more readily available to the masses. And for better or for worse it will undercut the underground economy in favor of public tax revenue. And that is what this is about of course, it is providing tax revenue to maintain government funding at the local and state levels.
Until the import of weed is legalized by the feds, this shift of production to the United $tates will be undercutting a source of profits in the drug trade – the Third World farmer. Historically the farmers who grow and process weed are the ones being exploited in Third World countries. As production shifts to the First World, wages will have to increase to exploiter-level wages, with the possible exception of using migrant labor from the Third World. This means the profits must come from other sectors in the Third World instead, to pay the farmers, marketers, sales people and accountants in the First World running the new weed economy, as well as the state taxes. If the exploited weed farmers are eliminated, then the profits must now be squeezed from the banana farmers or copper miners, and all the other exploited workers of the Third World. This puts more pressure on the already dangerously low international rate of profit.
Finally, we agree with your point about land. Without land there is no power. National liberation means liberating the territory of the oppressed. Owning land as individuals is not it. Oppressed nations must control land as independent nations, and be able to defend that land. This is a central task of the New Democratic movement.
Notes:
1. MIM(Prisons) on U.$. Prison Economy - 2018 Update, Under Lock & Key No. 60.
2. Juliet Chung, 31 January 2021, Melvin Capital lost 53% in January, Hurt by GameStop and Other Bets, The Wall Street Journal.
3. Vial Monga, 21 January 2021, Jay-Z Fund to Help Minority-Owned Cannabis Businesses, The Wall Street Journal.