Debating Missouri Uprising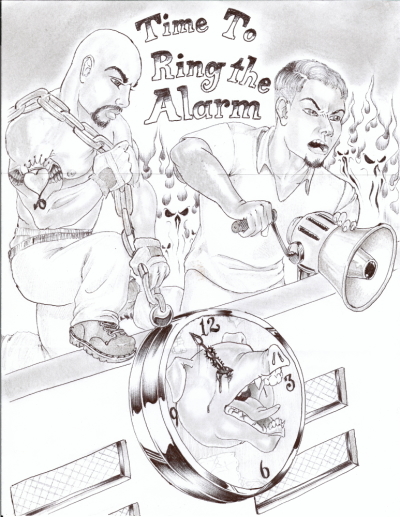 13 May 2018 — 208 prisoners of every race, background, group, organization, etc. said enough is enough! We came together and sat down in a peaceful protest. During dinner (chow hall) as usual the pigs not only violated our constitutional rights (First Amendment freedom of speech) but they also attempted to bully us by flex'n and threatening us. That's when our peaceful protest turned uprising. I wish y'all could have seen the way all the guards (C.O.s, Sergeants, Lieutenants, etc.) ran out the kitchen and chow halls. You would have thought they ran track! Who the cowards now?
For the first time in Missouri history we united. The pigs see the end of their control within our unity. In a matter of seconds we gained control of the kitchen, both dining halls, property room, canteen storage, the factory, forklifts, weapons, keys, phones, computers, etc. Well after a few hours the phones start to ring. Guess who's calling? The warden and highway patrol. For the first time they listened to our demands. They respected us. They feared our unity. They was at our mercy.
On our own terms we surrendered 8-9 hours later. After we got our point across.
Note: 90% of guys in our peaceful protest turned uprising have outdates ranging between a few weeks and 15 years. So only imagine if the outcome was the other way around. 90% of us could have been locked to the board (life without?).
Due to us striving so fast and hard we left administration not only confused but also emotionally off balance. Being that this never happened before in Missouri history they acted off impulse and violated every constitutional right you can think of. Which led to KC Freedom Project lawyers starting a class action lawsuit on our behalf against Missouri DOC. The media has been on fire regarding this.
Update? We still on lockdown! We still receiving brown bags (sack lunches). They say it was $3 million worth of damage. They making us do 1 year. We damn near 6 months in.
Administration is still up to their tricky ways. They have attempted to divide and conquer us by destroying all the guys' property that was in the hole and told them we did it. Also telling all the guys in GP it's our fault they are locked down still. So yeah the struggle continues.
By the way, there have been two other uprisings of this kind since we kicked it off. If we can unite here in Missouri where unity has never existed then any state can.
---
Another Missouri prisoner wrote:
It has been 13 months since the prisoners bonded together, Black, White, Native and brown (Chicano) and kicked off a riot at Crossroads Correctional Center in Cameron, Missouri, causing over a million dollars in damage. What did it accomplish?
Prison property got damaged that your families who are tax payers (and you too cause you pay taxes on your canteen items) are going to have to pay for the damages.
You injured one another with violent acts and all it accomplished is enemies, and lockdown of the prison.
Supposedly two housing units are to be cleared out for the creation of SHU units. They are supposed to lock up all the gang leaders and violent soldiers.
As of now, this is all just rumor, but every time Missouri prisoners show acts of violence via riots, the prison gets stricter. For example, the 1985 riot in the old Missouri State Penitentiary caused them to build a supermax housing unit.

When are we gonna learn that we are hurting ourselves more ways than one by these acts of violence? When I was advocating peaceful protests with demonstrations of how to shut the prison system down, nobody in Missouri wanted to participate. But you go off on your own and committed this no nonsense act of violence against your brother, your friends, your families, and jeopardized everyone.

It costs $85 million a year to keep the U.S. prisons up and running. The government is not producing this money to keep the prisons going. So where is the money coming from? Let's see now, in Missouri it's coming from Missouri Vocational Enterprise (MVE), the sign shop, the printing shop, the license plate plant (tag plant), the furniture factory, the chemical plant, information technology (IBM program), the braille program, the laundry, the cooled-chill plant (cold food storage), the shoe factory, the Missouri Department of Transportation (MoDot work release) and the newly implemented paneling factory.

The above-mentioned factories are multi-million-dollar industries per year. They are paying you pennies. So what a couple of these jobs pay between $150 and $300 per month. If you peacefully protest by refusing to go to work in these factories, either they are going to pay you at least minimum wage where you will be making at least $340 a week, or they are gonna bring in civilians to do the work, in which case the factories are going to have to be uprooted and moved because most civilians are not coming inside the prisons to work. So to shut down a beast like the U.S. prison system is to shut down their economy — that is, the very thing that's bringing them money to keep the prisons open is the very thing that can shut it down.

This just doesn't begin and end with the prisoners. The prisoner has to survive. He has to eat. So the people in the free world are going to have to support the prisoner financially. Family, friends, advocate organizations are all going to have to pitch in and support the prisoner financially. That means to stop working we have to buy food to eat. To stop using the phones and tablets, we need stamps, envelopes, paper and pens to write letters that cost money. So the free world must understand that for us to make these sacrifices, then society is going to have to make sacrifices to assist us.

So Missouri prisoners, society (family, friends, organizations, advocates, etc.), stop going about things the wrong way and do them like they should be done in order to get results.

I go home next year on parole, but I do not leave my fight behind. There is a bigger world out there, which means a lot more opportunities to fight. I am going to find resources and seek out that they join me in my quest to do away with this beast. I will need their support mentally, physically, spiritually and above all, financially. With this, Comrades, I hope to see you on the other side, working with me and supporting me from the inside and outside.

In struggle—In solidarity
Arm raised—clenched black fist

---
MIM(Prisons) responds: A lot of folks talk about how hard it is to get people to unite behind bars. The prison controls everything from day-to-day comfort to release dates. And that's powerful incentive to conform. Then they introduce drugs and other distractions to pacify the population. They pay off snitches to keep an eye on activists. And they lock organizers down in solitary confinement. Still, faced with all these barriers, prisoners can and do come together to protest. Conditions at Crossroads CC were bad enough to inspire this action. And while the outcome wasn't all positive, the class action lawsuit and attention of the public has forced the Missouri DOC to admit that prisoners are suffering significant restrictions due to short staffing.
The comrade criticizing this action for its lack of focus and random acts of violence and destruction is right that often these sorts of actions lead to more repression. Though peaceful protests are also often met with increased repression. This debate over tactics in prison protests is one that should be happening within all prisons across the country. We hope the comrades at Crossroads will learn from this action and move forward in greater unity towards future actions that will be even more effective.
Focusing on the economics of prisons reveals the ridiculous scale of the criminal injustice system. As the writer above notes, it would be a significant financial loss to the state if they were forced to hire non-prisoners for all the jobs prisoners are doing. And this is financial leverage that prisoner workers can use to their advantage.
But to debate the value of this tactic we need to first be clear about the scope of prisoner labor. The state of Missouri 2018 budget allocated the Department of Corrections over $725 million. About the same as the previous year, which was up $50 million from 2016.(1) The state would have to allocate even more money if no prisoner labor could be used to help run the prisons, or produce products that are sold to generate revenue. But that prisoner labor is still a small part of the total cost of running prisons.
As we showed from data collected from prisons across the United $tates, in general, losing prisoner labor would add about 10% to the cost of running prisons. Prisons are mostly subsidized by states' budgets. The labor from prisoners just doesn't come close to covering that cost. So while there is definitely economic power in those jobs, shutting down prison industries won't shut down prisons.
We don't aim to just improve conditions. In the end we know the criminal injustice system keeps taking away rights, doing what it can to make prisons a place of suffering and complacency. But this protest showed the people involved that they have the power to take collective action. As the original writer notes, the prison can see their downfall in the unity of the prisoners. This lesson of the importance and power of unity is what will hopefully fuel ongoing organizing.