"New" Torture Tactics at Pelican Bay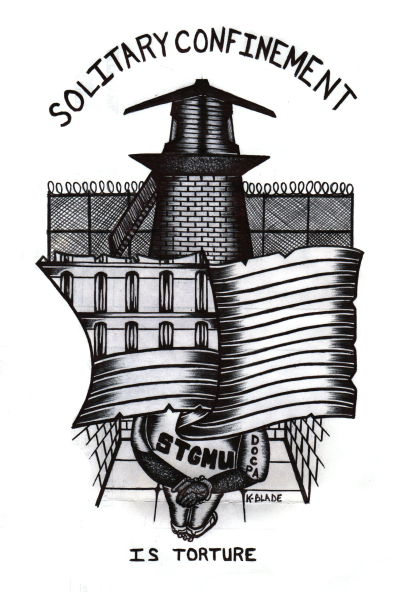 I want to inform you about a new torture tactic being used here in the Security Housing Units (SHU). Since August 3 [2 weeks ago] the staff have been doing what has been termed "security/welfare checks" which entails staff walking by every prisoner's cell every 30 minutes 24/7 and pressing a button that has been installed next to our cells. Due to the design of the SHU the sound everyone and everything makes is louder than it should be and at night we are woken up every thirty minutes due to staff opening/closing the pod door, which is extremely loud, stomping up the stairs to the top tier and back down, and making a loud bang sound when hitting the button next to our cells as they are hitting metal on metal.
During the day it's the same thing except the wand makes a high-pitch beeping sound when hitting the button. So 24/7 it's non-stop excessive noise that doesn't allow us to sleep longer than 30 minutes without being woken up. I feel like I'm living in a dream 24/7 as I'm always stirred and feeling the effects of being denied sleep and not being able to go through my normal sleep cycles. Anyone with common sense can see this is cruel and unusual punishment. The ironic thing is staff say it's to prevent suicides. Yeah let's make a bunch of excessive noise all day and night and not let anyone sleep longer than 30 minutes at any given time, that should prevent suicides. If it's driving relatively stable prisoners crazy I'm sure it's pushing those with mental health issues over the edge.
Also by doing this, even though it's misguided and unnecessary, the CDCR is admitting that the SHU makes people more likely to commit suicide if they need to check on everyone every 30 minutes. I have filed an administrative appeal on this to have it stopped or modified and plan to file a lawsuit if we are not allowed to sleep normally again. In the mean time I'm writing friends/family to call the prison/CDCR head quarters and complain about this, and I'm writing all prison organizations and public servants to make them aware of this new form of torture being conducted.
---
MIM(Prisons) adds: This sleep deprivation torture tactic has been reported on from San Quentin for some time, and we recently received word from a comrade on pending litigation on this issue:
"I am challenging a blatantly obvious psychological torture program put in play by Jeffrey Beard, Secretary of the gulag system in California, as a payback to the SHU guys for the hunger strikes. The CDCR had to throw us, death row, under the bus too, to make it less obvious who the target really is.

"There is a program whereby they come and shine lights in eyes, bang and yell, using a 'beeper' stick to hit the cell tray slots, every 20 to 30 minutes, all day and night.

"In my moving papers I proved it is utterly pointless as stated, as a suicide prevention program. Anyone knows you can commit suicide during the half hour between walks, and also in our unit it takes them over 20 added minutes to get the keys, get shields, and race in and pounce on a guy hanging by the neck. It is specious.

"So I filed saying this is far too onerous to be a mere act of stupidity, it is a malicious torture of the SHU units only (including PSU, psych wards, all lock-up units). If this does not cause suicide, what would? Ha!"
This latest tactic of inhumane sleep deprivation reinforces our point that the settlement of the Ashker v. Brown lawsuit will do nothing to end torture in California prisons. As the comrade above points out, this is not rogue COs, this is facility policy. We received reports over a year prior about the new Guard One torture program. As one comrade pointed out at the time, most deaths in cells are due to medical neglect.
Calling this a "new tactic" is a bit of a misnomer. This same exact system of "security checks" every 30 minutes has been used in recent history in Texas and North Carolina. Though in these cases they seemed more targeted, and the comrade in North Carolina grieved the abuse and won. In fact, this type of sleep deprivation dates back more than 50 years when prisoners suffered similar conditions in Walpole, Massachusetts. All these examples go to show that the system is inherently oppressive, and only by overthrowing imperialism will we ever begin to see humane treatment of prisoners.
We view the latest behavior by guards at Pelican Bay as a form of retaliation against the prisoners held in SHU, to show them who is in charge and that torture is alive and well in spite of the "successful" settlement. Exposing this consistent mistreatment of prisoners in California is a must to counter the narrative that the modern prison movement has succeeded in transforming the CDCR, or the conditions they submit their prisoners to, in any way.
The acute threat of this form of torture requires an immediate response.
A concerted effort has been taken up by a number of groups supporting the California prison movement to contact the warden to demand an end to this torture.
Write to:
Warden Clark E. Ducart
Pelican Bay State Prison
P.O. Box 7000
Crescent City, CA 95531-7000
email: [email protected]
call: (707) 465–1000 ext. 9040