On Punishment vs Rehabilitation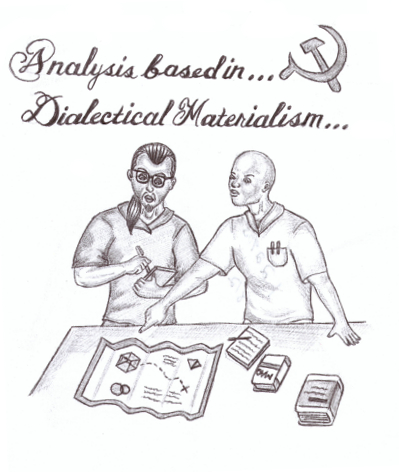 Until, and perhaps after, we achieve a society where the culture of capitalist individualism has been destroyed, revolutionary organizations will have to deal with crimes against the people. We need to protect our movement from harm, and we must balance how to protect it from all sides. In some cases, punishment will be appropriate. But our primary focus will always be rehabilitation. Here we will discuss how we think about punishment and rehabilitation in the different stages of revolutionary struggle.(see definitions in Notes below)

Simply punishing someone for a behavior is a generally accepted, but widely ineffective, method of changing that persyn's behavior. There is first the consideration of whether the persyn is compelled by the punishment to change their behavior. (What does the punishment mean to the one being punished? Does the punishment match the crime?) Second is the consideration of whether the persyn being punished understands their crime and how the punishment relates to the crime. So simply punishing someone without providing any accompanying rehabilitation may serve the purposes of satisfying the victims, or detering others from doing the same behavior, but it does little to change that persyn's behavior or change eir mind about eir behavior.
Crimes against the people
Crimes against the people are actions that harm the oppressed, either directly or by harming the revolutionary movement of the oppressed. In our current context, they include things like snitching to pigs, facilitating drug addiction, stealing from the masses, and a long list of other counter-revolutionary actions. The list of crimes that must be dealt with today, directly (versus crimes that can't be dealt with until during the wartime period, or post-revolution) will change as we move through stages of struggle. Additionally, what is possible for us to deal with will also change over time, as we grow in strength and acquire more resources.
Even though we see many crimes against the people committed around us daily, we only have so much capacity to try to rehabilitate people, and an even more limited ability for punishment. But while lacking the time and resources to rehabilitate everyone, we also must keep in mind the consequences to the movement of punishing counter-revolutionary actors. Doling out punishment can have potentially dangerous consequences, yet it might be the only option available to us in certain circumstances. So whether to punish vs. rehabilitate is not simply a question of what we are able to do, but also what will be best for the revolutionary movement.
Overall, focus on rehabilitation
There are no cut and dry guidelines on this question of relabilitaion vs. punishment. Our actions will depend on many factors, and we can only figure this out in practice. Focusing too much on hypotheticals only clouds our judgement when we are faced with an actual crime that we need to deal with.
Yet on the overall question of whether to focus on rehabilitation or punishment, we look to Mao's injunction that we focus on rehabilitation of those who make mistakes but are open to correcting their errors and rehabilitating their political line and practice:
"A person with appendicitis is saved when the surgeon removes his appendix. So long as a person who has made mistakes does not hide his sickness for fear of treatment or persist in his mistakes until he is beyond cure, so long as he honestly and sincerely wishes to be cured and to mend his ways, we should welcome him and cure his sickness so that he can become a good comrade. We can never succeed if we just let ourselves go, and lash out at him. In treating an ideological or a political malady, one must never be rough and rash but must adopt the approach of 'curing the sickness to save the patient', which is the only correct and effective method." (Mao Zedong, "Rectify the Party's Style of Work" (1 February 1942, Selected Works, Vol. III)
Before the proletariat seizes state power
We are in the pre-revolutionary period right now. Pre-revolution includes the current period of "relatively peaceful" organizing, and the period of outright war when the oppressed fight to take control of the state. The oppressed-nation lumpen in the United $tates face life-or-death circumstances every day, including consequences of imprisonment, economic disparity, inter-lumpen violence, police violence, and attacks from various white nationalists at all levels of society. While we face daily violence, our organizing at this time primarily focuses on self-defense and building independent institutions of the oppressed. That's why we call this a "relatively peaceful" organizing period, where we focus on preparation.(1)
Pre-revolution Organizing
In our day-to-day struggle, many counter-revolutionary actions will not be a question of life and death as they are in wartime. But they are still serious and potentially dangerous to the movement. This is the period when we have the least power to carry out punishment and to rehabilitate effectively. We should strive for rehabilitation when possible, but with limited power and resources we will need to evaluate each case to determine what we can accomplish.
While we don't have state power, when rehabilitation is not an option, we still have enough power in some situations to punish crimes against the people. This punishment most often involves exclusion from the movement, but can include public criticism and more physical actions. Our actions in this regard will need to be carefully considered in each case.
The case of snitches comes up a lot in prison organizing, where many attempt to curry favor with the guards in this way. Snitches are counter-revolutionary actors who must be cut out from the movement, though we may lack the power to appropriately punish snitches (beyond exclusion) at this time. But we also believe that snitches, and everyone else who commits crimes against the people, have the potential for rehabilitation through education and struggle if we have the opportunity to engage with them deeply. However, that's not always a good use of our time right now. Those who see the error of their ways and come to us with self-criticism for their past actions are clearly an easier target for rehabilitation and revolutionary education. Each case will require individual consideration. Those involved in the struggle and impacted by the crimes will have to assess the appropriate response and mix of re-education and punishment.
At Southern Ohio Correctional Facility in Lucasville, Ohio in 1993, prisoners were throwing their trash on the tier in a protest. In the book Condemned by Bomani Shakur (Keith LaMar) we learn the details. This protest was going on for several days and the guards brought in a trustee to clean the tier. The prisoners tried to talk with this trustee over multiple days, to get em to refuse the job, yet the trustee kept cleaning the tier. The protesting prisoners punished the trustee violently. In this case we see the correct method of first attempting to struggle with someone who is acting against the movement, and later taking more direct action to shut em down to protect the movement. We can't judge this specific incident from afar, and it is something revolutionaries will have to figure out in day-to-day struggle.
Pre-revolution active wartime
Times of war are, of course, characterized by the use of violence and killing of the enemy as the default means of achieving goals. In wartime, the primary focus is on destroying the enemy, and this includes killing counter-revolutionaries. Anyone who acts to support the imperialists is swiftly punished. Some of these crimes merit death, as actions that result in the deaths of many revolutionaries cannot be tolerated.
"Mao Z reminds us in one of his military essays, of the insight from von Clausewitz, that war is different from all other human activity.

"When you check out the record, you can get the feeling that young Mao Z barely bothered to conceal how much he wanted to rip the Li Li-san faction right out of the 'red' military and rural party, by any means necessary. No matter how flimsy the excuse or reason, he really didn't care. To him, the revolution had to disentangele itself, to meet a life-or-death challenge, as quickly as possible.

"…Mao Z and Chu Teh weren't in suburban California, judging or dismissing cases of individuals in a civilian situation. That would be one set of circumstances. They were in a remote war zone, deep in the countryside, preparing feverishly for the largest and possibly most decisive battle any of them had ever gone through, raw soldiers and officers alike. Any disadvantage could cost them everything, while any advantage might be life-saving. That was a different set of circumstances."(2)
During the revolutionary wars of the USSR and China, they did not always have the time or resources to attempt to convince traitors to rejoin the revolution, and in many cases they could not even set up prisons to contain these enemies for future rehabilitation. Mao's guerillas had to turn around and execute lumpen forces that had previously fought side-by-side with them against the Kuomintang. At other times, the People's Liberation Army was able to successfully recruit whole sections of the Kuomintang army into their ranks. Again, an in-the-moment assessment of our threats and capabilities, with a preference for rehabilitation whenever possible, will be necessary even during wartime.
Post-revolution
When we have state power, we will be in a better position to rehabilitate people. But in the short term the masses will demand punishment for those who owe blood debts. In China shortly after the anti-Japanese war was won and the Communist Party took power, Mao addressed this topic:
"The number of counter-revolutionaries to be killed must be kept within certain proportions. The principle to follow here is that those who owe blood debts or are guilty of other extremely serious crimes and have to be executed to assuage the people's anger and those who have caused extremely serious harm to the national interest must be unhesitatingly sentenced to death and executed without delay. As for those whose crimes deserve capital punishment but who owe no blood debts and are not bitterly hated by the people or who have done serious but not extremely serious harm to the national interest, the policy to follow is to hand down the death sentence, grant a two-year reprieve and subject them to forced labour to see how they behave. In addition, it must be explicitly stipulated that in cases where it is marginal whether to make an arrest, under no circumstances should there be an arrest and that to act otherwise would be a mistake, and that in cases where it is marginal whether to execute, under no circumstances should there be an execution and that to act otherwise would be a mistake."(3)
In this situation, the Communist Party was acknowledging that it could not get too far ahead of the masses. Punishing those who had committed extremely serious crimes was part of demonstrating to the masses that the Party was acting in their interests. But the goal was not punishment and execution. The goal was to move as many people towards rehabilitation as possible. And we can't know who has the potential for rehabilitation until we try. Overall, communists should assume that all people can be educated/re-educated because humyns have great capacity to learn and grow, especially when removed from harmful/reactionary circumstances.
Of course forced labor in China was a punishment for these counter-revolutionaries. But it was also an opportunity for reform and rehabilitation. As we learn in the book Prisoners of Liberation by Adele and Allyn Rickett, even people who had served as spies for imperialists during the war were given a chance at rehabilitation. The Ricketts, in China for academic study on a Fullbright Scholarship, were passing information to the Amerikkkan and Briti$h governments. This was while the Chinese were fighting for control of Beijing and then into the imperialist war on Korea, in which the Chinese were fighting against Amerikan troops.
The Ricketts were spies in wartime. Yet the Chinese Communists did not execute them. Instead they were imprisoned in a facility where the emphasis was on re-education and self-criticism. It took both Allyn and Adele years to come to an understanding of why their actions were wrong. But during that time they were never physically abused. Their forced confinement was certainly a punishment, but in the end they came to see this time in a Chinese prison as justified and a valuable educational experience that made them both better people. They were transformed.
Balance of forces for punishment and rehabilitation
In all cases, we must balance several considerations:
The weight of the crimes of a persyn
The sentiment of the masses towards that persyn and their crimes
The power we have to implement rehabilitation programs effectively
The ability to perform punishment if deemed appropriate
Our assessment of the above considerations will change based on our stage of struggle and our ever-evolving strength and abilities. In all cases revolutionaries should strive to reform and rehabilitate as many people as possible. But the limits of our resources pre-revolution, the need for expedience on life-and-death situations in wartime, and the need to fulfill the masses' demand for justice post-war must also be taken into account.
This article referenced in: