Debating Sex Offenders Becoming Revolutionaries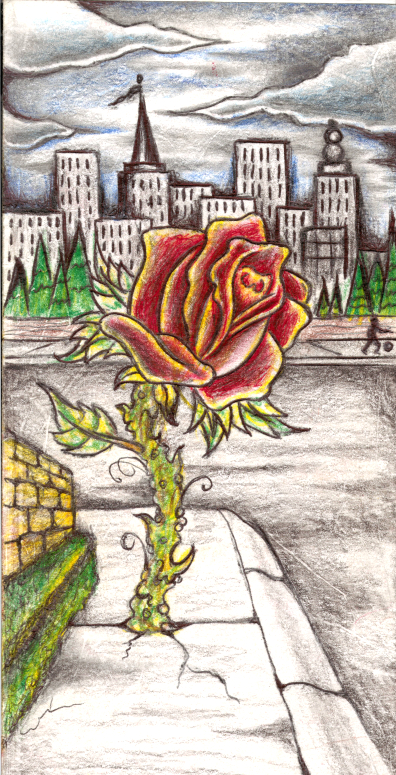 We received a lot of thoughtful responses to Under Lock & Key 61 debating sex offenders. This is a tough topic. It's easy to recognize that our culture encourages abuse of wimmin. And there are many problems with how the criminal injustice system defines sex crimes and selectively prosecutes this crime. But people don't want to condone rape, and many of us have a persynal reaction of horror to sexual predators that makes it hard to think about this objectively.
Regardless of the societal influences, and the unfair definitions and prosecutions, there are a lot of people who have committed sex crimes, and these should not just be ignored or forgiven. This topic got a lot of people thinking about whether or not sex offenders (SOs) can be part of the movement, and if they committed sex crimes, if they can be reformed.
Defining sex crimes
We have all been raised in a culture that promotes sexism and condones gender oppression. We call this system the patriarchy. It's a system where sexy young teen models sell clothes, and TV and movies glorify powerful men and violence against wimmin. This culture colors every relationship we have. We're taught that being a good man means acting manly and strong and never letting a womyn tell you what to do. And we're taught that being a good womyn means submitting to the needs and desires of your man. With this training, we can't expect equality in relationships. And without equality, we can't expect free consent. Not everyone has a gun to their heads when they are asked to consent to sex, but there are a lot of different forms of power and persuasion.
So we're starting out with a messed up system of gender oppression, and then we're trying to define which acts of sexual violation count as coerced (rape) and which are just "normal." One California prisoner wrote:
"I want to comment on the sex offender topic. Yeah it's rough because like the Nevada 17 1/2 yr old dude it's just that easy to get caught up. As adults we're able to date 18-19 year olds as a 40-50 year old.

"I mean if people are going to argue 15 year old and an 18 is different, the question is why/how? If their answer isn't 'I just want my baby girl to be my baby girl a few more years' then their answer is B.S., because that's what it really boils down to.

"Moving on, the sex offender umbrella is too big. Like it was mentioned, a person taking a leak in public is considered a sex offender? We haven't always had toilets, let's get real and go after the real sex offenders — fully adult male/female taking advantage of a child. That's a sex offender! 20, 30, 40 year old trying to sleep with a 13 year old — sex offender! Possession of child pornography — sex offender!"
This writer raises the question of age to define sex crimes. We ask, why is a 20 year old sleeping with a 13 year old rape, but a 20 year old with a 15 year old isn't? Probably because this writer believes a 15 year old is capable of consent but a 13 year old isn't. That's the key question: who has the ability to give consent?
Truly free consent isn't possible from within a system that promotes gender oppression from birth. But that's not a useful answer when trying to define crimes from the revolutionary perspective. And if we're going to attempting to rehab/punish people who have committed sex crimes, we have to decide what is a reasonable level of consent.
For now, we maintain that we should judge people for their actions, not the label they're given by the criminal injustice system. As this comrade from Maryland explains, society creates sexual predators who act in many different ways, but their actions all show us they are counter-revolutionary.
"I was reading one article on sex offenders in ULK 61, and it was talking about how to determine whether they did the crime or not. The thought came to me of judge of character, their interactions with males & females, whether prisoners or C.O.s, and the traces of conversations when they feel comfortable. Even those who don't have sexual offense charges sometimes make you wonder by the way they jerk-off to female C.O.s & female nurses or what they say to them that have you think if they are undercover sex offenders.

"One prisoner went as far as getting the female nurse information off the internet and called them on the jail phone and got (admin) (Administration Segregation). This is the same person that comes back and forth for jerking off to multiple disciplinary segregation terms, but is locked up for a totally different charge. He's a future sex offender, that can't be trusted for help in the revolution not due to a label, but due to his character and interactions when he sees females.

"Then you have the ones that have been locked-up in their teenage years and they're currently in their 30s, and like to chase boys who are easy to manipulate or who want sexual activity. One is big on being a victimizer, but knows and talks a lot of Revolutionary preferences. He has a lot of knowledge but can't be trusted to prevail due to lack of discipline and wanting to continue in his prison rapes & prison sex crimes that he rejoiced in. But he is another one that is not locked up for any sex offenses. Both were juveniles when incarcerated and have been psychologically damaged and lack change & further rehabilitation. Everyone still embraces them in general population and looks past their sexual activities.

"How can people that exploit sexual habits right in clear view of the prisoners be embraced and not looked upon as potential threats to society, families, and fellow prisoners, when you have someone labeled as a sex offender through childhood friendships and has to be sectioned off & outcasted by other prisoners due to the label of sex offender and not background information, the character of the man, their interactions with same sex and opposite sex, and the signs & symbols through their conversation?"
This writer's view is echoed by a comrade in Texas who has come to realize we need to judge people for their actions:
"UFPP is a must! Regardless of what you did to get in prison (rape, rob, murder), I (also a prisoner) only judge you or anyone on how they go forward from this day in prison. I used to work in food service and I would break a serving into fifths for women in prison for killing or abusing children. Then I grew up and got over myself. How do I know they were rightfully convicted and how do I know how they got in this prison life? I don't. We're all in the same spot starting out. What you do from this time forward is your description for me. And people can change. I have."
When we look objectively at how many people, both in prison and in society in general, commit sex crimes, it's pretty depressing. The recent #MeToo movement helped expose just how many sexual predators are in the entertainment industry in particular. And writers like the one above expose individual cases of predators behind bars. This is so common because of a culture that promotes gender inequality. As long as we see wimmin/girls as objects for sexual pleasure we will have a problem with sex crimes. Another prisoner described this pervasive problem in California:
"This letter is in regards to the sex offenders articles in ULK 61. We cannot "always" trust a state to tell us what crimes someone has committed - but most of the time we can. It might not always be so clear, but the majority of the time the person convicted of a sex crime did indeed do it.

"Of the thousands of people I've come across in the SNY prisons I've been in, absolutely nobody has claimed his pc 290 case is for urinating in public. The most common is sex with a minor as there is absolutely no thing in the state of California as consensual sex with anyone under age 18. I know this all too well because sex with a teen put me where I'm at.

"There are probably as many different variables that create sex offenders as there are types of sex offenders themselves. The overwhelming factor with the sex offenders I've met in prison (and there's a lot of sex offenders in prison) is drug abuse, especially methamphetamine. It's safe to say that most sex offenders (at least 60-70%) were driven by the effects of meth. There are many in prison who will admit to sex with underage females. Growing up in the housing project of San Francisco's Mission District I knew a lot of adults (mostly men) that had sexual relationships (and even marriages) with teens. It was very common also that the girls my age as a teen carried on with grown men.

"Go to a Latina's traditional 15th birthday celebration and count the amount of males over 20 yrs old. Yes, that is what many are there for: the girls. Do younger girls' parents know about this? Yes, most do. Cinco de Mayo has become another reason for America to party. Latin foods, beers, music, piñatas, etc. We've welcomed with open arms. Are we going to pretend that these 'other' traditions from Latin America don't exist and just continue to tag and store sex offenders or will something be done to address this issue?
This writer makes a good point: lots of sex crime charges are real. Many men have committed these crimes. But there's no need to rely on what the state tells us. In fact this writer demonstrates that people are being honest with em about eir past crimes. We don't gain anything by trusting the criminal injustice system, and we don't need to.
This comrade helps demonstrate our point that sex with teens is condoned by capitalist culture. These cultural influences encourage men to see their behavior taking advantage of wimmin, and pursuing teens, as normal and acceptable. We won't stop this completely until we get rid of the patriarchy and have the power to create a proletarian culture.
Can criminals be reformed?
An important organizing question of today regarding sex offenders is whether or not they can be part of the revolutionary movement. This inspires a lot of debate behind bars. A comrade from Maryland provides some good examples of people becoming revolutionaries in spite of history of anti-people crimes. We agree with eir analysis that everyone who has committed crimes against the people (sex offenders, drug dealers, murderers, etc.) has the potential to reform and be a part of the revolutionary movement. Whether or not we have the resources to help make this happen is discussed in "On Punishment vs Rehabilitation."
"Eldridge Cleaver was incarcerated for rape upon little white girls and was not on Protective Custody, nor was he a victim, but the victimizer. [Cleaver was actually incarcerated for assault, but was open that he had raped wimmin and even attempted to justify it politically. - ULK Editor] Though upon his parole release he worked for a newspaper company until his run-in with Huey Newton at this newspaper company and joined the Black Panther Party to become later down the line a leader within the BPP political organization. James Carr was another that participated in prison rapes even though he grew to become a instrument for the BPP, a body-guard for Huey Newton upon his release, and a prison vanguard alongside George L. Jackson. Basically, saying that in their era they were not faulted by the political group for their past, but were looked upon what they could do in the present and future.

"With what the United States set as standards are only accountable for those who are out of their class and who they don't care about, while their class gets away with such crimes or slapped on the wrist with the least time as possible. They have messed us up psychologically mass media. So even if the people don't know if the crime is true, what the state places upon us as fraud charges, our mindset is automatically it's true cause America says it's true. Just like when we see people on the news wanted for questioning about a crime, we automatically say he did it without knowing.

"Did the Revolutionaries of the 60s, 70s, and 80s not participate in the Anti-People Crimes as modern day even though they were Vanguards for the people and just as conscious as we are. Did they not sell illegal drugs to raise money for court fees & bail fees? Did they not drink alcohol and smoke weed & cigarettes? Did they not graduate to hard drugs? Did they not shoot or stab people in their lifetime? Did they not commit sexual assaults? That's why we are able to learn from their mistake, while also cherishing their great stands of Revolution. So within criticism, criticize all through all eras and let those who want to prove their self do it. If sex offenders, whether guilty or not, started their own organization that was aligned with the same goals, principles, and practices as MIM(Prisons), would you support them or acknowledge their efforts? Do you feel that if a sex offender, guilty or not, got conscious and changed for the better is capable of being a positive tribute to a Revolution?"
On this same topic a Wisconsin prisoner disagrees and sees the example of Eldridge Cleaver as a detriment to the movement overall.
"I personally do not believe there is a place in the movement for sex offenders, and when I say sex offenders I'm referring to those who are in prison for committing sex crimes, not statutory rape, where he's 17 and she's 16 or even if he's 20 and she's 16. I'm, talking about un-consentual, outright rape of women, men and children. I don't have any affinity for those who rape prisoners or prison female officers and staff.

"A lot of people bring up Eldridge Cleaver to support the argument of reform for rapists, where to me Eldridge was not a true revolutionary, he helped bring down the BPP and his mistreatment of Kathleen Cleaver, Elaine Brown and others was egregious at best and outright barbaric at worst. I don't knock those who have compassion and believe in reform for sex offenders, I'm just not one of them."
While we disagree with this writer's statement that SOs can't be reformed, we agree that embracing those who promote gender oppression because of their correct line on national oppression can be very dangerous for a revolutionary movement. The Black Panther Party struggled with gender oppression, but in many ways was ahead of other movements and organizations of their day. This doesn't mean they got it all right, but we have to judge people and movements in the context of their struggle.
Finally, Legion writes compellingly about the potential for rehabilitation of SOs and also offers a framework for undertaking this work.
"So I'm sitting here eating a bowl of cereal and digesting ULK 61 and comrade El Independista made some valid points and MIM(Prisons) dissented. See when we sparked this debate we were struggling with starting a NLO consisting of comrades who have fucked up jackets who are willing to put pride, ego, individualistic patriarchal thoughts and practices to the wayside forming a column of revolutionaries who are given a chance to show and prove that the state was wrong and that U-C-U works for all instead of some. Answering El Independista's questions of possible solutions isolation, ostracization, extermination may I build?

"First and foremost as a revolutionary raised in the game I'd rather deal with a SO than a snitch or a jailhouse thief. Why? Because in most cases the SO can be re-educated if given the ability to perform. If a potential comrade has been framed by the state who will hear him out. He's isolated like the sex offender island in Washington State off of puget sound. Ostracization is another word for shun if the SO shuns his/her anti-people conviction and uses unity-criticism-unity to combat the patriarchy and upholds the merits of a drafted constitution along with personal U-C-U known as self-criticism you can begin to mold revolutionaries who ostracize themselves. Then there is extermination, another word for ending re-education self-critique and revolutionary bent will cause an ill (as in sick) blow to the injustice system. It's all or none. And no, I'm not harboring cho-mos and rapos, just willing to do the work to see us free all of us. For example, if a column of reformed SOs took up a revolutionary mindset and put said mindset into practice one would exterminate a whole under represented class of people.

"In California the Penal Code 226(a) is any sex crime. 266(h-j) have to do with pimping and pandering, 288 is a molester, 290 is the required registration code. Most kidnappers have to register for life. If you're a John you have to register and if you're a prostitute you have to register. If you opt into a shoot out and a child was involved you have to register, and child endangerment is a sex crime. As well as rape, peeing on the side walk, flashing. In prison all these cases get 'P' coded which prohibits the captive from ever being level 1 where there is minimal politics, and forces one to live in enclosed structures with secure doors AKA cell living. This leaves level "P" coded prisoners in 3 and 4 yards. These yards are political, whether GP or SNY there are politics. And on these yards you have folks with a knack for praying on the weak, creating a pattern of sexual abuse. Just look at any day room wall you'll see the # for the PREA hot-line and a slogan that says 'no means no and yes is not allowed.'

"People, we have to prepare for the white wolf invasion. You can't bully the SO problem away. You have to be a social scientist and commentator and build institutions that collapse the structure. And to answer MIM(prison), most SOs are on SNY yards and you have these snitch gangs who look to isolate, ostracize and eliminate "threats." Most SOs aren't rats, hell most aren't even criminals, no rap sheet only accusations. But these "gangsters" need a common enemy, and an easy target is the SO. As a 'do what's best-ist' I would, if given the platform to do so, launch the wolf collective and invite all who read ULK to join, not as a member but as a witness to the scientific display of revolutionary conduct. I do this to sacrifice self for the masses.

"Start with self-critique and a solid understanding of your errors.
Make serious revolutionary action your priority
Honor and respect all human beings' dignity
Never go backwards in thought walk and push
Stand all the way up for what is righteous and do what's leftover
You will be judged by your political work and political line.


"You might think I'm crazy or nuts but I have 36 nuts and bolts that say otherwise. The mathematics makes sense to turn nuts to plugs you plug in nuts meaning you become the change you want to see, and if I have to build the collective brick by brick stone by stone I will. I'm a convict first for all the would-be haters, but I think the time has come to form an infection on the skin of the beast."

Related Articles: