Our Readers Have Spoken: Prisoncensorship.info Must Live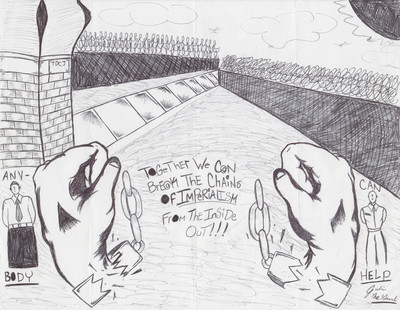 This article is to announce the short-term success of our recent campaign to keep our website alive. After proposing that our limited comrade time might be better spent on pushing forward our prisoner support work, we launched a campaign to engage our online readers. With minimal effort, we have received a substantive response indicating that we were incorrect to hypothesize that we could not mobilize our online readers to contribute to this project as our prison-based readers have from the beginning.
In just five months we've seen our volunteer base and collaborative work grow enough to convince us that web development is a good use of our limited comrade time. But as we pointed out in that article, regular contributions are much more useful than sporadic ones, so we must keep up this trend. We have gained at least one regular financial contributor, which more than covers the cost of keeping our website online. We encourage our other volunteers to stick to it.
A note to potential financial contributors, we had been soliciting postage stamps, however we are approaching our limits on how many we can use, especially since this is the main way that prisoners send donations. So new contributors should consider sending cash, blank money orders or bitcoin.
Those watching our website may have noticed us taking down some requests for help as volunteers have stepped up. While not all have proven themselves yet, we have received responses to diverse needs. By offering up more specific tasks, we've inspired our readers into action, proving they are more than just web traffic statistics. This also proved that lack of focused leadership on our part was part of the problem.
It was not just online readers who responded to our call. One United Struggle from Within leader put forth a proposal to our annual congress to up the enrollment fees for our correspondence study groups and to only provide hard-to-find books to those who pay for them. Another USW comrade proposed that we remove people from the ULK mailing list faster to cut costs. We adopted new policies incorporating both proposals, which should help on the postage side of things. One comrade even spoke of the impact the website had on em from prison, demonstrating that the website directly contributes to our prison-based work.
In addition to the new contributors we've gained in recent months, we've seen an increase in comradely projects putting out good material. This can help us directly by providing material for our newsletter and study groups. But it also helps the movement in general. Supporting MIM(Prisons) is a great way to contribute as we have a proven track record. But we need more projects than the Prison Ministry. So don't let the scope of our work limit you if you can contribute in bigger and better ways.
While things will roll out slowly as usual, we will be continuing to improve and add content to our website in coming months. We also want to put a call out there for supporters who want to contribute as part of a cyber promotion campaign. This is something that you can easily do on your own, and there is no limit to how many can help promote our work and MIM line in whatever forums you are active. Or get in touch for ideas of outlets for promotion.
There is no doubt that setting up secure, reliable institutions on the internet is a needed task. While platforms owned by transnational corporations may have tactical use for promotion, with proper precautions in place, they cannot be our base of operations. Prisoncensorship.info has contributed in this regard and with your support we will continue to work to strengthen it as an independent institution of the oppressed.

Related Articles: