Pennsylvania Censorship Victory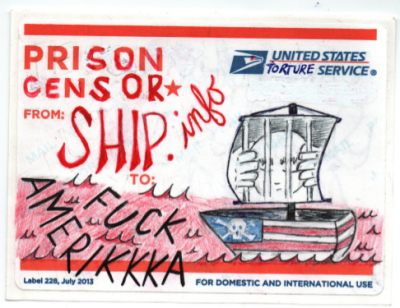 This is a followup letter to notify you fine folks of the outcome of the article in ULK 46 about textbooks being censored by Pennsylvania Department of Corrections (PA DOC). Any time a prisoner receives a publication it gets screened for any possible reason they might be able to withhold it. This is done by a committee, and these people may consult other prison employees for help in the decision on whether or not to allow a given publication into the prison. If this committee, the Incoming Publication Review Committee (IPRC) deems a publication does not fit the criteria to be possessed by a prisoner, they hold it, and send the prisoner a notification. The prisoner has a certain amount of time to reply before it gets destroyed. The prisoner can request the publication get mailed out, at their expense (only first class postage), or they have the option to appeal IPRC's decision to the superintendent.
I had three computer programming textbooks denied over the course of 5 months and appealed each one in turn. The superintendent here at SCI-Huntingdon responded to me by saying that I wouldn't be getting my books. He told me that IPRC's decision is final, and that he can't approve them. Around that time I wrote to you and got your censorship packet. I appealed the superintendent's decision to central office by writing a letter to the department policy director Dianna Woodside. In the letter I told her that, although the IT department was consulted, they were incorrect in determining that the books were a threat. I demonstrated my preexisting knowledge of the subject, and listed several cases where the prisoners were awarded monetary damages for being denied books, including one that was specifically about programming textbooks. I told the official that I was sincere about trying to pursue a possible career in programming computers, and reiterated my willingness to go to court. I am unsure of why exactly she decided in my favor, but in the end I got all three of my books sitting right here with me. I am sending copies of the decisions along with this letter.
---
MIM(Prisons) adds: The books this prison initially denied were Java in a Nutshell, Build Your Own Website the Right Way Using HTML & CSS, and Object Oriented Programming. This shows both the random and unfounded basis on which prison administrators decide what literature to censor, and the potential for successful appeal with persistence. It's obvious that prisons in Amerika can not possibly have a rehabilitative goal if the very books required for education into a productive career post-prison are denied for no reason.
We certainly don't win the right to our incoming mail often, but it is well worth the time to appeal every instance of censorship possible. If nothing else, it provides documentation of the denials and lack of reasons, and may pave the way for a future court case. For those facing censorship, write to us for a copy of our censorship packet that will guide you through the appeals process. And be sure to send us any documentation you have on censorship of our materials, your appeals, and administrators' responses to your appeals. We put these documents on our website at www.prisoncensorship.info.

Related Articles: