Plan of Attack on Texas Hiding Grievance Manual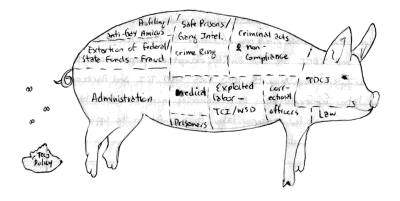 To the comrade who submitted the article "Texas Hides Grievance Manual" on a memo by Access to Courts Supervisor Frank Hoke, take these words of wisdom.
The grievance procedure was certified by the United States District Court for the Eastern District of Texas and Southern District of Texas in 1989. In 1999 the Texas Board of Criminal Justice (TBCJ) and Agency officials approved the Offender Grievance Operations Manual (OGOM) and screening criteria. Pursuant to Board Policy (BP) 03.77,
"The resolution support manager shall establish and maintain the Offender Grievance Operations Manual (OGOM) to provide guidance to employees regarding the offender grievance procedure. ... Instructions on how to use the offender grievance procedure shall be established separately from the OGOM for distribution to offenders and employees. Provisions for training, education, and implementation of the offender grievance procedure shall be established in AD-03.82, 'Management of Offender Grievances' and the OGOM." Signed by Oliver J. Bell, Chairman TBCJ
Note the last part in BP-03.77 "shall be established in AD-03.82." In AD-03.82, the Resolution Support Manager is responsible for oversight of access to courts, offender grievance and Ombudsman. Section I of AD-03.82 establishes the set criterion of emergency and specialty grievance. Furthermore, AD-03.82 Section IV A states: "Copies of BP-03.77 ... and this directive, as well as instructions on how to use the offender grievance procedure shall be available at each unit, to include copies in the law library." AD-03.82 Section VI A states: "The resolution support manager shall direct, administer, supervise, and manage the implementation and operation of the offender grievance procedure without interference by any employee."
The memo you described was not issued by Texas Board of Criminal Justice (TBCJ). So it is null and void, being it amends AD-03.82 and BP-03.77. On Page 1 Chapter II of the OGOM titled "Authority" it states: "AD-03.82 'Management of Offender Grievances'. Establishes agency expectations and the fundamental groundwork for the effective operation of the Offender Grievance Program. The administrative directive is more specific than board policy and supports the grievance process by providing a basis for the offender grievance operations manual."
Notice that the Access to Courts is not the agency that is responsible or authorized to make policy or amendments to policy or revisions. The Access to Courts is violating the Liberty Interest Protections in AD-03.82, being that Frank Hoke is not authorized to amend oversight policy or the OGOM. These revisions unauthorized by Oliver J. Bell have not been tested for constitutionality and changes AD-03.82 in violation of Texas law and Texas constitution articles 1, 13, and 17. Please read the article titled "Right to Assist others with Legal Work" in ULK 42 and you will see why they are doing this. Law library staff violate privacy rights, copying letters, which they send to Access to Courts for review. An Access to Courts violation has occurred which impedes, hinders or denies these rights. There has been no change in AD-03.82 or BP-03.77. Hoke's memo will only go in effect if we allow it. This is an unauthorized confiscation of OGOM without reason of safety or security justification. See Corby v. Conboy, 457 F2d 251 (1972). Always keep the pigs within the "pen," or they will eat up your rights and liberty and defecate corruption, that will abolish the smell of peace, and make the path of unity impossible to walk.
---
MIM(Prisons) responds: The knowledge of the invalidity of this practice within Texas prisons is certainly something we can use in our fight to remedy this repression. Prisoners in Texas should take the information above and apply it to their struggle to get the grievance manual put back into facility law libraries across the state. If someone puts together a sample grievance, petition, or other organizing tool then we can distribute it as part of our Texas Activist Pack.
But we also know that just because something is illegal or invalid doesn't mean that the state will ever actually be held accountable, or be made to follow law. This is evidenced in prisons all across the country, and on a broader scale by the illegal settlement of Palestine by I$rael and the many illegal atrocities committed by the United $tates and imperialist corporations all across the world. Those with power will do whatever suits their interests. A grievance campaign might help us win small victories. But we can't be deluded into thinking that if we just point out to them that they are breaking the law they will change their behavior.
Mumia Abu-Jamal explains this well in the book Jailhouse Lawyers: Prisoners Defending Prisoners v. the U.S.A. In the Preface, Mumia hammers home the point that law is what a judge decides in the moment; that they make it up as they go along. In a discussion about what makes jailhouse lawyers go crazy, Delbert Africa explains to Mumia,
"It drives they ass crazy 'cuz they cain't handle the fact that the System just make and break they laws as it see fit! How many treaties they done signed with the Indians? Ain't a one of 'em they done kept! Some of 'em broke 'em befo' the ink was dry on 'em old treaties! Them the same folks who run this System today! If they couldn't keep a treaty with Indians when they first got here, what make you think they gonna keep they so-called law today, especially when it come to me and you, man?"
Mumia pushed Africa to explain further why this makes jailhouse lawyers go crazy, and Africa responded,
"They go crazy becuz, Mu, they really believe in the System, and this System always betray those that believe in it! That's what drive them out of they minds, man. They cain't handle that. It literally drives them out they mind. I see 'em around here, walkin' 'round here dazed, crazy as a bedbug!"
Mumia follows this conversation with an anecdote about a jailhouse lawyer he knew from death row who insisted his appeal would be granted because his argument was so "black and white" that the judge "gotta" go for it. But as Mumia explained to this brother,
"They do what they wanna do, man! Just 'cuz it says something in one case, they don't have to go by that case, man. I agree with you, that you got a damn good argument — and you should prevail — but I don't go for that 'gotta' rap!"
While we want to hold our oppressors publicly accountable as much as we can, these struggles are more about highlighting inadequacies of the injustice system and agitating for others to join our struggle against capitalism and imperialism. When we do win a legal battle, we take it as an opportunity to build space for more revolutionary organizing. We ultimately need to wage a protracted, long-term struggle (that eventually will be an armed struggle) against this oppressive legal and economic system under which we attempt to live. In the meantime, we agree with Mumia that "the law ain't nothing but whatta judge say the law is."