Texas Bans Mailing its own Grievance Manual to Prisoners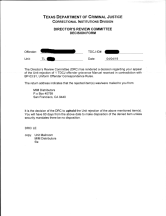 We just got word that the Texas Department of Criminal inJustice (TDCJ) has denied delivery of the TDCJ Offender Grievance Manual to one of our subscribers in Texas. Not just at the unit level (we were not informed of the censorship at the unit level by Polunsky Unit mailroom staff, in direct contradiction to TDCJ's own policies)(1), but the Director's Review Committee even upheld the censorship of the grievance manual. The Director.
Well, what could possibly be the reason given for censoring TDCJ's own manual which was written for "offenders"? Couldn't tell you. All the notice says is it was "received in contradiction with BP-03.91, Uniform Offender Correspondence Rules." Don't forget, BP-03.91 doesn't just say that this item is denied delivery to this particular subscriber. It says that this item is banned in the entire state for all time. Just like Chican@ Power and the Struggle for Aztlán, our "Defend the Legacy of the Black Panther Party" study pack, and multiple issues of Under Lock & Key (at least including Nos. 63, 57, 54, 51, 45, 35, 32, 28, and 27).
You might be wondering why MIM Distributors is sending in the grievance manual anyways. It's a TDCJ document, after all. And according to the Texas Board of Criminal Justice, the grievance manual ought to be available to prisoners.(2) Well, in September 2014, a memo went out that removed the grievance manual from all TDCJ law libraries.(2) Why would they do this? Don't know, they didn't say. TDCJ's grievance system is notoriously ineffective and deliberately obstructive. And Texas is historically one of the worst states when it comes to brutal national oppression. Seems to be part of those overall patterns.
We did have a "victory," so minor that it's even embarrassing to use that word. The Director's Review Committee Decision Form actually listed the name of the item that they censored! Wow! We didn't have to go hunting around in the list of mail we sent to this subscriber, guessing which item was censored based on the date we mailed it out. This is often a very difficult detail to pin down, considering how much mail we send in and the weeks- and months-long delays in the TDCJ censorship procedures.
So, we've been protesting the ineffective grievance process in Texas for almost ten years. The grievance manual was hidden almost 5 years ago. And now we can't even mail in the grievance manual. We do plan to appeal this censorship to the Director's Review Committee, but often our letters to them go unanswered. In the short term, we need people (and lawyers!) in Texas to put pressure on TDCJ to stop obstructing prisoners' access to the grievance system. Ultimately we need to overthrow this totally bunk injustice system and the economic system it protects.