Prisoners' Lawsuit Makes Progress in NC Struggle Against Abuse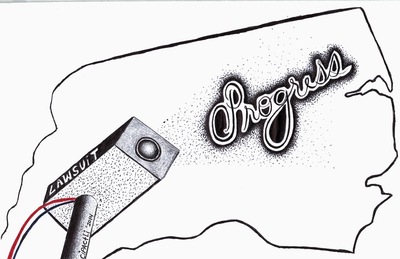 I would like to update my article in ULK 33. Our lawsuit against guard assaults on prisoners has gained attention and helped us win some protections. The pigs in Raleigh were ordered to install eleven new cameras and extra equipment to double storage capacity, set up a new policy to investigate assaults, and the court hired an expert to go into the prison to inspect it to see if blind spots are covered and other areas have been corrected. They have also replaced the entire unit staff.
We are now in discovery since the judge refused to throw out the prisoner beatings lawsuit. This case is getting some press, and the Herald Sun reported: "The judge made a not so veiled reference to the practice of punishing inmates by locking them up in dim solitary units." The judge said "your case is about sunlight where you claim there were systematic violations" to the lawyers for the prisoners. "What we need to do with this lawsuit is not bury it in a deep, dark hole and proceed with discovery."(1)
So one damn thing for sure we got a judge on our side. The same way they have taken from us (a little at a time) we all can do the same to them. It's just a matter of team work.
---
MIM(Prisons) adds: This is a good example of a winnable court battle that will result in some improvements in safety for prisoners. But it will not stop the inhumane abuse that continues throughout prisons in North Carolina. This is an ongoing contradiction of our fight against the criminal injustice system at this stage: we take on reformist battles to try to improve the conditions under which our comrades suffer, but we know that these reforms offer no more than minor adjustments to a system that is based on the oppression and suffering of those locked within.
It is ironic that the prisoners in North Carolina have to go to court to fight for their own safety within prison, while the state's justification for every repressive act is "safety" (including North Carolina's excuse for censoring Under Lock & Key for over three years straight). This exposes the reality of the criminal injustice system: a brutal tool of social control that endangers the safety of all who are captured in its broad nets. We need to take advantage of reform battles like this one, both to gain some breathing room for our comrades and to educate others and build unity. We can't end the abuse until we eliminate the criminal injustice system, but these reformist battles are important steps along the way in our ultimate fight against imperialism as a whole.

Related Articles: