Repression of Juneteenth Boycott Organizers has Begun
With just a month remaining before the first series of actions around the Juneteenth Freedom Initiative, we have received reports of repression of activists by the Texas Department of Criminal Justice(TDCJ).
One of the hearts of this campaign comes out of the brutal Allred Restrictive Housing Unit(RHU) where people have spent decades in isolation. We've recently learned that one organizer at Allred hasn't received half a dozen letters we've sent em over the last few months. Eir outgoing mail is also delayed or gone missing. This mail tampering is illegal. We wrote the warden of Allred to stop this censorship.. If he doesn't stop it, we know this political repression is intentional from the top of the TDCJ to suppress our boycotting of Juneteenth.
We are asking others to join our letter writing and postcard campaign in support of the rights of MIM Distributors and these activists in Allred to freely communicate. The pdf below can be downloaded, printed on card stock and cut into four postcards. Then you can ask people to sign them, put a postcard stamp ($0.40) on them, and drop them in a mail box. Over the next couple months we want to show TDCJ that people outside are paying attention and supporting the Juneteenth Freedom Initiative. This is one way to do that. You can also call Warden Jimmy Smith @ (940) 855-7477 (**069).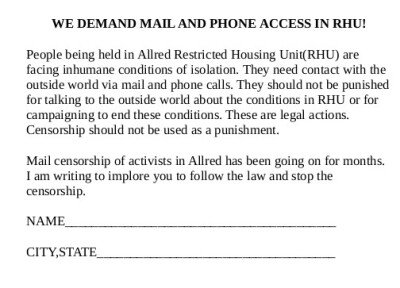 Stevenson Unit in Texas has also stepped up censorship related to materials about the Juneteenth boycott. The TX Team One Primer was censored for the reason:
"Page(s) 4 contains information advocating prison disruption."
Prisoners are very limited in what they can do when their grievances are ignored. Most actions will lead to repression. A boycott is the most passive action. There are no calls to violence nor do the plans threaten security in any way. Just a peaceful demonstration of solidarity, demanding some basic humyn rights be applied in Texas prisons. Yet this is being outlawed by the state.
Even worse, in eir most recent update, one comrade in Stevenson reported that:
"last night I was placed in handcuffs and marched off to solitary confinement, the place from where I currently write. I woke this morning to find I'm being charged with 2 new rules violations: 1) Attempt/threat to assault a correctional officer and 2) Assault of a correctional officer."
There was no assault. In fact this comrade is not even supposed to be housed on the second floor because of eir health conditions. Ey believes this is retaliation for the appeals ey filed against the censorship of literature sent by MIM Distributors. Meanwhile, MIM Distributors was not given the opportunity to appeal, and only received the final decision from TDCJ.
As our comrade in Stevenson Unit so eloquently concluded,
"They will never succeed in snuffing out my flame and their attempts to silence the truth only causes it to roar even louder! They cloak themselves in legitimacy and the trappings of power because deep down they know they are weak and the system is crumbling – to be swept aside along with all the silly liberal reformers and we build a better world over their ruins, a new society based on equality and respect and compassion and truth and justice and"love" – a human society fit for fully involved and determined human beings at peace with themselves, each other, and the world around us."