Music Review: All Amerikkkan Bada$$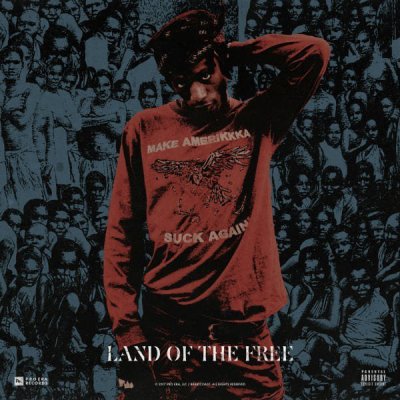 Most Amerikan self-described "communists" will not even listen to this album as soon as they see the title. Those same white nationalist socialists refuse to read MIM's writings because of all the KKKs and dollar $igns. They claim it's too distracting. We say transforming the oppressors language is a necessary part of building a revolutionary culture to replace the old one.
A week ago, the top results brought by a search for "Amerikkka" on youtube.com(1) brought up songs from Ice Cube's Amerikkka's Most Wanted album, some other hip hop singles, and videos from a former associate of MIM with explicit anti-Amerikkkan messages. This week, Joey Bada$$'s new album is rising to the top for that query. All Amerikkkan Bada$$ isn't as edgy as Ice Cube (it does lack Cube's misogyny) and certainly not as edgy as Shubel Morgan (who did music videos for MIM and LLCO), but it's got a pretty strong message of New Afrikan unity and struggle.
In one interview Joey Bada$$ said:
"It's like hella vegetables. It's hella good for you, and it's almost my hesitance with it: the fact that it's so good for you, because these kids these days want candy."(2)
It's an interesting quote, because Shubel Morgan often talked about the need for "sugar-coated bullets" in their artwork to help the message go down.

The album title, All Amerikkkan Bada$$ is no doubt a reference to Badass's late partner in rhymes, Capital STEEZ's mixtape Amerikkkan Korruption. Lyrics on this new album hit references to that mixtape as well, such as the track "Dead Prez" that was produced by Joey Bada$$. Both Capital STEEZ and Joey Bada$$ are respected as lyricists, with fast New York styles of rapping.

The album cover (and associated art) features an Amerikkkan flag made out of red, white and blue bandannas. The song "Legendary" makes a reference to Crip culture with the line "the legends they never die, the niggers they only multiply." More explicit are the lines in "Rockabye Baby":
"Peace to my Slimes, and peace to my Crips
Neighborhood police and they always on the shift
Protect my Bloods, look out for my cuz
When it's all said and done, we be the realest there was
Who else if just not us?
If you 'bout this revolution, please stand up"
ScHoolboy Q of the Hoover Crips in Los Angeles comes into eir verse with, "I'm part of the reason they still Crippin' out in Brooklyn" and goes on to echo the struggles of New Afrikans against police brutality and unemployment.

While the first single, "Devastated" has been out for months, the second, "Land of the Free", came out just before the album dropped this week. The first song is about success, and the video has a party vibe to it. "Land of the Free" is about the struggle, and the video features some strong imagery, including all-white pigs executing Black and Brown people in all black. Joey Bada$$ intervenes to free some of them, but is later shot and hung by cops in Ku Klux Klan robes. And while the video shows Joey Bada$$'s U.$. flag made of bandanas throughout, what is not so prominent is the upside down U.$. flag on the back of eir jacket. "Land of the Free" features lyrics like, "sorry Amerikkka, but i will not be your soldier, Obama just was not enough, i want more closure." The apt-titled opening track, "Good Morning Amerikkka" references Black Panther Geronimo Pratt's framing for murder by the state.

While the album features the usual "fuck the police" and "fuck the government" refrains, the last track, "Amerikkkan idol", also says, "Fuck white supremacy," a slogan that seems to be coming into vogue following the election of Donald Trump.(3) This track closes with some pretty sober and explicit lyrics:
"What the government is doing amongst our people is downright evil, disturbing. But not surprising, that's for certain... I believe they are simply trying to slander, start a civil war within the U$A amongst Black and white. They want us to rebel so that it makes it easy for them to kill us and put us in jails... Alton Sterlings are happening every day in this country, around the world...And it's time for us to rebel, better yet raise hell. I just want everyone to be cautious about how they go about it... not only battling them on a physical plain, but to outsmart them... As Black men, i think our gangs need to do a better job at protecting us, the people, our communities and not assisting in destroying them brutally. It's time they even the score... We need solutions. You better start plotting now."
This article referenced in: