Sorting Out a Defense of Kyrie Irving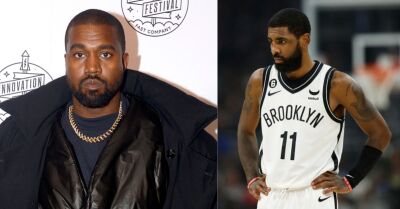 The world has become extremely subjective with Kyrie Irving's posts of a documentary of someone else's views and opinions of the Holocaust, and other Jewish history. The world thereafter vilifies him for not conforming to their way in apologizing and admission of his anti-Semitism. He however lets the world know that he embraces his complete Afro-Black history, and reposes the question to him asked on how could he then be antisemitic?
The jew of antiquity I believe Kyrie refers to in debate of his non "anti-Semitism", were either the black skinned Falasha of Abyssinia and/or, the Chinese Jews of Kai-Feng and/or, Jews of the Berber tribes located in the African Sahara [many colorful shades of Jewry]. So the real underlying question to Kyrie was not if he was "anti-self-metic", but did Kyrie learn the truth and now possibly hate the modern caucasian Eastern European Jew who adopted his ancestors way of life as their own.
The bulk of today's Jewry isn't of Palestinian but of Caucasian Origin, and Yiddish is shockingly a mix of Hebrew, medieval German and Slavonic. According to the Jewish Encyclopedia, in the 16th century there was about 1 million Jewish people and the majority were Khazar [located in the eastern confines of Europe between the Caucuses and the Volga] a substantial part was from Poland, Lithuania, Hungary, and the Balkans who founded the Eastern Jewish Community. This was the dominant majority of the world Jewry. If Kyrie delved even further he would discover that in the dark ages commerce in western Europe was monopolized by the Jews, including but not limited to the slave trade. Albeit, the "Jews" became a motley crew of humanity partly due to Abraham cohabiting with Hagan [an Egyptian]; Joseph marrying Aseneth [an Egyptian]; Moses marrying Zipporah; and King Solomon who loved many strange women, and had a Hittite mother of dark-complexion, the original tenets of the Jewish faith was practiced by Africans long before the "Jews". [Thus making Africans possibly not the creator of the Jewish brand but, originators of the Jewish Faith.] "The religious belief in sacrifice for the remission of sins was an African belief and practiced at least 2,000 years before Abraham", and "Practically all of the Ten Commandments were embedded in the African Constitution ages before Moses went up Mt. Sinai in Africa in 1491 B.C." Chancellor Williams, The Destruction of Black Civilization p.135 (Third World Press) (1987)
"The large majority of surviving Jews in the world is of Eastern European– Thus perhaps mainly of Khazar–origin. If so, this would mean that their ancestors came not from Canaan but from the Caucasus, once believed to be the cradle of the Aryan race; and that genetically they are more closely related to the Hun, Uiger and Magyan Tribes than to the seed of Abraham, Issac and Jacob. Should this turn out to be the case, then the term"anti-semetism" would become void of meaning, based on a mis-apprehension shared by both the killers and their victims." Arthur Koestler, The Thirteenth Tribe (Last Century Media)(1976)
I do not agree with murder of innocent people especially children. Hitler and his cronies did massacre countless human beings for nonsensical reasons of "race, color, and creed." He orchestrated the genocide of over 6 million human souls of the Jewish Faith. But in all objectivity Adolf Hitler killed people of his own race and color, who centuries ago adopted a different creed from a migratory people of African/Semite descent. In all reality Hitler may not have even been a real racist and/or even knew the trajectory of the true African/Semite Jew in order to be authentically "Anit-Semite." Hitler was merely a desperate white privileged capitalist, colonialist, imperialist wannabe, who would murder and oppress anyone within range, even his own country-men [for a man who hated the "Jews" so much he never waged war on a predominately Jewish State [Coward]. Hitler was an opportunist who made innocent people his opportunity] in the end the outcome of this inhumane genocide called the holocaust was real. But, the falsity may be in its premise. Did Hitler kill over 6 million "Jews" because he hated "Jews", or did he kill over 6 million people because he hated LIFE! He died by suicide as a coke head, evidence that he too hated his own
Free Kyrie
---
MIM(Prisons) responds:
"Where do correct ideas come from? Do they drop from the skies? No. Are they innate in the mind? No. They come from social practice, and from it alone; they come from three kinds of social practice, the struggle for production, the class struggle and scientific experiment." - Mao Zedong (Where Do Correct Ideas Come From?)
Just like how the above quote mentions, correct ideas come from the social practice of class struggle, the struggle for production, and scientific experiment. We extend this claim of knowledge coming from class struggle to bad ideas as well. Reactionary ideas among the masses also don't drop from the skies nor are they innate in the mind.
A popular cultural phenomenon that is being widely reported on television is New Afrikan celebrities like Kyrie Irving (mentioned by the comrade above) expressing the idea that New Afrikans here in the United $tates are the original Hebrews described in the bible alongside sharing a documentary on social media which further elaborates on this trend. On top of similar sentiments, popular rapper Kanye West expressed admiration for Adolf Hitler, and claimed that he is going "death con 3" on Jewish people.
The reason why we would like to emphasize the above statements on correct ideas coming from social practice is because as chauvinist and strange these claims may be, they didn't drop from the sky either. We can see a similar type of chauvinism against Asian national minorities from the masses of New Afrikans/[email protected] as well highlighted during the LA riots of burning down Korean petty-bourgeois establishments, and the sensationalized attacks of New Afrikans assaulting Chinese nationals during the earlier years of the COVID-19 pandemic in the city centers of this country.
In no way does this responder claim that anti-semitism and chauvinism in general is a correct thing, nor that all Jewish/East-Asian people are petty-bourgeois so they deserve what's coming to them in times of crisis such as an uprising or a global pandemic. Communists who hold these ideas shouldn't even hold that label in the first place. However, there should be a deeper and more scientific study of these contradictions and to recognize common reactionary ideas in the masses in the historical context. On top of this, to have the oppressed nations (particularly New Afrikans in this case) being the media's face of modern anti-semitism is a ridiculous chauvinist idea as well in a country where the oppressor nation Amerika is one of the strongest contenders in the world of turning fascist in world economic crisis.
Many religious/cultural nationalists in the oppressed nations particularly share this attitude of New Afrikans being the real Hebrews described in the bible alongside the line that the common Jewish people we see in Europe/North Amerika today are pretenders. This particular trend of nationalism can be traced back in the late 1800s by Frank Cherry and William Saunders Crowdy who respectively founded two different Black Israelite churches in 1886 and 1896 respectively after both claiming to have had revelations that New Afrikans are descendants of the Hebrews in the bible. Both men were from the southern black belt territory still suffering from sharecropping at its height. In a region where almost semi-feudal conditions still reigned for a semi-colonial nation, religious ideas entrenched in a nationalist trend isn't surprising.
In the modern setting, the contradiction between New Afrikan masses that live in the ghettos and Jewish petty-bourgeoisie can be exemplified in the Crown Heights riots of 1991 where a Guyanese child was murdered in an accident where a motorcade of Chabad (A Hasidic Jewish movement) carrying the famous rabbi Menachem Mendel Schneerson struck Gavin Cato to the child's death. This led to several Jews being attacked on the street by New Afrikan youth.
While some comrades might be quick to condemn these ideas as anti-semtiic, we should see the prejudices of the masses (in this case anti-semitism) as a historical process that emerged in a specific time of class society (particularly in the United $tates). A scientific understanding of this problem would first lead one to recognize that the frustration the oppressed nation masses might have with prominently petty-bourgeois religious/national minority groups such as Jewish Americans (or certain demographics of Asian Americans) as based on the masses frustrations against their class enemy. One would also recognize that conspiratorial and chauvinist ideas should be eliminated through mass political education. Jewish communities of Russia of the Middle East/North Africa to the United $tates all have different relations to world imperialism from many belonging to both friend and enemy classes. Conspiratorial claims of Jewish elite are reactionary, but that is often what the masses think during times of oppression where they have not yet grasped scientific thinking.
In the United Struggle Within, there are many Black Hebrew Israelite tendencies along with other religious nationalist groups that might vary in terms of anti-semitism or conspiratorial thinking like the comrade above. The key point in all this is to properly assess unity-criticism-unity and to what point do some tendencies of nationalism have more good than bad. Ultimately, it's these masses of the oppressed nation whose historical duty is to create a revolution and society where ideas such as anti-semitism will be gotten ridden of, and to put these groups as the leading cause of anti-semitism in the United $tates is classic settler-chauvinism.