Stop Formosa! is a Battle for Land and Self-Determination
News from the National Territory: Republic of New Afrika
On a 85 mile stretch of Earth in Louisiana, from the Mississippi near Baton Rouge, to New Orleans, New Afrikans who were recently liberated from the chains of Amerikkkan color-caste colonialism (slavery), managed to buy land and found numerous 'Black Towns' as they were called. These 'Black Towns' thrived for five generations, in what was once plantation country, but is now the heart of Our Republic of New Afrika. However, since the 1990s, domestic neo-colonialism has ravaged the health of New Afrikans in towns such as 'Freetown' and 'Welcome' Louisiana. So much so, that this stretch of land is commonly called 'Cancer Alley.'
Multi-national petrochemical corporations have targeted this land in order to capitalize on various objective realities. Plentiful water, cheap land, access to natural gas, huge tax breaks and lax regulation attract these international conglomerates (Koch Industries, Royal Dutch Shell, Exxon Mobil Corp, and others). These imperialist companies have built over 200 petrochemical factories and refineries on Cancer Alley. Since 2015, seven huge complexes have been built, and five more are in the process of being built.
New Afrikan wimmin are now leading a fight to stop the fossil fuels pipelines and plants from multiplying and further polluting the land and air within Our national territory.
Currently, a proposed Formosa chemical complex is the center of this struggle, and as is all too often the reality, the New Afrikan masses of Louisiana leading the struggle against these Amerikan corporations aren't receiving aid from the Provisional Government or other collectives of conscious citizens. The people need Our leadership to frame this struggle for what it is: a manifestation of the worldwide fight against imperialist greed as it pertains to environmental national oppression.
Formosa Plastics Corp. announced in 2018 that they would be building a 14 plant complex in St. James Parish, which is just north of New Orleans. These factories will not only spew various cancer-causing agents into the air and water, but will also produce the throw away plastics that We as a global community are desperately striving to eliminate. Every year the Formosa project will pump 800 tons of toxic chemicals, 6,500 tons of air pollutants and 13.6 million tons of greenhouse gases into the air. Additionally, wastewater and spill dumped into the Mississippi River will further endanger sea life in the Gulf of Mexico.
Democratic Governor John Bel Edwards has given Formosa a ten year tax break totaling $1.5 billion, which is $1.25 million per job since Formosa has promised 1,200 jobs to boost the local economy. Instead the New Afrikan sistahs who're leading the struggle are demanding reparations for those affected by these corporations' projects. St. James Parish is 91% New AFrikan with an average income of $17,000 a year. Surely jobs are needed, however, 85% of employment at the plants have gone to euro-Amerikkkans.
Neo-colonial puppets have exploited the dire situation of the grassroots. Although Cancer Alley, and St. James in particular, has 50 times the national average of cancer cases. Cedric Richmond spent 10 years in the House as a former congressman and ignored the people dying in Cancer Alley, his fellow New Afrikan people. Instead he allowed these corporations easy access to the land, while building his political career by heading the Congressional Black Caucus, he then co-chaired the Biden campaign, and is now a senior advisor to the President. What does this tell us? It should tell us, that for all the 'BlackLivesMatter' posturing done by demokkkrats, the reality is that these are still imperialist politicians and are the enemies of the people.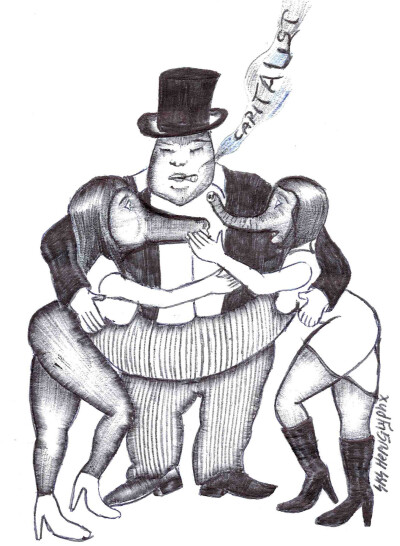 Many grassroots groups such as RISE St. James have been at this struggle for decades and have also had significant wins against these corporate entities. In 1993, 1998 and 2019, these groups led the charge in order to have proposed factories and plants blocked.
This year, Sharon Lavigne, founder of RISE, spoke to the U.N. on the perils of 'environmental racism.' These New Afrikan wimmin are putting up a valiant fight, refusing to leave their homes and heritage (New Afrikan). This is obviously a struggle for land.
Currently the Formosa project is on hold due to community unrest. The U.S. Army Corp of Engineers withdrew a wetlands permit and a lawsuit challenging 14 air permits is going to court.
To show your support to these modern day New Afrikans, sign the petition at stopformosa.org
Notes:
Lois Danks, Battling racist Polluters in Cancer Alley, June-July 2021 Freedom Socialist Newspaper