Texas Liberation Collective Gearing Up for Juneteenth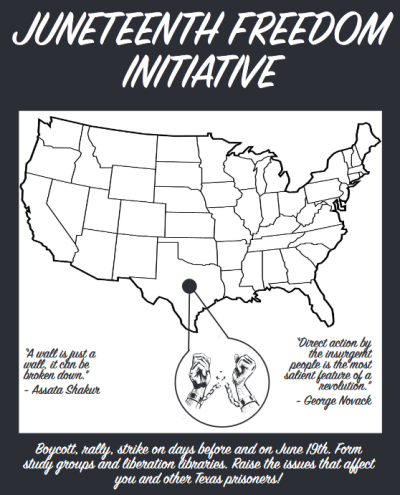 Dear MIM,
Thank you for your recent communication regarding the Juneteenth Freedom Initiative. In the third paragraph you'll note that it alludes to Our organization, the Texas Liberation Collective(TLC) as joining the campaign. As the founder of the TLC Movement and a Black man, since my captivity and certainly the inception of the TLC Movement, it has been a priority to bring to the forefront of the socio-politically conscious circles the understanding that Juneteenth is NOT celebratory.
We will continue to embark upon that trajectory by informing and educating the masses of all the classes In the Spirit of Frederick Douglass about The Juneteenth Situation.
I have enclosed a document released much earlier by TLC, which actually laid the groundwork for the exertion of Our public showing of disapproval of being wronged by the State and Federal Constitutions' penile tolerance for slavery. This document, Exposing the Lone Star (Chamber of Enslavement!) is also available on my website: www.justiceforjeromedevonniwilson.org/rubber-stamped-indictments
---
MIM(Prisons) responds: Greetings to the Texas Liberation Collective. We're glad to have another leading organization of the Juneteenth Freedom Initiative(JFI) featured in Under Lock & Key as we approach the launch of the campaign. MIM(Prisons) is joining these organizations to build connections inside and out to make the upcoming campaign a significant blow to the imperialist torture camps.
The Juneteenth Freedom Initiative calls for an end to solitary confinement and mass incarceration as well as unpaid labor. Long-term isolation is torture. Disproportionately locking up masses of males disproportionately from oppressed nations, at scales never seen at any other time in history, for the productive years of their lives is genocide. These are crimes and injustices that must be stopped!
We send our solidarity to all the orgs and rads on the ground organizing for the JFI over the next couple months. We will be communicating with USW/TX Team One/TLC and other leaders leading up to the events. And we want to hear from everyone participating in this campaign before our next issue comes out in early August to sum up the lessons, the successes, and a plan for next steps to this ongoing campaign.