Texas Responds to Campaign to End Restrictions on Indigent Correspondence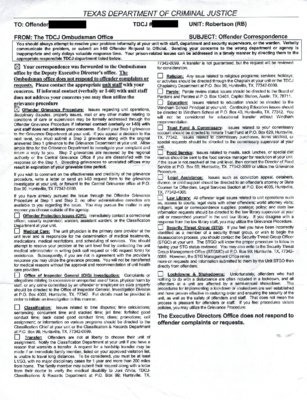 Prisoners in Texas have been fighting the recently enacted restrictions on indigent correspondence which restricts indigent prisoners to 5 one-ounce domestic letters per month. As we've explained in other articles, this is an attack on the growing number of revolutionary voices in Texas speaking out to expose the barbaric treatment and inhumane conditions. One comrade created a grievance that prisoners can file and a list of people to contact to demand this policy be changed. We are now getting reports of responses to these grievances. And as usual, the prisons are just giving us the run-around.
One prisoner got a response to his grievance stating: "TDCJ as an Agency revised Board Policy 03.91 in August of 2013 affecting indigent mail. Those decisions are not made at the Unit level, merely enforced. No further action warrented."(sic)
Further, several prisoners have received form letters from the TDCJ Ombudsman's Office telling them that they Ombudsman will not be responding and they should contact the "appropriate unit staff" instead. "Issues regarding unit operations, disciplinary disputes, property issues, mail or any other matter relating to conditions of care or supervision may be formally addressed through the Offender Grievance Procedure..."
So basically the Ombudsman's Office says prisoner's must take up this issue via a grievance. And the unit staff respond to prisoner's grievances saying they can not address this issue because it is a state-wide policy. The original campaign urged people to contact a variety of TDCJ leaders and Texas politicians. To date we have no reports of any response from them.
This campaign is an important battle to ensure the voices of Texas prisoners can be heard. Limits on correspondance mean we will be unable to get regular reports of abuses behind bars, and unable to maintain study and communication with politically active comrades. We must continue the pressure and demand more than just form letters and dismissals to our protests.