Thangs-taken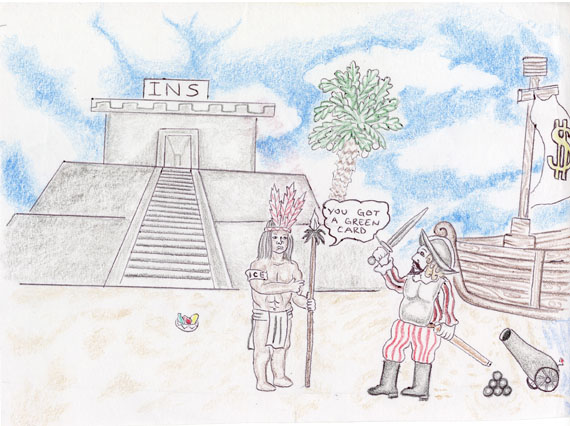 Back in September, American Indian Movement activist Leonard Peltier, who's been in prison since 1977, wrote an article responding to his denial for parole entitled, "I am Barak Obama's Political Prisoner now." In it he wrote, "If only the federal government would have respected its own laws, not to mention the treaties that are, under the U.S. Constitution, the supreme law of the land, I would never have been convicted nor forced to spend more than half my life in captivity."(1)
In October, in Denver, the birthplace of Kkkolombus Day, activists lead an annual protest of the patriotic parade, which "commemorate(s) the beginnings of America itself." Of this year, they report: "We chanted "Down With Kolumbus Day, Settlers (and Occupiers) Go Away!" To liven up the anti-colonial festivities we brought a piñata of Uncle Sam. Protesters had whacks at it with a shoe, in honor of Al-Zaidi in Iraq."(2)
As we work to get this issue of Under Lock & Key off to you all in November, amerikans are warming up their kitchens for a cozy Thanksgiving ("Thangs taken" is more accurate) dinner on land stolen from the First Nations, made up of food picked and packaged by exploited Latino migrants, served on dinner plates made by exploited Asians, paid for by stolen wealth from natural resources in the Middle East, while millions of children in Africa starve.

notes:
(1) http://www.counterpunch.org/peltier09112009.html
(2) RAIM Global Digest Issue 6. November 15th, 2009.