Thugs Are Sex Offenders Too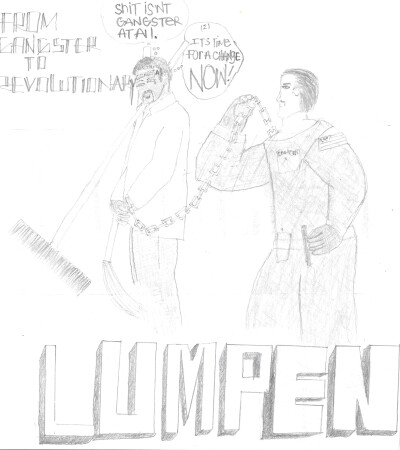 The first topic I'll like to respond to in Issue 81, is the article that reads "Colorado Prison Censors New Afrikan Literature". The brother pointed Colorado's contradictions with allowing certain white reactionary novels as opposed to the Black revolutionary ones. The Wisconsin DOC for a long while was banning books like Know Thy Self by Na'im Akban, Revolutionary Suicide, Soledad Brother, Blood In My Eye, Assata, Seize the Time, A Taste of Power, This Side of Glory, We Want Freedom, Isis Papers, Destruction of Black Civilization, and all of Amos Wilson's books until the courts got involved and the WDOC reasoning was that the books were inciteful and accusatory towards Amerika and people of European descent. Yet they allowed in all of Donald Goines, ICE Berg Slim and often "hoodbooks" that promote Pimping, drug dealing, Black on Black homicide and anything that glorifies the "Black Criminal Mindset" because it keeps us in Lumpen-criminal-colonial state of mind. This state of mind justifies the mass incarceration of anyone of Alkebulan (indigenous word for the continent commonly named Africa today) diasporan descent, while the Revolutionary mindset poses significant threat to Uncle Sam's "Economic Station." The brother who wrote MIM needs to know ICEBerg Slim, Donald Goines and anyone of Alkebulan (Black & Brown) Diasporas descent promoting and glorifying the exploitation of our people and all oppressed nationals are unhealthy and they are just as much enemies to our own people as Adolf Hitler, J.B Stone, David Duke, Richard Spencer, Donald Trump and the like, you dig? I would advise the brother to read books by Black authors who believes and write about the advancement of Black people oppose to the destruction of us. It's impossible to discuss pimping, drug dealing, gang-banging without mentioning white supremacy, OK.
The next topic from Issue 81 is "ULK 80 Responses on Sex Offenders, Pedophiles, Gunnas and Gangstas". In it you write that sex offenders don't practice reactionary thug life politics (drugs, shootings, etc) and that's completely false. Most sex offenders claim to be part of lumpen organizations (CRIPS, Bloods, Vice Lords, GD's, BD's LK's, etc). I believe sex offenders are irredeemable and permanent enemies of and to the "people". By sex offender, I don't mean a 17 year old dude having sex (consensual sex) with a 16 year old girl because I do not consider that rape. Some of these Gunnas who rape other Kaptives are sex offenders, homosexuals and the list could go on, OK. I would argue that both groups are enemies to the people. Those who refuse to abandon the thug mentality for a revolutionary one are enemies of and to the people. I do concur with your assessment regarding how the fascist system use both lifestyles as political points to further the dehumanization of these groups. I'm not against homosexuals, transgenders and what have you, I'm against those who hunt and oppress women and children. Those I do not condone their lifestyles.
I'm not bothered by referring to a transgender man who see's himself as a woman and a transgender woman who see's herself as a man as She and He. The problem is that most transgender men-women in prison are sex offenders, they are in for preying on children. I'm a former Black Gangster Disciple (from 1983 to 1998) and I'll be the first to say that Growth & Development literature reflects Elijah Mohammad's "Message To The Black Man" and that it was not founded to destroy our communities, yet that's what it's doing and I am against it and any gang (its not an organization) that terrorizes its own people or people period. Members of these groups are "Redeemable" and we must not turn our backs on them unless they refuse to open their eyes and do the work of the civilized.
As you know, I am the Founder and Chief Advisor of Freedom Fighters, Inc and we do not condone the distribution nor usage of alcohol and drugs nor any lifestyle that poses a threat to the moral fabric of humanity/the human race. In closing, though I understand the nexus you made with brother Comrade Slaughter regarding drug dealers and sex offenders, I still feel that it's out of context. The drug dealer and gangbanger is "redeemable". The sex offender isn't. I was molested, violently, from the age of 7 to 11 by a female relative who is still alive and to this day, in her 60's (I'm 47 and have been enslaved since the age of 17 - 1993). She's still sick.
Even though a sex offender is capable of coming to terms with his or her own sickness, they remain sick in the head and sick in the heart, maybe. Tookie was a byproduct of his environment and when he woke up he didn't fall back asleep. The sex offender falls back asleep because he or she is innately. The vast majority of sex offenders was never molested or raped, it was in them. I know a lot of bothers/men who were molested and never became molesters themselves. I have never raped nor molested anyone, never even had the thought to do so. I have never sold drugs either, but its different. I'm mentally ill, I was raised in mental institutions (and it could be said that prisons are also Mental Institutions) and I was exploited by the older members of BGD to rob and kill white people and once I came to terms with this, I renounced black racism and I will never rob or kill someone based on race. I was sentenced to life for killing a woman who robbed my guy and charged at me with a machete, and though my actions could be justified, I still partook in the genocide of our people and I'll never engage in such idiocy ever again. And though I see the nexus you made, I just don't agree with it. I do, however, respect your position. Disagreement is healthy and we should never tear each other down due to it unless the disagreement becomes detrimental to the organism, you dig?
---
Wiawimawo of MIM(Prisons) responds: We welcome critiques of certain "hood" writings as the comrade offers above. Yet we still recognize their biased censorship as part of national oppression, and the struggle against censorship in prisons can make strange bed fellows as we've discussed with the struggles around nude and non-nude pictures.
As for the sex offenders issue, this comrade has been debating us on this since back in ULK 64. I welcome the correction regarding sex offenders practicing thuggish anti-people activity as well. There is certainly an overlap between the two behaviors that i was ignoring in my sloppy language in ULK 81.
Next point, no one is arguing that "those who hunt and oppress women and children" are communists or allies. So that's a moot point. Nor are those who are hunting, killing, poisoning, and oppressing men for that matter! And we seem to have agreement on that, as far as various forms of anti-people activity go. Yet, this comrade echoes the point made by Slaughter that it is only the sex offender that is unredeemable. The argument being that the sex offender is innately oppressive towards other humyns. Yet no evidence is offered to support this. In fact, we can point to statistics that sex offenders have the lowest recidivism rates.(1)
It is also odd that you seem to favorably cite Elijah Muhammad who is a known child predator who never atoned for the abuses he committed against at least 9 young girls and wimmin, and exploited eir cult of persynality to cover up those crimes while using metaphysical interpretations of the Quran/Bible to justify the acts. This was exposed by el-Hajj Malik el-Shabazz (Malcolm X) shortly before he was brutally murdered for promoting a revolutionary nationalist interpretation of Islam separate from the NOI.
If we look at socialist China we see the virtual elimination of all sorts of crime, drug abuse, prostitution, etc, in a very short period of time. We addressed this in more detail in ULK 59 on drugs.
We are the last ones to say that everyone is a comrade. Usually we are being criticized for being too pessimistic about the revolutionary potential in this country. But we are engaged in the project of uniting all who can be united in the prison movement.
We aren't saying we can reform all anti-people criminals today. But we are saying that we can under the dictatorship of the proletariat, which is what we are fighting for. And to get there, we need to break down these phony barriers between the oppressed based on idealism.
Note: 1. Wendy Sawyer, 6 June 2019, BJS fuels myths about sex offense recidivism, contradicting its own new data, Prison Policy Initiative. In numbers from a 9-year follow-up on people released from state prisons (2005-2014), rape/sexual assault recidivism rates for any crime were less than 67%. This is 20% lower than all other categories. Only about 7.7% were re-arrested for another sex offense.