Update on Wisconsin Prisoner Hunger Strike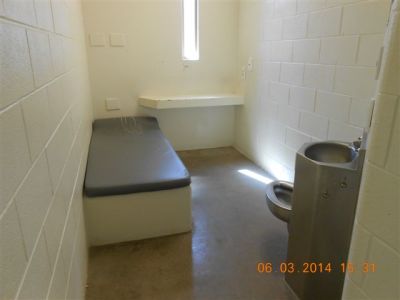 Prisoners in Wisconsin have been on hunger strike since 10 June 2016 to protest long-term confinement in control units in that state. As we reported in April, the Wisconsin DOC has been playing games with their policies that determine the length of solitary confinement sentences, but no real change has been enacted and prisoners in Wisconsin continue to be locked away for months and even years in isolation conditions that amount to torture.(1) The protesters are demanding changes to the segregation policies of the WI DOC.
Reports suggest that the administration came down hard on suspected participants in the hunger strike, prior to June 10. In spite of this repression a number of protesters remained strong and undertook the strike. After seven days the prison began force feeding the activists, a clear attempt to torture them out of their resolve, because a seven day fast is not enough to seriously endanger most humyns. Further, force feeding comes with some serious health risks and we know the DOC medical services are already not working in the interests of the prisoners. As of June 29 six people were still refusing food.
A USW comrade reported June 27:
"As of now they started force feeding us and using it as an instrument of torture and punishment. However, because I refuse to let them abuse me and torture me like that without fighting back, I've suspended mine until I can get a restraining order to prevent such. I let them do it one time and they forced it up my nose so hard that when the membrane of the nasal seal popped it sent a bubble through my head and my head still hurts. I can't let the pigs beat me for free like that, but the comrades in Waupun are enduring it and a few plan to join next month."
We continue to stand with the protesters risking their lives to force the WI DOC to end their long-term solitary confinement system. These courageous activists are fighting against a system that has nothing to do with security and is only used for social control. People who peacefully protest, such as these hunger strikers, are the most likely to end up spending years in isolation, conditions that are known to cause serious physical and mental health problems. The use of control units in so many Amerikkkan prisons across the country is just further demonstration that the criminal injustice system is not designed for rehabilitation; its purpose is to control society.
The strikers have asked people on the outside for help:
Call Governor Scott Walker's office and tell em to reform the long-term solitary confinement units in the Wisconsin DOC and to stop the secret Asklepieion program at once. The number to call is 608-266-1212.
Call the WI DOC central office and demand that all 6 humanitarian demands for this hunger strike be met and demand an explanation as to why they are operating a torture program. The number to call is 608-240-5000.
Call any media outlets and demand that they do an independent investigation on the secret Asklepieion program operating at Columbia Correctional Institution (CCI), and report on the hunger strike.
Call the FBI building in Milwaukee, Wisconsin and demand that they investigate the secret Asklepieion torture program being run at CCI. The phone number to call is 414-276-4684.
Call Columbia Correctional Institution and tell them you are aware of their secret torture program. Harass them! 608-742-9100.
Join in on the hunger strike and post it on the net. Convince others to join as well.