We Need You to Help ULK Change Lives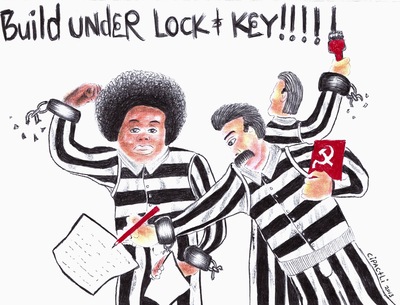 Currently I'm in confinement in Florida, pending CM (Close Management) waiting on state classification officer decision. PIGs (Pro-Imperialist Goons) claim I was organizing or encouraging a riot or disturbance. All a ploy to get me behind the door for pushing the pen too effectively. I've just successfully appealed 4 disciplinary reports (D.R.s) written against me, including a D.R. written by the Assistant Warden.
In the mean time, I'm reading throw-back ULKs. Stuck in No. 54, learning so much. MIM, you have been so much help in my gaining political awareness, revolutionary transformation and personality. My first ULK was in 2012. I haven't looked back since. Thank you so much.
I'm reading the article, "Coffee house revolutionaries or real militants?" by an Ohio komrade, who referred to MIM as coffee house revolutionaries, which I see as a constructive complement rather than a dis. And as I expected, in response MIM is not offended. I'm feeling this article because its helping me realize that in the struggle, everybody can't be infantry guerrilla, the struggle need planners and other part players. The hand is made of 5 fingers, and each finger plays an equally valuable role in doing whatever the hand does.
If it wasn't for the dialectics of coffee house revolutionaries like MIM, I would not be as effective as I am today. I would still be fighting these pigs with emotions rather than revolutionary intelligence, discipline and creativity. In order for our struggle to be effective, we need the historical analysis of coffee house revolutionaries, just as we need solid boots on the ground. We are all in the same struggle, against the very same enemy oppressor, and we are effective and victorious as long as we never forget this one point in unity for solidarity.
It's only best that we learn from each other, constructive criticism plays a major role in self-criticism. I did a drawing once of Obama, with an obelisk in the background. MIM wrote back sending me a list of historical reasons illustrating why Obama and obelisk should not be in the same piece. The picture was contradicting itself more than doing what it was intended to do; show Obama as a black face for capitalist imperialist white supremacy. I missed my mark, and MIM made me see that via the show of Obama's repeated drone assassinations, mass deportations, granting impunity to PIGs lynching us in the streets and court rooms, he did nothing about mass incarceration, knowing that Blacks and poors are being targeted. MIM showed me the truth, and being a good revolutionary has a lot to do with gaining truth and putting that truth into practice, and learning from the result of that practice.
MIM has been with me from my beginning stages, responding to all my letters and requests for study materials, and guidance when no one else cared or was able to care. I learned that i had to establish myself in the struggle, and MIM made it easier for me to do so. The books, the study materials, the jailhouse lawyer's manuals and the plain old camaraderie needed as a lone operative. MIM inspired a creativity in me that the PIGs came to know and fear. PIGs are afraid of pen pushers, but when you go to reaching out and over the heads of their impunity granting bosses, they pay attention. There is nothing like a warden receiving a phone call from someone, or several people on the outside about some brutality that was not supposed to leak out from behind the Amerikkkan iron curtain. I kept reporting to MIM and anyone I thought cared, MIM would publish my reports, someone would read it and call the institution. All it takes is one phone call. And you know when they get phone calls, their body language tell it all, they speak without words.
The bigger their show, the bigger their fear. One time in 2014 they woke me up, sliding my cell door open with a bang at 1:00 in the morning, cuffed me up and took me to the security building just to ask me, "Who is MIM?" My only response was, "We want egalitarianism." They didn't even know what egalitarianism was. These PIGs are terrified of revolutionary civility. They expect us to behave like the animals they've been conditioned to believe we are, and when we show the opposite, we disarm them. They know we can go from zero to 100 in a split second, but our self-control, organizing, discipline and solidarity makes them unable to sleep at night.
Do your historic research, the revolutionary has never been the one to initiate violence, violence has always been initiated by the government. The revolutionary has only responded with self-defense. Self-defense is a must. The first thing every revolutionary must learn is that the capitalist-imperialist white supremacist is not just going to peacefully pack up and go home. They're not just gonna give up the means of production and subsistence and power.
We need coffee house revolutionaries in the towers, at the computer screens, in the libraries, etc etc. to let us know what we are dealing with or what's coming and the most effective scientific means of engagement. Just as importantly, we need mechanics, technicians, carpenters, plumbers, cooks, teachers. We all have to play our individual part in this struggle as a collective, in theory and in practice. MIM has taken on the practice of teaching theory and practice and that's what revolution is, theory in practice.
With MIM's help, I have learned and I have grown to the point where I am in solidarity with myself and others on the inside and outside, and I am still learning and growing, making a difference by being different. Sentenced to life for the gun, and being buried alive for the pent. Thanks to MIM, who gave me precious time and undivided academic attention, I'm giving these PIGs hell, with just an ink pen. Just imagine me holding a gun again, this time genuinely rehabilitated. And I am a state(enemy)-labelled sex offender. I believe in rehabilitation, I don't care who you are, you can be rehabilitated. You can be a revolutionary, practice self-criticism, and let your action do the talking. I've been in and out of prison more than half my life, and I have never seen the state genuinely rehabilitate anyone. Genuine rehabilitation is like freedom, you have to give it to yourself.
All Power to the Proletarians.

Related Articles: