Call for Solidarity Demonstration September 9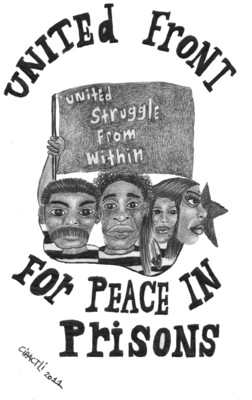 SAMAEL is calling on all prisoners to engage in a solidarity demonstration on Sunday, September 9, 2012. We are requesting all prisoners (who are able) to embark on a solidarity fast and work stoppage from midnight September 8 to midnight September 9 in a show of solidarity by:

Fasting for the period above cited unless a medical need necessitates eating.

Refrain from working for our captors (or slow work to minimal output) for the period above cited.

Engage only in anti-oppressor, networking and solidarity actions for the period.

Cease all prisoner-on-prisoner hostilities regardless of set, race, custody, gender, religion or other division.

Show respect for our mutual bondage and suffering as well as the sacrifices of all revolutionary brothers and sisters.


This is timed to coincide with the anniversary of the Attica uprising and is intended to draw attention to our devolving treatment and escalating abuse of prisoners by the state.

We welcome all prisoners - confined or not - to show support by participating or speaking out.

Just one day, just one voice!

We do not expect our brothers and sisters to incur casualties or harm - we do want to send a message, not to them only, but to each other. This is an us thing - a true united front.

Just one day.
---
MIM(Prisons) adds: We support this call from a group participating in the United Front for Peace in Prisons (UFPP) for a day of peaceful unity and protest, and will work with local organizing cells to coordinate this demo. This is an opportunity for the UFPP to build on the principle of Peace: "WE organize to end the needless conflicts and violence within the U.$. prison environment. The oppressors use divide and conquer strategies so that we fight each other instead of them. We will stand together and defend ourselves from oppression."
This 24 hour action will require a little sacrifice by prisoners, but should incur no harm, and should lead to a reduction in violence as all prisoner-on-prisoner hostilities cease for the day. We can build greater awareness of the oppression against which we fight, and build the unity that is necessary for that battle, by organizing groups and individuals to participate. Comrades organizing around the solidarity demo are encouraged to send their plans or reports to Under Lock & Key. Note that copy for the next issue will be due the week of the demonstration, so send your reports in on September 10 to make the deadline.
From Georgia to California, from Virginia to Illinois, all across the United Snakes, let's show that the prisoner struggle is one common struggle.