FBI Arrests Peacemaker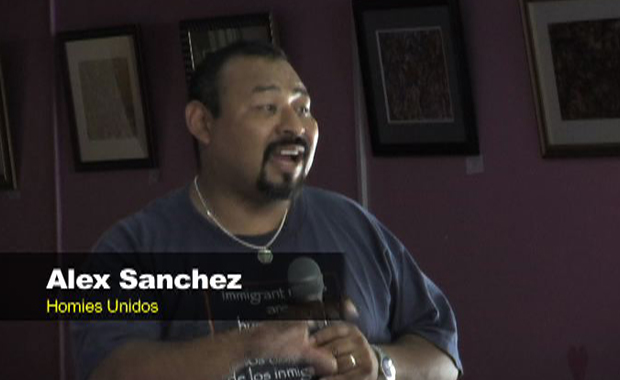 Two issues ago Under Lock & Key released the Peace Issue. Now we are working on an issue on migrants and non-citizens in u$ prisons. The kidnapping of Homies Unidos director Alex Sanchez by the FBI yesterday demonstrates the close relationship between prisons, immigration, repression and peace.
Homies Unidos was started in El Salvador by 20 people who were deported from the united $tates due to Clinton-era immigration legislation after serving prison terms. Alex Sanchez played a key role in founding the Los Angeles chapter 2 years later, building an important link to the source of gang problems here in the belly of the beast.
The targeting and arrest of Alex by the FBI is just one more example to support our argument in issue 7 that the state does not want peace. There are few who can claim to have done more to bring peace to some of the worst affected gang areas in the world, yet the state sees him as a threat.
In the 1980s people across Central America united for a new economic system that served people's needs. The united $tates responded by arming and training death squads to combat these movements. They used terrorism, killing local families in mass genocide, and carrying out similar brutality against supporters from other countries to discourage internationalism. Like most who Homies Unidos works with, Alex himself was a victim of the mass displacement of people across Central America caused by a decade of amerikan intervention. This period of brutality was followed by economic policies that offered one job option for the children of war: running product for the multi-billion dollar amerikan drug economy.
While most travelled to the united $tates looking for jobs, others were brought here via their jobs in the black market drug trade. Either way, these new arrivers are targeted for imprisonment by the u$ injustice system, which helped to consolidate and reinforce the criminal gang life as the only option for mostly male youth. Just like those who came before them, Salvadorans on the streets and in prisons formed groups to defend themselves from a society who feared and attacked new comers.
Alex's arrest is a blatant attack that is part of the same system that has attacked millions coming from the same place he came from. But his targeting has been very specific and ongoing because of his efforts to organize for peace by building alternatives to violent crime as a means of survival. He posed too great of a threat to the system of control of Brown and Black youth in this country through drugs and low intensity warfare, while simultaneously threatening the flow of drugs into the richest market in the world.
Previously, Alex was targeted by the Ramparts CRASH unit leading up to the infamous scandal within the Los Angeles Police Department, where cops worked with the INS to deport drug dealers who wouldn't work with the LAPD. At that time he was threatened with deportation. He responded by attempting to get asylum because of his social position in El Salvador, where members of the main lumpen organization there are targeted for imprisonment and assassination with more impunity than they are in the united $tates. This would have provided a way out for millions of youth stuck in the violent cycle. But the amerikan courts would not go for this argument, and granted him asylum on the basis of his political beliefs instead.
Alex has continuously put himself on the line for the interests of the lumpen class, who on the whole have yet to return the favor. Part of developing the consciousness of the lumpen is organizing the defense (and support) of those who are doing the most to serve the lumpen.
Lesson for the Criminal Minded
There are two possible lessons that members of the unpoliticized lumpen organizations can take from this. There is the message of the FBI, that it is hopeless to work against the u$ imperialists, so you're better off working with government operations to drug and pacify oppressed communities and hope you don't get hit by the violence or addiction yourself. This is the short-term, individualist view.
Then there is the lesson that MIM(Prisons) takes from this. Yes it is true, anyone who does real work to help lumpen youth improve their lives will be targeted by the u$ government. But rather than turning to despair and capitulation we promote a message that encourages people to look at the big picture and drop their fears as individuals. This lesson leads one to recognize the necessity of a number of strategies. One such strategy is shifting the focus of existing lumpen organizations to provide real support for independent organizations that are really helping lumpen youth. But with that comes risks, so another lesson is that the criminality of the lumpen makes it harder for leaders to help the lumpen as a class. In other words, cleaning up your act makes it easier for us to work together.
In response to the recent arrests, many amerikans have already convicted Alex of the accused crimes, because according to bourgeois idealism people are born bad and cannot change. It just so happens that people who are born bad usually have darker skin. Such idealism is only consistent with an ideology of racism.
Like MIM(Prisons), Homies Unidos stressed education of the lumpen to understand why they are where they are, while working to build leaders to change that reality. Those who benefit from the oppression and exploitation of others do not want such change to take place. They will promote individuals who escape criminal life as examples that anyone can succeed in this system (if they try). The lumpen know this is bullshit, but the lumpen need to study to see what real solutions are.
This article referenced in: