Exploring the Outcome of the Keystone XL Pipeline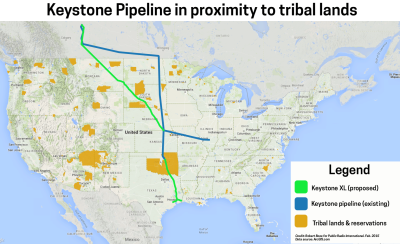 "America cannot exist without separating ourselves from our identities."
The fight began in 2011, with a lucrative proposal from a Canadian company to access tribal lands to transport crude oil to the Gulf of Texas. The construction they say will help create permanent jobs, the money given to the tribal councils will help meet the needs of the people. In reality, this pipeline will create an environmental disaster. America can't even fund its own infrastructure, how can anyone expect maintenance of a pipeline on sovereign tribal lands?
The problem isn't just the pipeline and all the filth that comes with it. The problem is the outright violations of our treaties, and the lack of treatment of the self-determination and the United Nations Declaration on the Rights of Indigenous Peoples. This pipeline steps on human rights and proves the second class citizenship bestowed to all tribal nations, and people.
Take into consideration how all of the government spokespeople go ballistic at any violations of any treaties bestowed upon foreign governments by the U.S. government, why are they quick to dismiss the rights that tribal nations have been granted?
We went to war for those treaties. Yes it's 2016 and the rhetoric is that all "indians" should function like regular Americans. But by initiating a treaty it provides us recognition, and stipulates bilateral agreements that all parties must honor. Unless, in fact, our treaties are just "pieces of paper," and if that is the case, Russia should overlook the United Nations resolutions with the United States and just bomb Israel. Is this not the same? Article 6 of the U.S. constitution and the rider clause of 1888 say different. Both recognize the permanent power of all Indian treaties and all Indian nations. Just because the times have changed doesn't mean the words have.
The U.S. government has been pushing all tribal nations to genocide for the last 298 years. Poverty, bad water, polluted air, nuclear waste, uranium mines opened, alcoholism, no job infrastructure for starters. Suicide among young men has grown to an epidemic. We are just pandered to in words when government officials want to feel good, then they rip our children from us, take them state-side and throw them to "white people" to be civilized — violating yet another federal law, the Indian Child Welfare Act.
This land is more to us than just land for all tribal people, just as in 1848 when the United States annexed all of Aztlán from Mexico and erected the largest paramilitary border in the world, much is being done to separate tribal nations from our lands. In 1973 we fought and died for our land. If need be, mark my words, we will rise up and fight again. This land is our identity. It holds the blood of our ancestors, and the pipeline will kill our people.