Law and the Courts of Late
The Supreme Court of the United $tates (SCOTU$) has been busy this past year. With the overturning of Roe v. Wade still fresh in the public consciousness, the last month has seen the demise of student loan relief and affirmative action.
None of these rulings are of grave interest to Maoists on Occupied Turtle Island. College is seldom in reach for the lumpen and proletariat of this continent, and affirmative action in universities (especially Harvard, the topic of this case) concerns the comprador classes of the oppressed nations more than it does the masses. Despite its faux celebration of diversity, the 15% "African-American" portion of Harvard's student population is anything but representational. The interesting aspect of these rulings, insofar as they exist, is how the rulings relate to the broader Amerikan assimilation strategy of the oppressed nations. The rulings may indicate a more general wavering of assimilation as a strategy for semi-colonial management or that the strategy has been sufficiently completed such that it may begin gradual discontinuation. There is also the strong possibility that we are witnessing the legal expression of the reactionary wing of social-fascist hegemony overpowering its liberal elements.
Though the material impact of these rulings on Maoist organizing are not terribly significant (especially within prisons), the spree of rulings serve as an opportunity to reflect on the nature and purpose of law in bourgeois society. We'll take the time here to briefly glance over the persynal ideologies and behaviors of two of the more noteworthy SCOTU$ members, use these to reflect on the liberal worldview of law more generally, then transition to a materialist explanation of law and justice. Let's begin with some words from Chief Justice Roberts.
In a September interview with Colorado Springs 10th Circuit judges, 2022, Roberts described the "gut wrenching" experience of his daily commute to the Supreme Court. Following a draft opinion leak that revealed the Court's intention to overturn Roe v. Wade, the building had been surrounded by a staff of guards and newly-erected barricades. This change was to the discomfort of Roberts and his colleagues, who shared stake in the tale that their careers were in justice, and not law. After lamenting the oppressive arm of the state's failure to keep an appropriate distance from him, Roberts spent the majority of the remaining interview pearl-clutching over the public's lack of faith in the Court's independence from politics. He painted a troubling tale of what Amerika would look like if the courts were just a piece of political machinery like Congress of the Presidency. His persistence in the apolitical nature of SCOTU$ was unwavering.
Since then, details have come to light concerning the life of another member of the Court, longest-serving Judge Clarence Thomas, a man who shares in Roberts' conviction of the apolitical nature of the Courts. To describe the findings of investigators who began breaking stories in April of this year as aspects of Thomas' persynal life is misleading. We don't believe there's anything persynal about them. Of particular note in the latest news splash was Thomas' close relationship with prominent Republican financier Harlan Crow, a collector of Nazi memorabilia and real-estate mogul of $29 billion in assets. Though Thomas forgot to put them on his financial records, flight records reveal he has enjoyed over two decades of apolitical weekly summer visits to Crow's private resort in the Adirondacks, vacations on Crow's superyacht, and flights on Global 5000 jets. Thomas' grandnephew also enjoyed the generous patronage of Crow, who had paid his way through private boarding school. In 2005, a case involving Trammell Crow Residential Co. found itself before the Supreme Court. The company was being sued $25 million for (allegedly) using copywritten building designs. The order by the court denying the petition to hear the case consisted of a single sentence. Thomas did not recuse himself from the ruling.
This brings us to the fable we are told of the nature of law in the liberal world order. When we think of law, we are often brought to conjure images of court debates, evidence inquiry, or statuettes of scale-holding, blindfolded wimmin dressed in Graeco-Roman garb. These images are designed to have us associate law with the long history of philosophic investigation into the matter, of which there are over two millennia of content. More specifically, we are meant to sympathize with the enlightenment-era revival of these ideas, lest we think in units of cities and societies, as Socrates or Plato would have us do, rather than individuals, like Kant and the liberal framework he filtered these discussions through. But any talk of justice or morality is incomplete without discussing how these ideas change (or, much more likely, reinforce) the way humyn beings relate to each other in society. Indeed, it should tell us something that Amerikan conventions of justice derive from the social traditions of ancient Greek Hoplite classes. That is to say, the quarter of Greek society (in the case of Athens, the most "equalitarian" example one could choose from) that sat atop a social pyramid of slaves. Though the law did not extend agency to these lower classes, it was very concerned with them.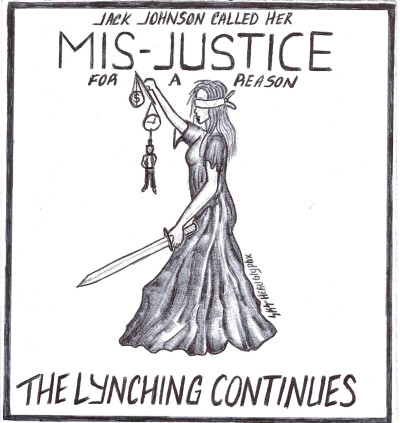 Only the wretchedly naive buy into the Court's mythos of impartiality. In part, this is due simply to how unsubtle they are about this reality. The Supreme Court, for instance, is known for its habit of pre-planning sessions to throw a few bones to liberalism before saving the announcement of profoundly reactionary rulings for the end (this particular session was no exception: loan relief and affirmative action were taken to roost only after the entre of indigenous adoption and limitations on gerrymandering). Though intentions don't matter in politics as they are speculative and unknowable to anyone but the subject, the behavior of the Court in these matters is apparent; they are deeply concerned with their relation to partisan politics and structure their role in the state apparatus around this reality.
But all this is to miss the main essence of the bourgeois fiction about legal justice. The ideology of Roberts, and bourgeois dictatorship in general, insists on an illusion that neither the Greeks nor Kant were ever under the spell of. We find justice and law proposed to us as a single concept, yet the two are barely related. The illusion of the synonymity of justice and law depends on the thinker approaching law from an individualist perspective. It may, for instance, feel like justice when someone who starts a petty fight on the street gets charged, but law is not manufactured on the individual level; as policy, it is a society-wide institution and serves a society-wide function. Law serves a far more critical function than social conventions of justice. When you think of Lady Justice, do you recall that she carries a sword in her right hand?
Despite their ideological pretenses, the courts admit this distinction between law and justice in their united front of "originalist" interpretation. When interrogation of the practical effects of their decisions prevent the Justices from waxing over the moralist namesake of their title, the oft heard defense for their ultra-reaction is that their job is not to make ethical decisions, but to interpret the constitution as it was written. Even the antipode of this wing who believe the constitution is a "living document" work within the same framework: the text will give us the answers and it is therein that law will be made.
To posit legal interpretation as an objective endeavor (sometimes referred to as "textualist reading") is a difficult argument to take seriously, despite two centuries of top Amerikan legal minds insisting that we do so. Indeed, "objective law" is an oxymoron. The Maoist understanding of legality is much less fanciful: law is the codification of social relations. Under capitalism, that means the writing down of acceptable parameters for ownership and exchange in such a way as to ensure the maintenance and expansion of current (capitalist) relations. This can be seen in the early history of law, which followed, in all its independent developments, agriculture – the great first-permitter of primitive accumulation.
The primary development that brings law into being is the social invention of the concept of ownership. This concept of ownership comes about necessarily in pairing with general law. Let's look at law in its cell form to elaborate this point. Say I am a wheat farmer who labors to produce 20lb of grain. With bourgeois consciousness, I conceptualize this process as myself putting active labor into seed and soil, and seeing (throughout a growing season) that labor be embodied into a crop. Of note here is that I am not my labor. I made my labor, but it is not me. Instead, my labor has been embodied in the crop. This embodiment Marxists call value. However, at this stage, my labor embodied in the crop is only potential value. Value, for Marxists, is a social phenomenon. See, if I were the only person on Earth, objective determinations of value would be impossible as I could subjectively declare the worth of anything around me without challenge. As a farmer in a capitalist economy, however, I do not plant crops because I find wheat persynally valuable. No, I make it so I can sell it on the market. In this process of (market) exchange, the potential value of my product becomes realized value. For the value of my product to realize its value, it must be desired by another persyn who wants to impose their will on the product to the exclusion of others, including myself. This is a fancy way of saying that the buyer wants to be able to eat the grain or bake it into a cake without having to share it between now and then. Here enters the social concept of ownership. When I bring my wheat to market, I have a social right to it and become a social subject. When someone else wants to buy it, they are also a social subject, and if we agree to exchange, the social concept of ownership for the wheat transfers to them. In short: (i) I own the wheat, (ii) I sell them the wheat, (iii) now they own the wheat. When enough members of an ownership class get together and create a society-wide, binding contract to enforce their ownership over objects, that contract becomes law, and the apparatus that enforces this ownership code becomes the state. Wheat is an apt example because agricultural goods formed the foundations of the first states, ruled by land-owning classes.
In the second chapter of Volume 1 of Capital, Marx tells this very narrative (though in denser terminology),
"It is plain that commodities cannot go to market and make exchanges of their own account. We must, therefore, have recourse to their guardians, who are also their owners … In order that these objects may enter into relation with each other as commodities, their guardians must place themselves in relation to one another, as persons whose will resides in those objects, and must behave in such a way that each does not appropriate the commodity of the other, and part with his own, except by means of an act done by mutual consent. They must therefore, mutually recognize in each other the rights of private proprietors. This juridical relation, which thus expresses itself in a contract, whether such contract be part of a developed legal system or not, is a relation between two wills".
From this humble origin, it may be seen that law is not derived from moral notions. The two are only related insofar as they are like products formed to justify the same class society. Worse, law in our time is inherently unjust, as it is no more than an appendage of the apparatus of the Amerikan state (or Amerikan imperialism when imposed on the world at large). Law is the codified will of a state, itself the guarantor of relations of production and exchange. As such, there are no prisoners who are not political prisoners. But law is not the frontline of class struggle.
Class domination, in both its organized and unorganized form, is much broader than what is officially enshrined by any wing of state power. Beyond mere law, the dominion of this regime is expressed in the dependence of the government on banks, capitalist, labor-aristocratic groupings, the persynal connections of state apparatchiks with the ruling class (a la Thomas), and the semi-colonial management of the oppressed nations. None of these relations have any official codification in law. Nevertheless, it is on legal grounds that bourgeois society protects itself in the continuation and expansion of these horrific realities. State authority, that special force separated from society we know all too well, may bridge the gaps on its own. Bourgeois law need not directly sanction bourgeois right, imperialism, and national supremacy. Indeed, it would be against ruling-class interest to be so explicit. Bourgeois law need only provide the framework to get these tasks done, the state will pick up the slack.
With this origin and purpose of law in mind, considering SCOTU$ as a non-ideological institution becomes as absurd as Justice Roberts' faint of heart over what the outcome of his job looks like to the portions of humynity who live below the steps of the ornate buildings he spends his life sheltered within. For the masses, the juxtaposition of Hellenic architecture and barbed wire is so far from "gut wrenching" that it's almost cliche. There is no more fitting a place for riot gear and sandbags than the courts, except perhaps Wall Street and Southern Manhattan.
This article referenced in: