Revolutionary Organizing Amongst Mounting Protests of U.$. Koncentration Kamps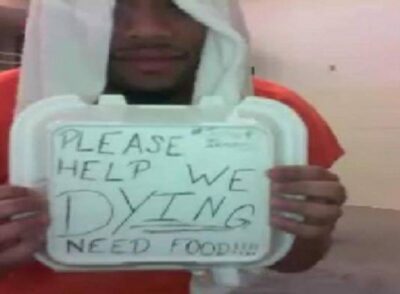 In the past several weeks propaganda actions have been carried out by revolutionaries in several cities as a response to massive immigrant round-ups and abuses against both interned migrants and prisoners by the imperialist u.$. state.
Several weeks ago in Atlanta, GA, local Maoists associated with the Revolutionary Anti-Imperialist Movement (RAIM) attended a march in solidarity with prisoners at the Dekalb County Jail facing extreme abuse. Prisoners were being denied proper food, beaten and tortured by guards, and barred from communicating with those outside to prevent a leak of information on abuses. The event was called by the Anarchist Black Cross after the public circulation of an image of an inmate holding a plate with the message "Please help, we dying, need food" written on it, along with complaints from the mother of an inmate at the jail. Due to anarchist leadership, the march was poorly organized and vulnerable to police violence, but demonstrators persisted and the marchers made it to the prison in spite of police pressure. Maoists distributed issues of Under Lock and Key to demonstrators and discussed the capitalist-imperialist roots of prison conditions. Once at the jail, demonstrators were attacked by police while burning an amerikan flag and attempting to communicate with prisoners in the jail. One prisoner broke a window and attempted to throw an object with a message written on it to protesters, but it was seized by guards. Police acted swiftly to disperse protesters with batons and excessive violence, arresting 4 demonstrators.
More recently in Atlanta, comrades attended another demonstration in support of immigrants harassed by ICE in a new sustained campaign of raids and deportations launched by the imperialist Trump administration. Specifically, the protests were sparked by the plans to build a new ICE detention facility in the city, and demonstrations had been planned to take place for several weeks to prevent it. Maoists distributed agitational materials in both english and spanish that summarized recent events from a Maoist perspective, and urging opposition to reject liberal so-called progressives such as those in various NGOs and the Democratic Party, proven enemies of the people, for their treacherous and pro-imperialist politics. Comrades also carried signs that read End to Ice, Power to the People, Hasta La Victoria Siempre! Other protesters held signs that read No one is illegal on stolen land! and Ice Freezes out Humanity!
In Binghamton, NY, Maoists attended a demonstration at the Broome County Jail, where prison officials were denying medical care to prisoners resulting in the deaths of at least 10 individuals since 2011. Comrades spoke with fellow demonstrators about jail conditions and distributed issues of Under Lock and Key, most of whom responded positively and were excited to see content written by and for revolutionary prisoners. Additionally, comrades discussed the plans to utilize the jail as a detention facility for migrants on their way to larger ICE facilities.
Later, comrades in Binghamton distributed issues of the Progressive Anti-War Bulletin around the local campus and elsewhere in the city, which covered u.$. imperialist aggression abroad as well as the war on immigrants and network of concentration camps currently run by ICE. At the university many showed interest in the content of the bulletin, but one "radical" liberal student group dismissed its content in a focused anti-communist campaign, demonstrating the liberal contempt for peace and support for imperialism. Off-campus, another bulletin was vandalized, but generally its message was well received, especially when delivered directly.
In Springfield, MA, Maoists agitated against ICE raids and the network of spies that assisted them. Flyers criticized liberal capitulationism and pro-imperialism, while pointing out Maoism as the only conceivable path to liberation for the masses held at gunpoint by ICE and the neo-fascist thugs that aid them. Flyers detailing amerikan abuses in Puerto Rico were also distributed, criticizing both u.$. imperialism and their lackeys on the island and in Puerto Rican communities on the mainland. The flyers, as well as the comrades who had distributed them, were mentioned on the local radio station on two separate occasions, including in a discussion with a man from the Sheriff's office, who chided Maoist propaganda as "misguided youth" that will "soon come to understand how the world works" and presumably give up their task. In spite of reactionary sentiments aired on the radio, none are willing to give up their task to agitate for revolution, for they already know "how the world works" and it is precisely this which motivates them to continue.