New "Expectations" Strengthen Repression of CA Prisoners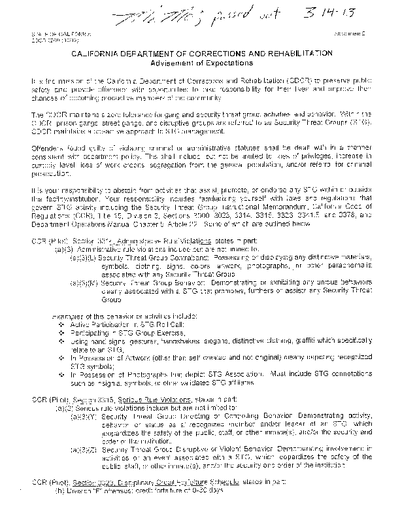 14 March 2013 - Prisoners in California received a memo advising them of the expectations placed on them by the state in regards to the new expanded "Security Threat Group" policies. When thousands of prisoners across California went on hunger strike to protest torturous conditions in the Security Housing Units, the California Department of Corrections and Rehabilitation(CDCR) asserted that they were already working on the issue. This was what they were working on. Previously they offered "gang validation" to prisoners deemed to be affiliated with one of a handful of "prison gangs" within the system. This new policy expands the gang validation, and therefore long-term isolation torture, to all sorts of organizations that are deemed "criminal" or even just "disruptive." Keep in mind that if prisoners stand up against staff abuses, this is considered "disruptive" behavior and such prisoners face regular retaliation. While none of this is new, it is now official policy.
This new policy marks the continued decline of First Amendment rights for prisoners in this country. The state wants it to be illegal for prisoners to affiliate with each other for any reason. They want to keep them isolated in little cages with no contact with each other or the outside world. While many in this country still defend Amerika as promoting freedom, prisoners and the oppressed nations in general know that this "freedom" does not apply to everyone.
MIM(Prisons) joins in United Front with all prisoners in California who are now actively building resistance to these policies through the courts and through peaceful organizing and actions.
---
[Memo Passed out to prisoners 3/14/2013]


STATE OF CALIFONRIA(sic)
CDCR 2260 (10/12)													Attachment E



	CALIFORNIA DEPARTMENT OF CORRECTIONS AND REHABILITATION
			Advisement of Expectations





It is the mission of the California Department of Corrections and 
Rehabilitation (CDCR) to preserve public safety and provide offenders with
opportunities to take responsibility for their lives and improve their chances of 
becoming productive members of the community.





The CDCR maintains a zero tolerance for gang and security threat group 
activities and behavior. Within the CDCR, prison gangs, street gangs, and  
disruptive groups are referred to as Security Threat Groups (STG). CDCR 
maintains a pro-active approach to STG management.





Offenders found guilty of violating criminal or administrative statutes shall be
dealt with 'in a manner consistent with department policy. This shall include,
but not be limited to, loss of privileges, increase in custody level, loss of work
credits, segregation from the general population, and/or referral for criminal
prosecution.





It is your responsibility to abstain from activities that assist, promote, or 
endorse any STG within or outside this facility/institution. Your 
responsibility includes familiarizing yourself with laws and regulations that 
govern STG activity including the Security Threat Group Instructional 
Memorandum, California Code of Regulations (CCR), Title 15, Division 3, 
Sections 3000, 3023, 3314, 3315, 3323, 33,41.5, and 3378, and Department 
Operations Manual Chapter 5, Article 22. Some of which are outlined below.





CCR (Pilot), Section 3314, Administrative Rule Violations, states in part:
	(a)(3) Administrative rule violations include but are not limited to;
		(a)(3)(L) Security Threat Group Contraband: Possessing or 
displaying any distinctive materials, symbols, clothing, signs, colors, 
artwork, photographs, or other
paraphernalia associated with any Security Threat Group;
		(a) (3) (M) Security Threat Group Behavior: Demonstrating or 
exhibiting any unique behaviors clearly associated with a STG that promotes, 
furthers or assists any Security Threat Group.





	Examples of this behavior or activities include:
		*Active Participation in STG Roll Call;
		*Participating in STG Group Exercise;
		*Using hand signs, gestures, handshakes, slogans, distinctive 
clothing, graffiti which specifically relate to an STG;
		*In Possession of Artwork (other than self created and not 
original) clearly depicting recognized STG symbols;
		*In Possession of Photographs that depict STG Association.
Must include STG connotations such as insignia, symbols, or other
validated STG affiliates;
	
CCR (Pilot), Section 3315, Serious Rule Violations, states in part
	(a)(3) Serious rule violations include but are not limited to:
		(a) (3) (Y) Security Threat Group Directing or Controlling 
Behavior. Demonstrating activity, behavior or status as a' recognized member 
and/or leader of an STG, which jeopardizes the safety of the public, staff, or other
inmate(s), and/or the security and order of the institution.
		(a) (3) (Z) Security Threat Group, Disruptive or Violent Behavior:
Demonstrating involvement in activities or an event associated with a STG, which
jeopardizes the safety of the public, staff, or other inmate(s),
and/or the security and order of the institution,





CCR (Pilot), Section 3323, Disciplinary Credit Forfeiture Schedule, states in 
part
	(h) Division "F" offenses; credit forfeiture of 0-30 days.
		(h)(11) Harassment of another person, group, or entity either 
directly or indirectly through the use of the mail, telephone., or other means.
		(h) (12) Security Threat Group Behavior or Activity.
			(A) Recording/documentation of telephone conversation 
evidencing active STG behavior;
			(B) Communication between offenders regarding STG 
behavior or activities;
			(C) Directing Active Participation in STG Roll Call;
			(D) Directing Cadence for STG  Group Exercise;
			(E) Wearing, possessing, using, distributing, displaying,
or selling any clothing, jewelry, emblems, badges, symbols, signs, or other items
with the intent to intimidate, promote membership, or depict affiliation in a STG;
			(F) In possession of self-created or original artwork clearly
depicting recognized STG symbols;
			(G) In personal possession of STG related written material
including membership or enemy list, constitution, organizational structures, codes,
training material, etc.;
			(H) In personal possession of mail, notes, greeting cards,
or other communications including coded messages evidencing active STG 
behavior.





The CDCR will review all criminal gangs and disruptive groups and assign a 
Security Threat Group level to each.





STG-I will consist of criminal gangs and/or historically based prison gangs 
that the CDCR has determined to be the most severe threat to the security of 
the institutions and communities based on a history and propensity for 
violence and/or influence over other groups. Based upon their individual 
threat, clandestine operations, and influence over other STG affiliates, 
inmates who are validated as STG-I members will be in segregated housing
based solely upon their validation. Validated STG-I associates will normally 
remain housed in general population unless confirmed STG behavior or 
activities, some of which are described above, are present. If these behaviors or
activities are present, the STG-I associate will be considered for segregated housing
and placement into a five year step down program.





STG-II will consist of other criminal gangs such as street gangs or disruptive groups
comprised of members and associates who may be determined to be in a subservient
role to the more dominant STG-I type groups. Validated 
STG-II members or associates will remain housed in general population 
unless two or more confirmed STG behavior or activities are present. If these 
behaviors or activities are present, STG-II member or associate will be 
considered for segregated housing and placement into a five year step down 
program.





I have been provided a copy of this document.






Offender Signature			CDCR #			Date Signed
  __
  |   |   Inmate Refused to Sign






Printed Staff Name			Signature			Date





Distribution: Original - Central File; Copy - Inmate