A Plea for Educational Opportunities
Senator Webb,
I am writing on behalf of a great number of Florida prisoners. I have now been incarcerated, day for day, in the State of Florida, for over fourteen years. I was arrested at the age of eighteen, sentenced to serve the rest of my life in prison at the age of twenty, and will be thirty three years of age on Nov 4th, 2009. My first year in the state prison system, between the ages of twenty and twenty-one, I succeeded in earning my GED and completing a vocational course in small business management. After the age of 21, and due to my having a life-sentence, I lost virtually any further opportunity to participate in such prison education programs. At the time (1996-1997) those prisoners under the age of twenty-one were given priority enrollment in such programs - those over twenty-one were given a secondary priority based upon their release dates.
Since then, and over time in general, educational opportunities provided to the prison population collectively and overall, have only become more and more restricted. Not only are we no longer eligible for government grants or loans, but the state funds that were once allotted toward prison educational programs have been both dramatically cut from the state budget and absurdly funneled into other departments of the correctional (in no sense rehabilitative) system - such as those departments which advocate the building of more prisons. In fact, a more than significant amount of the state budget set aside for educational programs outside of the prison system, has gone disproportionately toward that same goal - the building of more, greater restricted prisons. As I write this letter there are many prisons throughout the state that have not a single educational program to speak of, period. On average, a Florida prison houses approximately one thousand prisoners. Of any of these groups of 1000, the vast majority have never attained neither a basic education nor a specialized skill. Without these tools, again and again they will fall by the wayside - as those who are better equipped, for whatever reason, continue to progress. The prison population, not only in the state of Florida but across the country, has boomed, and in many cases has exceeded maximum capacity. Supreme Courts in the State of California have ordered the reduction of its state's prison population by 40,000 people. It is nearing two times maximum capacity. Why?
Of the 40,000 people to be released in the State of California, how many of them will have earned a GED, how many of them will have learned a trade, how many of them will have been given the opportunity to utilize their time in prison with an option to participate in a college level correspondence course, and most importantly of all, how many of them will return, because of the denial or limitation of any or all of these three?
Senator Webb, as I have already stated, I have been sentenced to serve the rest of my life in prison. But it wasn't until some point of my developing life - a period that some would say came too late - that I realized that I was indeed a part of a greater whole. I say this because regardless of my personal circumstances I hold fast to another conviction as well: the fact that I still have a life in which to serve. My service has spanned from both prison classrooms and prison youth tour programs, to prison recreation yards and even disciplinary confinement cells. I have helped both 40 year old men and kids as young as fifteen - yes, kids as young as 15 - learn how to read, write, and work arithmetic. And it is in that same spirit that I wish to be serving now by writing this letter, and giving them (us) a voice.
Senator Webb, I believe service is something you can relate to. I've heard speak of you over the BBC radio broadcasts, I recently read of your trip to Burma in Time Magazine, and your devotion toward the need to improve education, in general, was recently touted in an article published in the periodical Under Lock and Key. Whatever proposals you make, points you debate, objective you've set out to reach, and obstacles that will impede the way ... we would like to play a part as well.
Education, or the lack of, is the most relevant factor in the manifestation of (our) criminal behavior. Whether it be academic, social, moral, or personal...the prison systems of America have very little to provide, if not simply just less and less. Continuing to deny the U.S. prison population this single provision alone, is to continue to promote the ignorance of a system that, per capita, currently has imprisoned more human beings than any other nation in the world. The question why - even among us, the illiterate, is no longer any more profound than it is rhetorical.
Sincerely,
A United States Prisoner
Response from Senator Webb: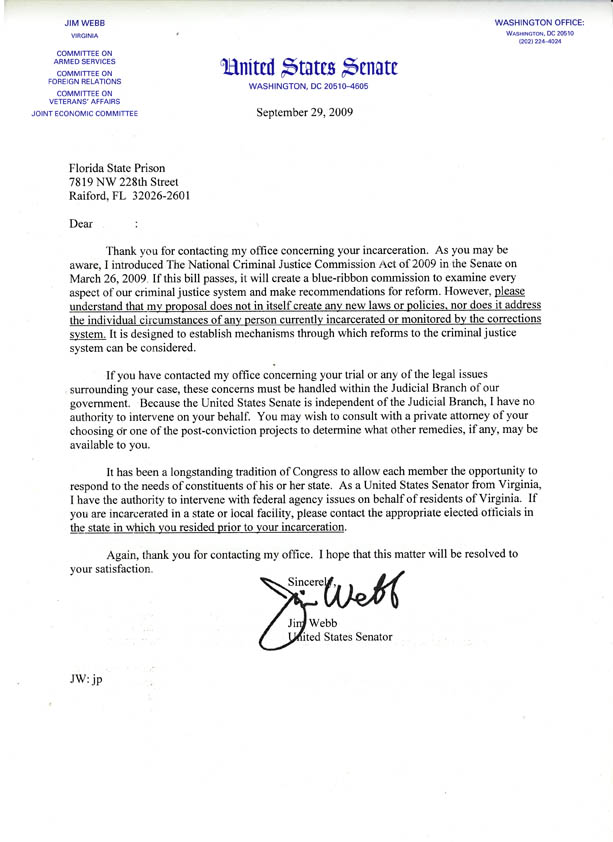 Reply to letter of September 29, 2009:
Dear Senator Webb,
Your letter of Sept. 29, 2009 has been received and upon contemplation it is my conclusion that it was somewhat automated. In no way could my original letter to this office have been construed as concerning my "trial or any of the legal issues surrounding [my] case." Furthermore, my contacting you, a Senator of Virginia, instead of a Senator in the state which I reside, should give credence to the reason. My Desire is to learn more about the National Criminal Justice Commission Act of 2009, and how we (the incarcerated) can help to further that bill. A personal response would be highly praised.
Sincerely,
A United States Prisoner